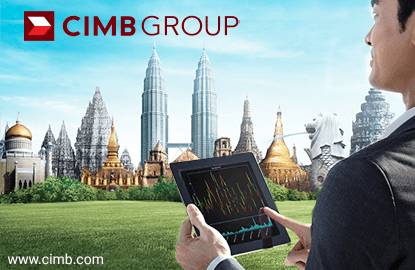 KUALA LUMPUR (Feb 25): CIMB Group Holdings Bhd's net profit for the for the fourth quarter ended Dec 31, 2015 (4QFY15) jumped fourfolds or 312% to RM825.74 million or 9.72 sen per share, from RM200.32 million or 2.38 sen per share a year earlier, due to better performance from its consumer banking and wholesale banking segment.
The country's second-biggest bank by assets said revenue for the quarter under review was at RM4.04 billion, up 10% from RM3.67 billion in 4QFY14 .
It has proposed a second interim dividend of 11 sen per share, amounting to RM938 million in respect of financial year ended Dec 31, 2015.
For the full year, its net profit fell 8.4% to RM2.85 billion or 33.62 sen per share, as compared to RM3.11 billion or 37.48 sen per share in FY14, while interest income gained 12.4% to RM18.1 billion, from RM16.1 billion. Revenue for full year was at RM15.4 billion, 8% higher than RM14.14 billion.
According to its filing with Bursa Malaysia, CIMB's net interest income for 4QFY15 jumped 9.8% to RM2.46 billion from RM2.24 billion, while the net interest income for FY15 was up 7.9% to RM9.34 billion, from RM8.66 billion.
CIMB said its total gross loans (excluding the bad bank) expanded 12.8% on year or 6.6% excluding foreign exchange (forex) fluctuations, while total deposits grew 12.6% on year or 6.9% excluding forex fluctuations.
Its loan to deposit (LDR) ratio remained relatively unchanged at 92.9%, compared with 93% previously.
CIMB's gross impairment ratio reduced to 3% as at Dec 31, 2015, from 3.1% in Dec 31, 2014, with a higher allowance coverage of 84.7% as at Dec 31, 2015.
Its Business As Usual (BAU) cost to income ratio improved to 55.6% in FY15, compared with 59.1% in FY14, as the cost management initiatives continue to gain traction.
The filing stated that CIMB's net interest margins (NIM) were lower at 2.66%, driven mainly by the higher cost of deposits in Malaysia.
Nevertheless, its total capital ratio stood at 15.2%, while the common equity tier 1 (CET1) capital ratio stood at 10.3% respectively, as at Dec 31, 2015.
Moving forward, CIMB expects to navigate 2016 prudently, in light of the challenging environment faced by the financial services industry, with emphasis on asset quality and capital management.
"Prospects for CIMB Malaysia continue to be tempered by macroeconomic conditions and dampening consumer expenditure. CIMB Singapore is expected to perform steadily, whilst CIMB Thai will focus [on] managing asset quality amidst difficult operating conditions," it said, adding that CIMB Niaga has potential of showing improvement, with continued attention on asset quality and subject to the macroeconomic outlook.
CIMB said its treasury and markets and investment banking businesses will likely face continued capital market volatility.
Shares of CIMB closed 2 sen or 0.47% lower at RM4.25 today, for a market capitalisation of RM36.24 billion.