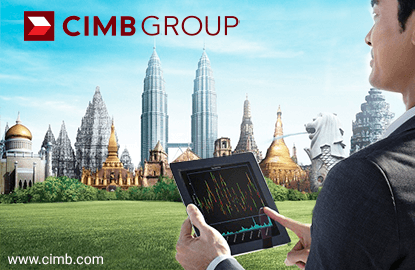 KUALA LUMPUR (Feb 28): CIMB Group Holdings Bhd's net profit for the fourth quarter ended Dec 31, 2016 (4QFY16) increased 3.5% or 9.67 sen per share to RM854.39 million, from RM825.74 million or 9.7 sen per share a year ago, on improved net interest income.
It recorded an increase of 6.7% in revenue to RM4.31 billion, from RM4.04 billion a year ago.
For its full year (FY16), it made a 25% increase in net profit of RM3.56 billion, from RM2.85 billion previously. Revenue had also increased 4.3% to RM16.07 billion, from RM15.40 billion a year ago (FY15).
"Our best performing segment was Consumer, which contributed 46% of PBT [profit before tax], with Thailand posting its first annual profit since acquisition.
"For Commercial Banking, both Malaysia and Indonesia performed well, although this was tempered by higher provisions in Singapore and Thailand. Wholesale Banking recorded a commendable 11.3% growth in PBT, with strict cost controls and declining provisions," it said in a statement today.
It said the group's total gross loans (excluding the bad bank) grew by 8.7% year-on-year, while total deposits grew 5.6% year-on-year. The group's loan to deposit ratio stood at 95.6%, compared with 92.9% in FY15.
CIMB Group Chief Executive Officer, Tengku Datuk Sri Zafrul Aziz, said moving forward, CIMB group will continue to focus on implementing its T18 strategy in 2017.
"The disciplined recalibration of our business under T18 has strengthened the Group's foundation to help us negotiate the unexpected challenges of 2016. This is reflected in our key financials and we remain on track to achieve most of our T18 targets by 2018,"
"We will continue to instill cost discipline across all businesses to achieve our T18 target CIR of 50% by end-2018," he said in a statement.
The group declared a second interim dividend of 12 sen per share. For the full year (FY16), total dividend pay out amounted to 20 sen per share.
CIMB Group shares closed up three sen or 0.61% higher at RM4.97 at noon market break today, having traded 5.78 million shares.