This article first appeared in The Edge Financial Daily, on April 19, 2019.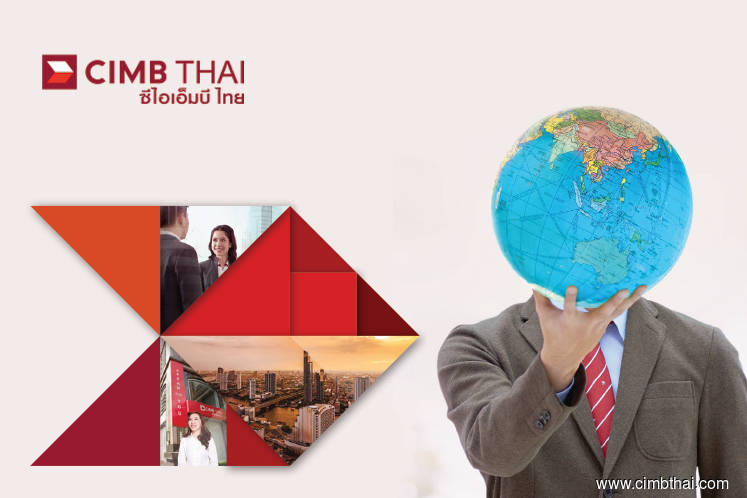 KUALA LUMPUR: CIMB Thai Bank Public Co Ltd, which is 94.83%-owned by CIMB Group Holdings Bhd, closed its first quarter ended March 31, 2019 (1QFY19) with a net profit 92.4% higher than the previous year's corresponding period, thanks to higher operating income and lower provisions.
Net profit came in at 325.01 million baht (about RM42 million) versus 168.89 million baht previously, as operating income grew 3.4% while provisions fell 17.4%.
"On a year-on-year basis, operating income rose by 114.5 million baht or 3.4% to 3.497 billion baht from an increase of 111.8 million baht or 4.3% in net interest income, mainly from loan expansion and higher interest income on investments," said CIMB Thai in a statement yesterday.
Net interest income climbed to 2.71 billion baht from 2.6 billion baht, while interest income grew 12.8% to 4.08 billion baht from 3.62 billion baht previously.
"Other operating income rose by 10.7 million baht or 3.4% from an increase in gains on sale of non-performing loans (NPLs) and higher gains on trading and foreign exchange transactions, partially offset by higher losses on financial instruments designated at fair value through profit or loss," CIMB Thai said.
As at 1QFY19, CIMB Thai's total gross loans (inclusive of loans guaranteed by other banks and loans to financial institutions) stood at 230.9 billion baht, up 1.4% from Dec 31, 2018.
Deposits (inclusive of bills of exchange, debentures and selected structured deposit products), on the other hand, stood at 235 billion baht at 1QFY19, or 0.3% higher than 234.3 billion baht at end-2018.
Gross NPLs stood at 10 billion baht at 1QFY19, with the gross NPL ratio at 4.3%, unchanged from December 2018.
Meanwhile, the bank's loan loss coverage ratio grew to 109.5% from 107% at end-December 2018.
Total provisions as at 1QFY19 stood at 11 billion baht, translating into a 5.4 billion baht excess over the Bank of Thailand's reserve requirements.