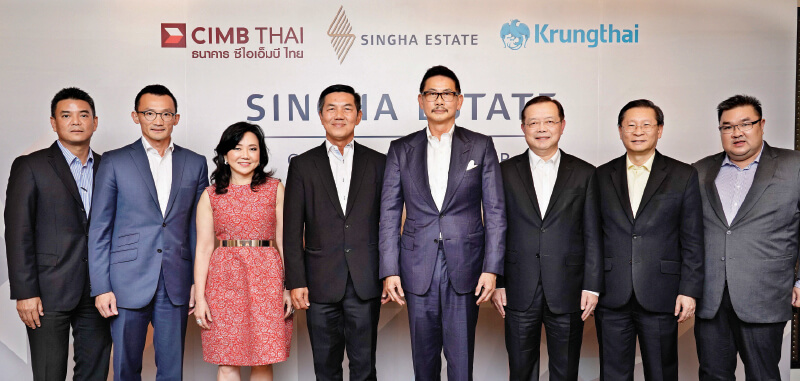 CIMB Investment Bank Bhd chief executive officer (CEO) Datuk Kong Sooi Lin (third from left) and CIMB Thai Bank president and CEO Kittiphun Anutarasoti (second from left) together with Singha Estate chairman Chutinunt Bhirombhakdi (fourth from right) and its CEO Naris Cheyklin (fourth from left) among others celebrating the success of Singha Estate's acquisition of six Asia Pacific Outrigger resorts.
KUALA LUMPUR: CIMB Thai Bank PCL and Krung Thai Bank PCL recently held a joint event to celebrate the success of Stock Exchange of Thailand-listed property firm Singha Estate PCL for the latter's acquisition of six Asia-Pacific Outrigger resorts portfolios totalling US$310 million (RM1.26 million).
The six hotels are Outrigger Laguna Phuket Beach Resort, Outrigger Koh Samui Beach Resort, Outrigger Fiji Beach Resort — Fiji, Castaway Island Hotel — Fiji, Outrigger Mauritius Beach Resort — Mauritius, and Outrigger Konotta Maldives Resort — Maldives, bringing Singha Estate's total hotel and resort portfolio to 37 globally.
CIMB Thai was the sole financial adviser while Krungthai Bank was the co-lender for the hotel acquisition deal.
In a statement yesterday, Singha Estate chief executive officer Naris Cheyklin said it aims to become a global company and positions itself as a value investor, targeting to bring about total revenues of 20 billion baht by 2020.
"This strategic acquisition of Outrigger-branded hotels in four countries will generate recurring income and mitigate external risk to its hotel investment portfolio through diversification of its customer base and geographical locations across high-yield tourist destinations," said Naris.
With the strategic investment approach of smart mergers and acquisitions, the company has recorded an asset growth of 40.9 billion baht, which exceeded the target set forth," he added.
Coupled with the large-scale investment in the Crossroads project in the Maldives, Naris said Singha Estate's total assets are expected to increase to as high as 60 billion baht and generate the targeted revenues in a shorter period of time.