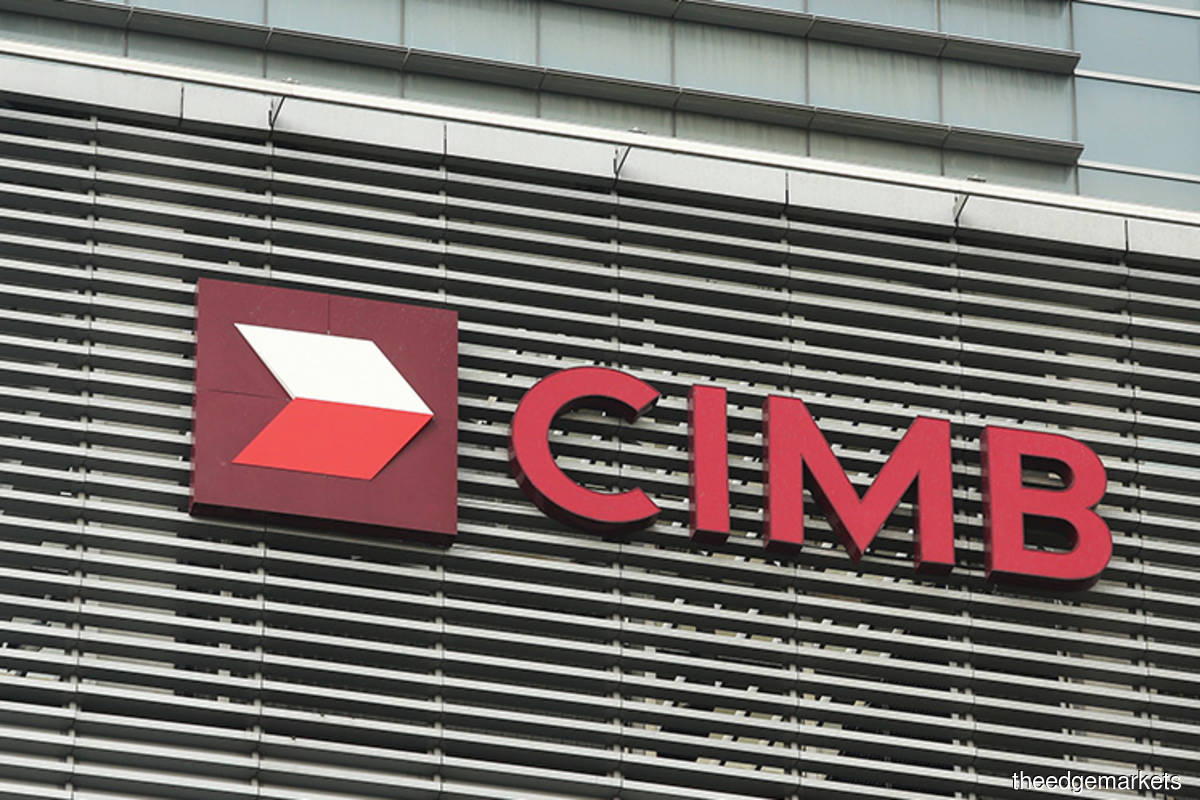 KUALA LUMPUR (Nov 30): CIMB Group Holdings Bhd sinks into red ink, posting a net loss of RM100.59 million for the third quarter ended Sept 30, 2021 (3QFY21) from a net profit of RM194.44 million a year ago, underpinned by impairment of CIMB Thai goodwill amounting to RM1.22 billion in the current quarter. 
In a Bursa Malaysia filing on Tuesday (Nov 30), the group said its quarterly revenue declined slightly by 0.42% to RM4.40 billion from RM4.41 billion, as the previous quarter under review saw recovery in trading & foreign exchange (FX) activity and wealth management.
The group, however, did not declare any dividends in the quarter to its shareholders.
It said as at Sept 30, 2021, a goodwill impairment indicator was triggered as the operation and earnings of CIMB Thai, a subsidiary of CIMB Bank, continue to be affected by the prolonged impact of the Covid-19 pandemic in Thailand.
CIMB noted that this exceptional expense on a nine-month basis, offsets the exceptional gain of RM1.16 billion recorded earlier in the year, arising from the deconsolidation of Touch 'n Go Digital.
For the cumulative nine months period ended Sept 30 (9MFY21), CIMB's net profit grew by 251.30% to RM3.44 billion, from RM979.45 million, driven by higher operating income, strong cost containment and significantly lower provisions, with improvements seen across all segments and markets.
Revenue, on the other hand, rose by 21.13% to RM14.93 billion from RM12.32 billion, as net interest income (NII) grew by 12.9% to RM10.42 billion, largely driven by improved net interest margins (NIM) in Malaysia and Indonesia. 
Core cost-to-income ratio improved to 47.7%, despite a 1.0% increase in core operating expenses to RM6.56 billion.
9MFY21 core total provisions decreased by 55.7% year-on-year to RM2.01 billion, mainly due to lower credit related/significant impairment of assets arising from write backs of back-to-performing loans, as well as lower delinquency, CIMB noted. 
The group's allowance coverage rose to 105.1% as at 3Q21 compared to 102.2% in the preceding quarter, while the gross impaired loans ratio remained unchanged at 3.4% as at Sept 30, 2021. 
CIMB also noted that the group remains well-capitalised as it achieved its highest ever CET1 ratio of 13.9% as at September 2021, from 13.3% as at December 2020, while total capital ratio strengthened to 17.7% as at end September 2021.
On a quarterly basis (QoQ), CIMB's posted a net loss in 3QFY21, from a net profit of RM1.08 billion in the immediate preceding quarter (2QFY21), while revenue declined to RM4.4 billion, from RM4.67 billion in 2QFY21.
Commenting on the group's latest financial performance, CIMB Group CEO Datuk Abdul Rahman Ahmad said the banking group's performance remained resilient, even as the Covid-19 crisis peaked in 3QFY21 and governments undertook stricter movement restrictions to manage the pandemic, which affected economic activity.
"We saw slower QoQ momentum due to modification loss, as we expanded our repayment assistance to help affected borrowers under the PEMULIH programme, and lower non-interest income (NOII) due to the weaker trading environment and restricted economic activity. However, our 9M21 performance indicates continued strong year-on-year (YoY) recovery across all segments and markets, as we make good progress towards achieving our FY21 targets.
"3QFY21 also saw an impairment of CIMB Thai goodwill amounting to RM1.22 billion. This impairment has no impact on our capital and liquidity position, and will help optimise our return on equity (ROE) going forward, which will benefit shareholders. 
"We remain firmly on track to deliver our FY21 performance targets, which is reflective of our loan growth recovery, stringent cost focus, lower provisions, as well as positive traction from initiatives under our Forward23+ strategic plan," he said in a statement. 
Rahman added that the group is also pleased to see its digital businesses continue to register healthy growth.
Touch 'n Go Digital's registered users increased to 16.4 million, adding 300,000 users in 3Q21 alone, he revealed. 
"GO+, the investment offering available in the Touch 'n Go eWallet, has also reached 1.6 million investors from 1.2 million investors in the preceding quarter, with total assets under management (AUM) of RM136 million as at September 2021. 
"Similarly, in the region, CIMB Philippines reached 4.5 million customers and a deposit book of RM1.16 billion, with over 500,000 customers added in 3QFY21," he said. 
Shares in CIMB rose seven sen or 1.37% higher to RM5.18 on Tuesday (Nov 30), giving it a market share of RM52.95 billion.
Read also:
Analysts see goodwill impairments at CIMB lifting FY22 ROE by 20 basis points