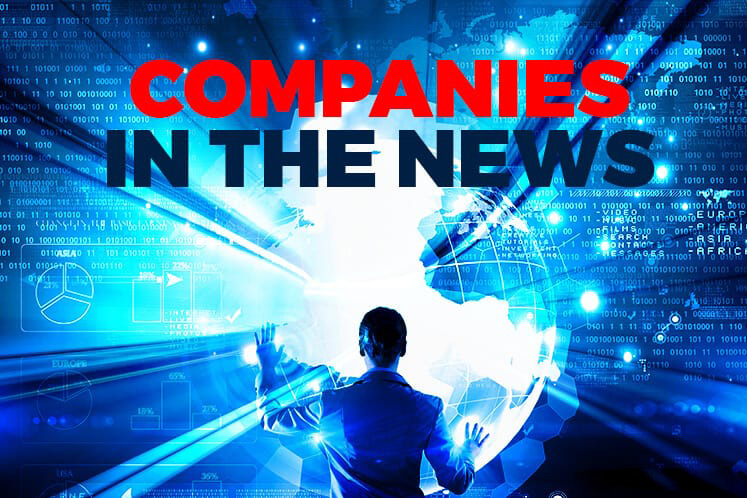 KUALA LUMPUR (March 8): Based on corporate announcements and news flow today, companies that may be in focus on Monday (March 11) may include the following: CIMB Group Holdings Bhd, Sime Darby Plantation Bhd, Comintel Corp Bhd, Econpile Holdings Bhd, Ahmad Zaki Resources Bhd, Uni Wall APS Bhd, Amtek Holdings Bhd, Yong Tai Bhd, Axiata Group Bhd and Seacera Group Bhd.
CIMB Group Holdings Bhd, the country's second-largest lender by assets, has unveiled its next five-year blueprint known as "Forward23" to accelerate growth and future-proof its business.
This follows the completion of its Target 18 (T18) transformation programme, a four-year recalibration plan launched in 2014.
Under the new blueprint, CIMB has outlined three financial targets to be achieved by 2023, that is, a return on equity (ROE) of more than 12%, a common equity tier 1 (CET1) ratio of over 13% and a cost to income ratio of below 45%.
Sime Darby Plantation Bhd's (SDP) local unit in India will go into voluntary liquidation, after ceasing its business operations since January last year.
In a filing with Bursa Malaysia today, SDP said Sime Darby Edible Products India Pte Ltd (SDEPI) had today held its extraordinary general meeting at which it was resolved that it would be wound-up voluntarily and that Neeraj Parmar, an insolvency professional, be appointed as the liquidator.
SDEPI was incorporated on March 25, 2010 and was involved in market support services. It is currently dormant.
Comintel Corp Bhd (Comcorp) said today it will pay U Television Sdn Bhd (UTV) a counterclaim sum of RM20.83 million after the Federal Court yesterday dismissed Comcorp's wholly-owned subsidiary Comintel Sdn Bhd's application to review the court's earlier order dated Aug 18, 2017.
Tan Sri Vincent Tan Chee Yioun owns pay television operator UTV.
Econpile Holdings Bhd has bagged an 18-month contract worth RM68.8 million involving piling, pilecap and basement works for the Terra Putrajaya Project in Precinct 3, Putrajaya.
The contract was secured by its wholly-owned Econpile (M) Sdn Bhd via a letter of award dated March 6 from Niaz Enterprises (M) Sdn Bhd.
The contract now brings its wins to-date to RM575.5 million, as well as providing an increase of 21.6% from FY18's total secured project value of RM473.4 million.
New LEAP Market entrant Uni Wall APS Bhd, which provides building façade services to property developers, announced its second contract win this week, with a RM32.14 million sub-contract from Ahmad Zaki Resources Bhd (AZRB).
The contract is for the supply and installation of aluminium and glazing works for the Mass Rapid Transit 2 project, specifically for the construction and completion of elevated stations and other associated works at Serdang Raya (South), Seri Kembangan and UPM.
Earlier, it had bagged a RM21.25 million subcontract from Crest Builder Sdn Bhd to supply and install aluminium, glazing and second skin external façade for a six-storey office building in Section 19, Petaling Jaya.
Practice Note 17 (PN17) company Amtek Holdings Bhd may be delisted from Bursa Malaysia by the end of the month, after the regulator rejected the group's application for more time to submit its regularisation plan.
Its shares will be suspended on March 18, and subsequently delisted on March 29 — unless an appeal against the delisting is submitted on or before March 15 — said the regulatory authority.
It triggered the PN17 status in January last year, after its shareholders' equity on a consolidated basis fell to below RM40 million and was not more than 25% of its issued and paid up capital then. In the same month, the group also sold off its entire Crocodile Brand inventory.
Yong Tai Bhd has proposed to raise up to RM17.1 million via a private placement to third-party investors to be identified later, which will be used to partly finance some of its projects.
The proposed private placement, which is expected to be completed by the second quarter of 2019, will involve the issuance of up to 51.82 million placement shares, representing not more than 10% of its issued shares.
Axiata Group Bhd's unit Celcom Axiata Bhd registered a marginal 1.1% on-year growth in revenue to RM6.67 billion in 2018, in line with the general "flattish" performance by telcos.
Its chief executive officer Idham Nawawi said service revenue expanded at a similar pace to RM6.12 billion against RM6.06 billion in 2017, attributing the improvements to growth in Celcom's post-paid and prepaid segments.
"In 2019, we will be spending approximately RM1 billion. Going forward, if we are looking at the landscape, we would be looking at spending less than RM1 billion (per year) in the next two to three years," said its chief financial officer Jennifer Wong Chui Fen.
Celcom had spent RM1.33 billion, RM1.28 billion and RM1.06 billion in capital expenditure in 2016, 2017 and 2018 respectively.
Seacera Group Bhd is disposing of a 60% stake in its 80%-owned construction outfit Spaz Sdn Bhd for RM12 million cash.
It said the disposal is in line with the group's strategic direction to streamline and restructure its operation in order to focus on businesses that are viable and profitable in the mid to long term.
The expected gain on the disposal is approximately RM8 million based on Seacera's original investment cost in SPAZ of RM16 million.