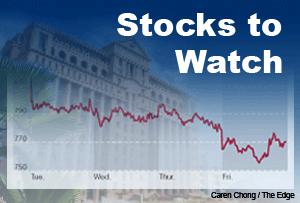 KUALA LUMPUR (Oct 9): Based on corporate announcements and newsflow today, the stocks that may be in focus tomorrow (Friday, Oct 10) could include the following: CIMB, RHBCap, MBSB, Sime Darby, Kulim, Sarawak Cable, XOX, Borneo Oil and AMMB.
CIMB Group Holdings Bhd, RHB Capital Bhd (RHBCap) and Malaysia Building Society Bhd (MBSB) have reached an agreement on a merger deal that will see the three parties forming the country's biggest banking group.
The merger will see a share swap between CIMB and RHBCap, at an exchange ratio of 1:38 (1 RHB Capital share for 1.38 CIMB Group share).
In tandem, CIMB Islamic Bhd, RHB Islamic Bhd and MBSB will merge to form a mega-Islamic bank at RM2.82 per MBSB share.
CIMB shareholders will own 70% of the merged entity, and RHBCap shareholders the remaining 30%.
The parties will now move towards the due diligence process, in view of signing a definitive sale and purchase agreements in early 2015.  
Sime Darby Bhd has made an offer to buy all shares in New Britain Palm Oil Ltd (NBPOL), which includes Kulim (M) Bhd's 49% stake, for a total of RM5.62 billion.
The offer price of £7.15 per share represents a 85% premium to NBPOL's closing price on the London Stock Exchange on Wednesday (Oct 8).
Sime Darby said its decision to make the offer, followed a letter it had received from Papua New Guinea (PNG) Prime Minister Peter O'Neill, which had said Sime Darby's acquisition would not be contrary to PNG's national interest.
In a separate filing, Kulim said it intends to accept Sime Darby's offer, if a superior offer is not made and if it meets shareholders approval.
Sarawak Cable Bhd has bagged a RM493 million contract from Shanghai Electric Group Co Ltd, for the local portion of works of the 2x300-megawatt Balingian coal-fired power plant in Mukah, Sarawak.
In a filing with Bursa Malaysia today, the company said the contract sum is provisional and subject to final scope of work and bill quantities for the required local contents, in accordance with the main contract.
The project will commence on Nov 28, 2014, for a period of 40 months ending March 27, 2018.
XOX Bhd has proposed to undertake a renounceable right issue of up to 356 million new shares, at a price to be determined later.
Proceeds raised from the rights issue will be used for phone bundling expenses, working capital and to defray estimated expenses.
The company also proposed to reduce its share premium up to RM32.7 million and half of its shares' par value.
XOX also proposes to establish a share issuance scheme (SIS) of up to 30% of its issued and paid-up share capital, at any one time within the duration of the scheme.
Datuk Freddy Lim Nyuk Sang has ceased to be a substantial shareholder in Borneo Oil Bhd.
Lim, who is also chief executive officer of plantation firm Kretam Holdings Bhd, had disposed off 10.79 million shares in the group, with a nominal value of 10 sen each, at a transaction price of 68 sen per share, bringing the total disposal consideration to RM7.34 million.  
AMMB Holdings Bhd (AmBank Group) said The Australia and New Zealand Banking Group (ANZ) and AmBank Group Chairman Tan Sri Azman Hashim, are not in discussions to dispose of their stakes in the banking group.
In a statement issued in response to reports carried by a local daily, the group said the reports were incorrect and speculative in nature.
ANZ holds a 23.78% stake in AmBank Group, while Azman owns 13.32%.