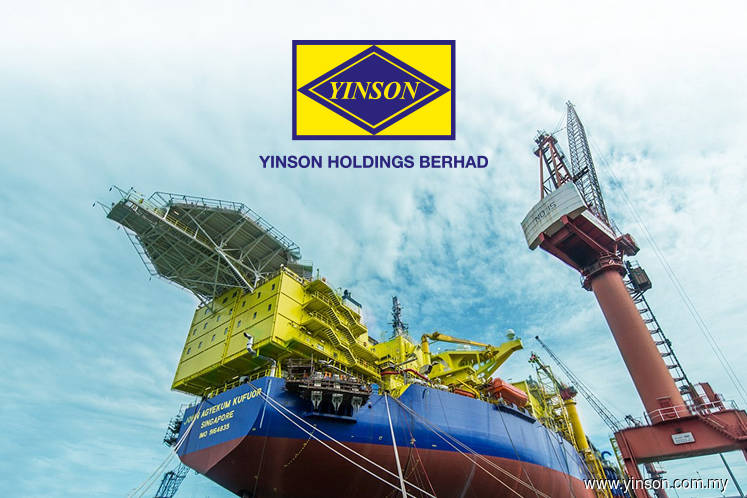 KUALA LUMPUR (July 4): CIMB IB Research has upgraded Yinson Holdings Bhd to "Add" at RM6.24 with a higher target price of RM7.64 (from RM6.14) and said Yinson is looking to take on three large  floating production storage and offloading (FPSO) projects (versus two previously), with limited new ordinary share funding, if any, it said at last week's briefing.
In a note July 3, the research house said the incremental upside raises our sum-of-parts (SOP) to RM8.14, against which we apply a new 10% discount for potential dilution to derive our target of RM7.33.
CIMB Research said Upstream reported that Yinson will likely win the Marlim-1 project, while Modec may have secured Marlim-2.
It said Modec had bid US$602,654/day time charter rate (TCR) for Marlim-1, but the contract is likely to go to Yinson despite bidding US$709,870/day, as Modec has declined to take on both Marlim FPSOs.
"Yinson said that its TCR bid reflected very conservative operating cost, taxation and capex assumptions, and very aggressive return expectations, leaving plenty of room for error.
"However, Yinson has commenced price negotiations with Petrobras, and we have assumed that the time charter rate will settle at US$650,000/day, placing Yinson in a position to secure a 13% project IRR on an assumed project capex of US$1.3 billion, and 75% debt financing," it said.
CIMB Research said its SOP upgrade is due mainly to the addition of a third project into our SOP, although we have cut the valuation by 10% to factor in a small potential equity issue of circa RM500 million, as indicated by Yinson.
"The issue of new ordinary shares is fairly small, because Yinson can borrow against the currently-unencumbered Abigail-Joseph FPSO, refinance JAK for an additional US$300 million, and raise another US$280 million in new perpetual securities," it said.