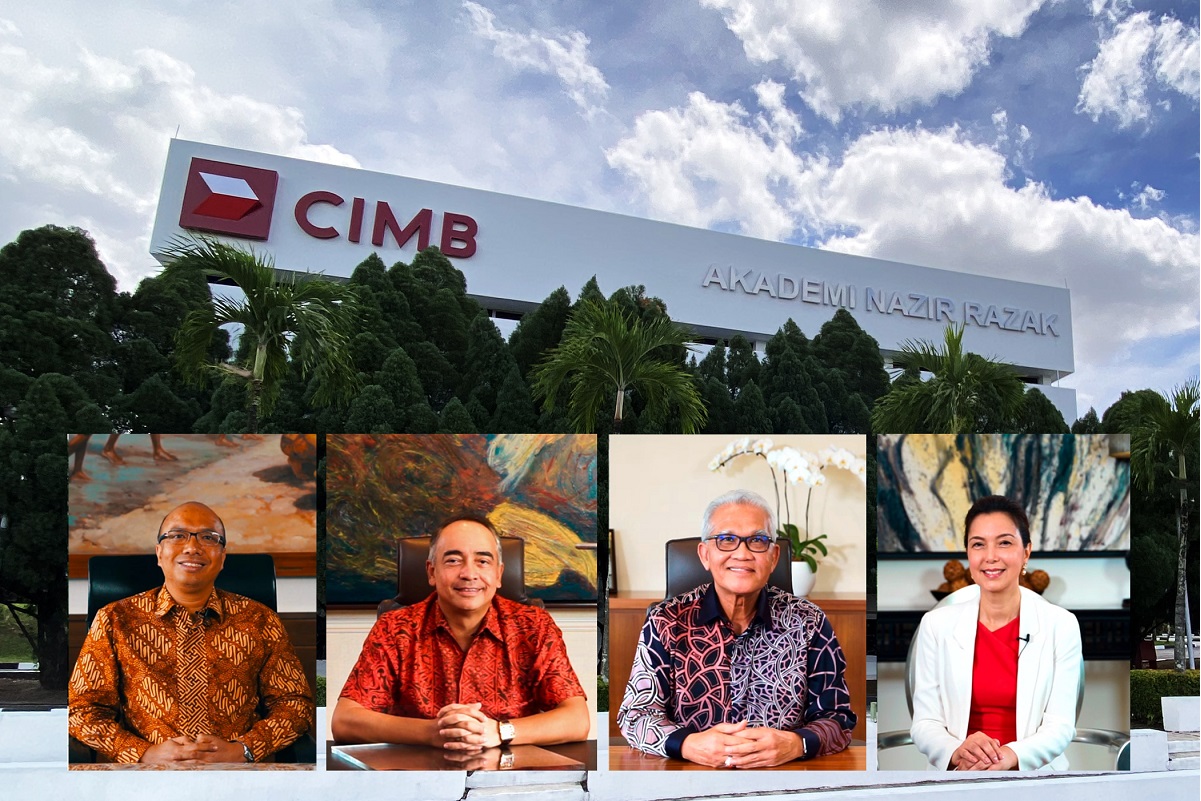 KUALA LUMPUR (Oct 19): CIMB Group Holdings Bhd unveiled Akademi Nazir Razak — renamed from Akademi CIMB Putra — and launched the CIMB Alumni Network in a virtual ceremony this morning.
CIMB Group chief executive officer (CEO) Datuk Abdul Rahman Ahmad said: "This renaming exercise is an appropriate commemoration to Datuk Seri Nazir Razak's enormous contribution to the group. Datuk Seri served and led the group for almost 30 years and helped shape and transform CIMB into the leading regional financial group it is today."
"In honour of our shared history, I'm also pleased to be launching CIMB Alumni Network, a network that I'm proud to support and in the future to be a part of. This network is to allow CIMBians to revisit the network and provide opportunities to establish new linkages," he added.
Nazir, who joined CIMB in 1989, spent 29 years at the regional banking group, where he served as group CEO for 15 years and group chairman for four years.
Under his leadership, CIMB's assets grew from RM77 million in financial year 1999 to over RM534 billion in financial year 2018.
CIMB chairman Datuk Mohd Nasir Ahmad noted that throughout the years, CIMB's alumni have been and continue to be central figures in Malaysia.
They include luminaries such as Nazir, Tan Sri Md Nor Yusof, Tan Sri Dr Munir Majid and current Finance Minister Tengku Datuk Seri Zafrul Aziz.
According to Mohd Nasir, Akademi Nazir Razak comprises a dozen of buildings occupying a 12.2-acre site in Bangi.
Completed in 1987, the premises include a training academy, data centre, document storage facility, treasury, recovery site, staff quarters, multipurpose hall, and sports facilities such as swimming pool, tennis and squash courts.
Thanking CIMB for honouring him and his services, Nazir noted that he is "especially thrilled at being perpetually associated with talent development at CIMB" because he has "learnt that the highest rate of return for any banking activity is found in the investment a bank makes in its people, their knowledge and their skills".
"Many people ask me what it was like, how do I cope with leaving the company that I had been so committed to for 29 years. One could even say I had allowed CIMB to define my persona. My answer has been quite simple — I surprised myself by how smoothly I was able to move on.
"When I think about it — I attribute it to two main reasons.
"One — I was actually non-executive and had a lot else to occupy me, from Ikhlas Capital, to my fellowship at Oxford, and to writing my book.
"Two — more importantly, I did not choose to leave CIMB. I had no choice.
"The new government then decided that I was one of the senior GLC [government-linked company] heads that had to vacate their positions. I did not know why the so-called Council of Eminent Persons (CEP) decided so but ironically, they made my retirement easier for me. It would have been very hard to choose to leave the love of my professional life," Nazir shared.
Another good outcome of the "CEP GLC musical chairs", Nazir said, was that Abdul Rahman became available to take over from Tengku Zafrul earlier this year.
"Let me take this opportunity to congratulate [Abdul] Rahman again and wish him the very best as commander of CIMB ship. It is a tough time for CIMB and for all banks for that matter."
"[Abdul] Rahman — we are all rooting for you to lead the organisation through these rough waters with clear vision, smart decisions and great execution," said Nazir, who is also the Patron of CIMB Alumni Network.
In September 2018, Nazir penned a personal letter to all staff in CIMB, announcing "with a heavy heart" his exit from the second-largest banking group.
He is now chairman and co-founding partner of Ikhlas Capital, an ASEAN private equity firm.