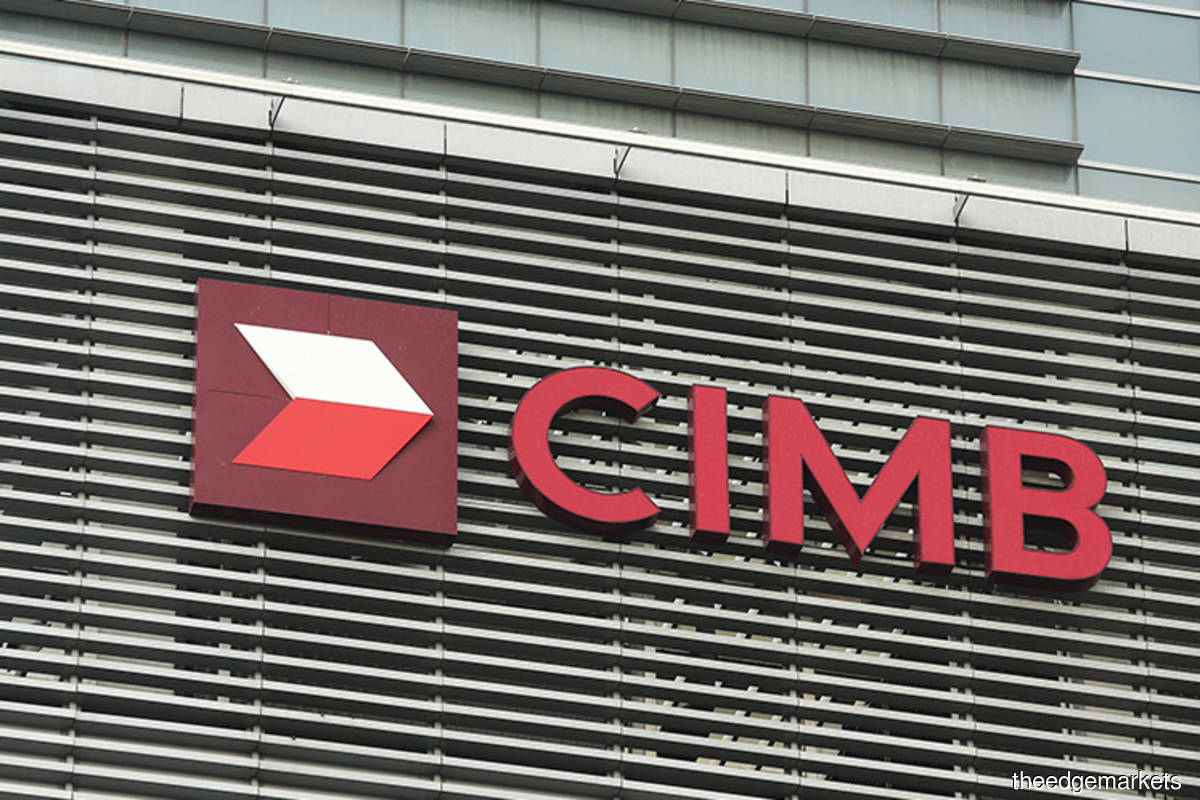 KUALA LUMPUR (Nov 30): CIMB Group Holdings Bhd posted a net profit of RM1.41 billion for the third quarter ended Sept 30, 2022 (3QFY2022) versus a net loss of RM100.59 million a year ago. 
Apart from stronger net interest income, it is worth noting that the banking group incurred a whopping RM1.2 billion goodwill impairment, which was triggered by the prolonged impact of Covid-19 in Thailand, in the previous corresponding quarter that dragged CIMB into the red. 
Its net interest income after modification loss grew 9.3% to RM2.98 billion for the quarter under review, from RM2.73 billion in 3QFY2021.
For the cumulative nine-month period (9MFY2022), net profit jumped 20% to RM4.11 billion from RM3.44 billion in the previous corresponding period, while net interest income after modification loss increased by 4.6% to RM8.52 billion from RM8.15 billion.
Core annualised return-on-equity (ROE) improved to 10.4% in 9MFY2022, from 9.0% for 9MFY2021.
"The strong performance was driven by higher operating income, contained cost escalation, as well as lower provisions across key markets," said CIMB. 
CIMB Group is confident that it remains "firmly on track" to exceed its FY2022 targets.
The group had targeted an annualised ROE of 8.0%-9.0% for FY2022, loan growth of 6.0%-7.0% and a cost-to-income ratio of less than 48%.
For 9MFY2022, CIMB said total gross loans sustained growth momentum across all key markets and business segments, increasing by 9.0% year-on-year (y-o-y) to RM406 billion.
Core cost-to-income ratio improved by 160 basis points y-o-y to 46.1% as at 9MFY2022, driven by continued cost controls.
CIMB noted that its total provisions dropped by 29.5% y-o-y to RM1.42 billion for 9MFY2022, due to a decline in overlays and provisions related to macroeconomic factors and Covid-19, as well as lower underlying provisions from the group's Indonesian commercial and wholesale segments.
Group chief executive officer Datuk Abdul Rahman Ahmad said while CIMB is on track to exceed its FY2022 target, it remains cautious for the year ahead, as management expects some tapering in loan demand, given the rising interest rate environment and intensified competition for deposits, in line with economic activity. 
"Accordingly, we will focus on sustaining our deposits franchise with strong emphasis on CASA (current account saving account) retention, and build on loan growth judiciously, as we focus on managing credit risk. 
"We will also continue to grow targeted segments such as the affluent and wealth management business, transaction banking and our regional Asean network business," he said.
CIMB's share price dropped two sen to RM5.80 on Wednesday (Nov 30), giving it a market capitalisation of RM61.86 billion. The banking stock is trading at around the highest level since May 2018, at the price-to-book value of roughly 0.98 times.