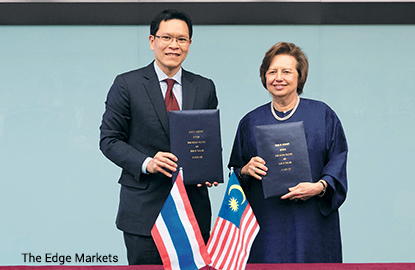 This article first appeared in The Edge Financial Daily, on March 15, 2016.
KUALA LUMPUR: CIMB Bank Bhd, Malayan Banking Bhd (Maybank) and Bangkok Bank Bhd have been appointed by Bank Negara Malaysia (BNM) and Bank of Thailand (BoT) as the representative banks in Malaysia to support the operationalisation of the Local Currency Trade Settlement Framework by the two central banks.
For Thailand's representive banks, CIMB Thai Bank Pcl, Bangkok Bank Pcl and Kasikornbank Pcl were appointed.
The BNM-BoT Local Currency Trade Settlement Framework is a bilateral arrangement between Malaysia and Thailand to promote the use of local currencies, which are the ringgit and the baht, for the settlement of trade of goods and services between the two countries.
BNM also signed two heads of agreement with BoT and Bangko Sentral ng Pilipinas under the Asean Banking Integration Framework yesterday, towards advancing an integrated banking market within Asean.
BNM governor Tan Sri Dr Zeti Akhtar Aziz said only banks that met key criteria such as strong business links between Malaysia and Thailand, presence of branches in both countries or high volumes of trade in ringgit and baht were selected.
"The appointed banks would be granted regulatory flexibilities according to foreign-exchange (forex) rules in both Malaysia and Thailand.
"These flexibilities granted according to forex rules in both countries will allow these banks to offer a wider range of financial services to encourage the use of local currencies in trade settlement," she said at a joint press conference with BoT yesterday in conjunction with the launch of the framework.
Zeti noted that the framework would also contribute to further strengthening of bilateral trade between Malaysia and Thailand.
"Over the recent 15 years, bilateral trade between both countries was at a record high in 2015 at RM86 billion, while bilateral investment also had risen sharply during the recent 12 years to RM1.4 billion in 2015.
"Yet, only 9% and 2% of our bilateral trade is settled in baht and ringgit respectively. Therefore, there is enormous potential to support trade and investment flows between the two countries. As for businesses, they will gain from the lower cost of business due to lower forex conversion costs," she said.