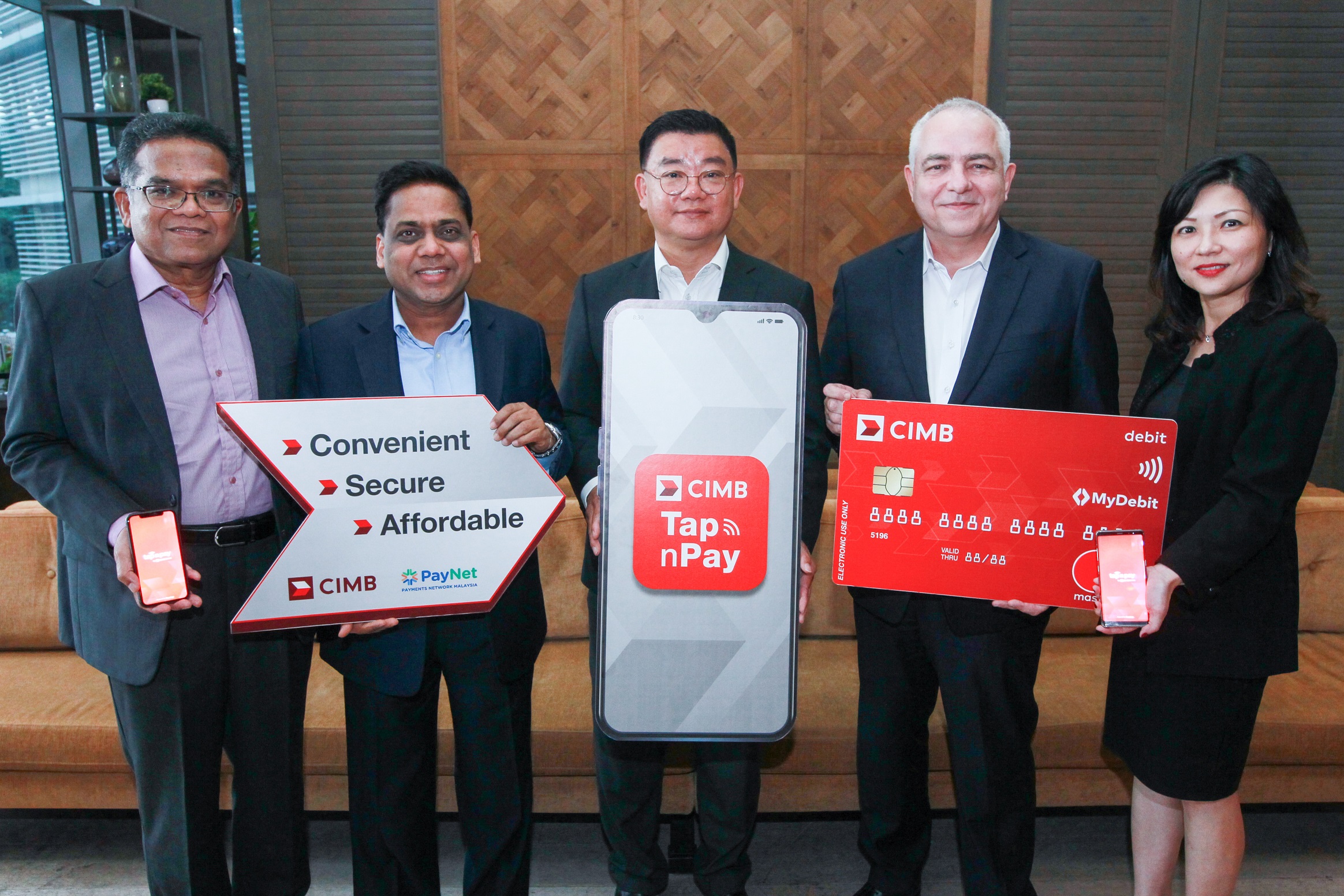 Victor Lee, CEO, Group Commercial Banking, CIMB Group (centre) and Peter Schiesser, Group CEO, PayNet (second right) together with (L-R): Michael Kumar, Director, Card Services Division, PayNet; Vipin Agrawal, Regional Head, Digital Banking, Payments & Personalisation, CIMB Bank; and Lim Gaik Lin, Head, Merchant Partner Solution, CIMB Bank, at the launch of CIMB Tap n Pay recently. (Photo by: CIMB Group Holdings Berhad)
KUALA LUMPUR (Dec 17): CIMB Group Holdings Bhd has launched a new mobile-based payment platform to process debit card transactions.
In a statement, the banking group said its new payment solution, named CIMB Tap n Pay, uses mobile devices as a payment acceptance terminal, presenting what it deems as a viable alternative to a conventional point-of-sale (POS) terminal, particularly for micro small medium enterprises (SMEs).
CIMB further explained this new payment platform is the result of its collaboration with Payments Network Sdn Bhd (PayNet).
The banking group is targeting 20,000 merchant downloads next year.
On the new payment platform, CIMB Group Commercial Banking chief executive officer (CEO) Victor Lee said CIMB Tap n Pay is part of its drive to provide more transaction services to SMEs.
"Together with PayNet, we are pushing boundaries to enable SMEs benefit from the market expertise of two established strong brands to support their growth. This is well-aligned with CIMB's Forward23 growth strategy to focus on Tech and Data by spurring digital innovations to benefit our customers," Lee said.
Meanwhile, PayNet Group CEO Peter Schiesser said PayNet saw the potential for significant cost reduction and improved accessibility for merchants to accept cashless payments.
"Segments like hawkers, street vendors and night market traders can now go cashless with just their smartphones doubling up as POS terminals, to collect debit card payments from their customers. The collective impact is the pain point of these groups of merchants associated with the cost of dedicated POS terminals, [which] will be a thing of the past with this solution," Schiesser said. 
CIMB Tap n Pay only requires a mobile device connected to a network. The platform allows merchants to send payment receipts by either SMS or email.
From a data protection standpoint, both transaction and customer data are both secured through end-to-end encryption. In addition, merchants' account e-statements are available via the CIMB online portal.
The payment platform can be used at any point of time within Malaysia and is downloadable for all android mobile devices. Currently, it can process all MyDebit transactions below RM250 without a PIN.
That being said, CIMB said it has plans for the platform to accept contactless transactions above RM250 with a PIN, as well as accepting both credit card and QR code-based transactions.
Onboard merchants which are on CIMB Tap n Pay include GTrans, which is powered by the Sunlight Taxi Group, and AirAsia Group Bhd's Teleport Logistics.
PayNet sees Bank Negara Malaysia (BNM) as its major shareholder and other major banks — inclusive of CIMB — as joint shareholders.
It is also the operator of the MyDebit national debit card scheme.
Shares of CIMB closed 0.76% or four sen lower at RM5.22 today, giving it a market capitalisation of RM51.8 billion. It saw 9.81 million shares traded.