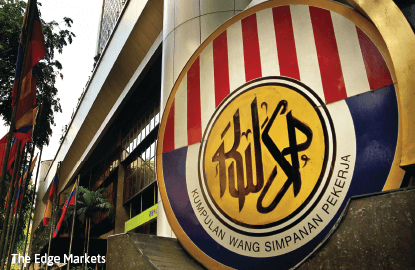 KUALA LUMPUR (Feb 22): CIMB Group Holdings Bhd lauded the 6.4% dividend declaration by the Employees Provident Fund (EPF) for 2015 as a commendable achievement and an indication of good and prudent investment management.
"With Malaysia recording a 5% gross domestic product growth in 2015 and with the global markets facing multiple headwinds, EPF declaring a 6.4% dividend is indeed a commendable achievement and an indication of good and prudent investment management," said its group chief executive officer Tengku Datuk Seri Zafrul Aziz in a statement.
On Friday, EPF said its 6.4% dividend declaration amounted to a total payout of RM38.24 billion, which meant RM5.98 billion for every 1% dividend rate for 2015 or 10.13% higher compared to RM5.43 billion in 2014.
The increase was in tandem with the growth in investment assets of the EPF, which stood at RM684.53 billion as at Dec 31, 2015, EPF said, adding that it recorded RM44.23 billion in gross income for the financial year ended Dec 31, 2015, an increase of 13.18% compared with RM39.08 billion in 2014.
In a statement, EPF chairman Tan Sri Samsudin Osman said the gross investment income achieved was due to the fund's diversification strategy across multiple asset classes in various countries and markets.
"Although the correlation is high among global markets, the diversification strategy allowed us to take opportunities through profit realisation and seek potential investments at attractive valuations," he said.
EPF's diversification into global assets and currencies allowed it to realise significant gains with profits from non-ringgit sources making up 48% of EPF's total gross investment income throughout the year.
During the year under review, equities continued to be its main contributor of income with 58.81% amounting to RM26.01 billion, up 13.54% compared with RM22.91 billion in 2014.
The foreign equity portfolio played a significant role in 2015 by generating more than 50% of the income from equity investment.
EPF's investments in fixed income instruments continued to provide a stable stream of income where asset class comprising Malaysian Government Securities and equivalent, and loans and bonds in total contributed 35.4% of the RM44.23 billion gross investment income for the year.
The real estate and infrastructure asset class contributed RM1.7 billion in investment income in 2015 with annual growth of 22.23% compared with 2014. Within the asset class, foreign investment, which was initiated in 2010, showed encouraging performance over the years.
Moving forward, Samsudin said the economic climate in 2016 would be more challenging.
"A combination of growth fears and depressed commodity prices have seen most major indices fall, including the FBM KLCI, since the start of the year. This is a very different climate than the first half of 2015 in which our investments in global markets were able to mitigate the impact from the domestic market downturn.
"The volatility in the currency markets also means that it will be difficult for the EPF to repeat the outperformance in global assets that we saw in 2015. Nevertheless, we will continue to preserve and further enhance the value of capital from members' contribution by maintaining stable and consistent returns over the long term within tolerable risk limits," he said.
At 10.38am, CIMB shares rose one sen or 0.23% to RM4.32 with 1.37 million shares changing hands for a market capitalisation of RM36.7 billion.