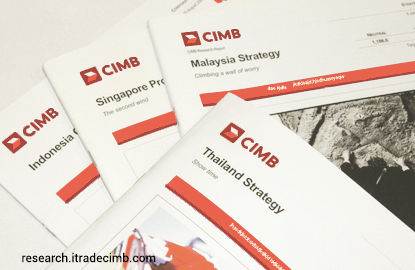 KUALA LUMPUR (March 24): CIMB Research, which expects a 50 basis point (bp) cut in the overnight policy rate (OPR) in second half of this year (2H16), is upholding its OPR call — at least for now.
This was despite Bank Negara Malaysia (BNM) having reiterated that the interest rate is at an "appropriate level" yesterday, citing the robustness of the country's economy system.
In a note to clients today, CIMB Research said its earlier call as it saw the ringgit to stabilise over the next few months as the region as a whole is rethinking monetary policies this year.
The cut in OPR also based on the assumption of inflation to ease significantly from second quarter 2016 (2Q16) and global economic growth disappointing.
"Given the current market volatility, we need more time to see if our earlier prognosis of the conditions that support a rate cut in 2H16 is still valid," it explained today.
CIMB Research said BNM is more bearish with regard to those assumptions and yet it believes that the current monetary stance is supportive enough of growth.
"Having said that, we expect that the data and market developments available by the next Monetary Policy Committee (MPC) meeting in May should help us to gauge whether these assumptions continue to hold," it added.
Speaking to reporters after launching the bank's 2015 annual report yesterday, central bank governor Tan Sri Zeti Akhtar Aziz hinted there will be no further cuts to the OPR and statutory reserve requirement ratio (SRR) in the near term.
Zeti said the current monetary policy stance continues to be supportive of growth and balanced against the need to address the issues of domestic financial stability and price stability.
Meanwhile, CIMB Research said BNM's forecast of 4-4.5% growth in the national Gross Domestic Product (GDP) this year is slightly lower than its forecast of 4.6% growth.
It said the central bank's projection was in line with the revised official estimate.
"The breakdown of the forecast, however, reveals that the absolute growth forecast is 4.1% (our forecast: 4.6%), but it is more bullish on consumer spending growth prospects although less so with regards to fixed investment," the firm added.
BNM expects the private consumption expenditure to only moderate to 5.1% in 2016 as the various measures introduced by the government would be able to buffer against the headwinds.
Despite noting that the BNM expects the unemployment rate may rise to 3% to 3.5% this year, CIMB said it is a level that the economy can still absorb.
"At the same time, it expects gross fixed capital formation (GFCF) to pick up only modestly to 4% this year, mainly due to the expectation of public investments remaining sluggish.
"BNM expects an improvement in the trade sector to help boost net exports of goods and services to contribute positively to growth," it added.