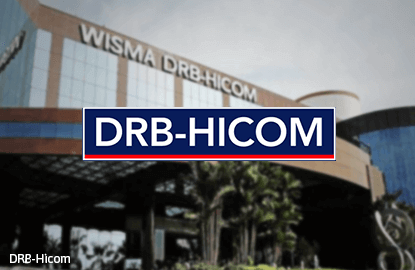 KUALA LUMPUR (June 15): CIMB IB Research has maintained its "hold" rating on DRB-Hicom Bhd with a higher target price of RM1.02.
The research house also said it considered the new Perdana model launched by Proton Holdings Bhd, a subsidiary of DRB-Hicom, yesterday (June 14) the best value for money in the D-segment and that the management's target to sell 3,000 units this year is achievable.
In a note to clients today, CIMB Research said the Perdana new model is a follow-up to the Mitsubishi Eterna-based model launched in 1995 and its replacement model in December 2013, a rebadge of the Honda Accord.
It noted that the model was developed via a platform-sharing agreement with Honda Japan Ltd. This is the only D-segment (large-size) sedan from Proton, and is based on the previous generation Honda Accord.
The model comes in 2.0L and 2.4L variants, priced at RM114,000 and RM139,000, respectively.
Based on CIMB Research's checks, the new Perdana prices are cheaper than the Honda Accord 2.0 VTi-L and 2.4 VTi-L variants (RM150,000 and RM172,000), as well as the Mazda 6 2.0L and 2.5L variants (RM159,000 and RM194,000).
The research firm said Proton revised down its 2016 sales volume target by about 20%, from 150,000 to 120,000 units. The new sales target represents 18% year-on-year (y-o-y) increase.
The target was lowered mainly to account for the delays in new model launches, which were initially planned to commence in first quarter calendar year 2016 (1QCY16). Proton's sales volume dropped 27% y-o-y in the first four months of 2016, it noted.
"We are neutral on the event but (are) encouraged [after learning about] the Perdana's pre-launch orders of 900 units. Management is targeting sales of 3,000 units by the end of the year, which we think is achievable given the pre-launch order book.
"However, we do not think this will significantly boost Proton's earnings as the Perdana volume target only represents 3% of Proton's total sales volume target," CIMB noted.
Apart from the new Perdana, it said, Proton is planning to launch three other models in FY17, namely the Iriz-based Persona (1QFY17), Saga sedan (3QFY17) and a new multipurpose vehicle (MPV) model (4QFY17). The MPV model will be a maiden ProtonSuzuki joint model.
"Overall, we expect all the four new models to create excitement among domestic consumers and help boost Proton's sales from FY17 onwards.
"We maintain financial year 2017–2019 (FY17–19) earnings per share (EPS) and our 'hold' rating on DRB-Hicom, with a higher target price of RM1.02, based on 0.3 times calendar year 2017 (CY17) price-to-book value (P/BV).
"We switch from price-earnings ratio (P/E) to P/BV valuation in view of prolonged earnings delivery risk. The key downside risk to our 'hold' call is deteriorating earnings performance at Proton and upside risk is stronger contribution from its defence and aviation divisions," it added.
As at 10.30am, DRB-Hicom traded unchanged at 93 sen, with 2.08 million shares changing hands.