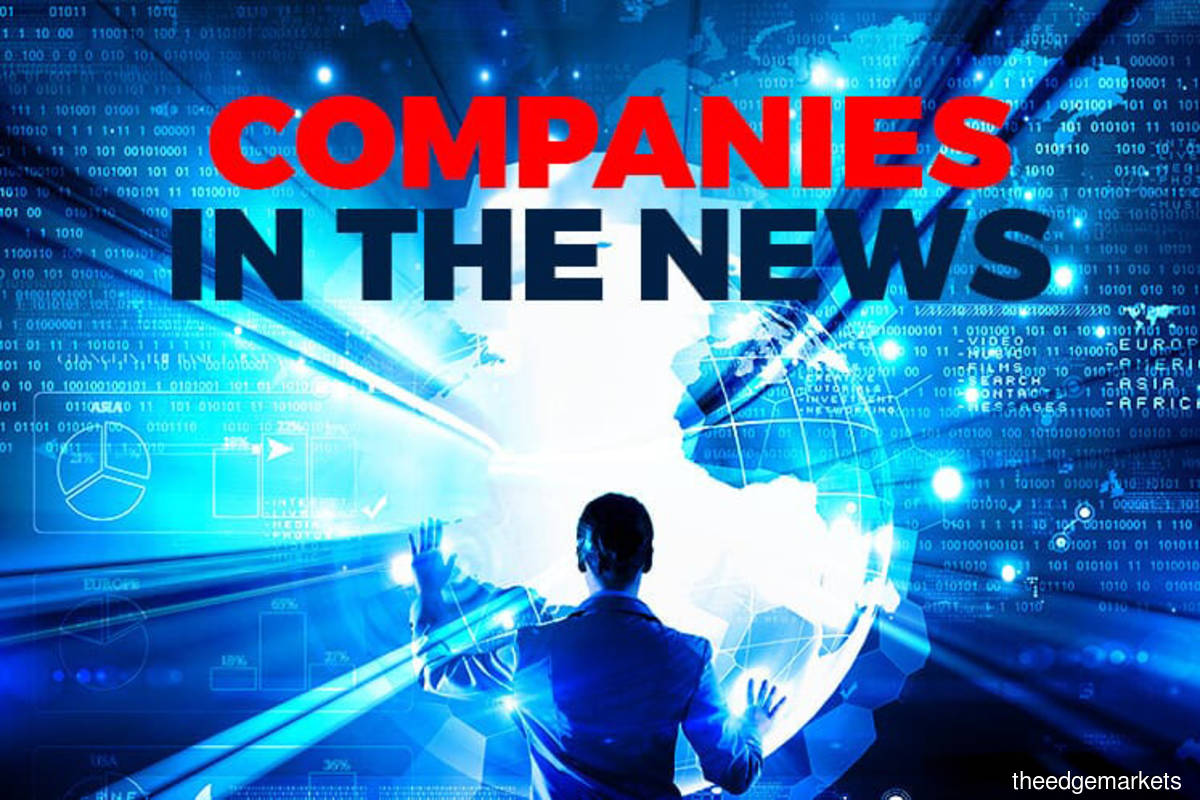 KUALA LUMPUR (Sept 26): Here is a brief recap of some corporate announcements that made news on Monday (Sept 26) involving CIMB Group Holdings Bhd, Petroliam Nasional Bhd (Petronas), Genting Malaysia Bhd, Astro Malaysia Holdings Bhd, Pertama Digital Bhd, Sarawak Cable Bhd (SCable), Perak Transit Bhd, Favelle Favco Bhd, Computer Forms (Malaysia) Bhd, Microlink Solutions Bhd, CTOS Digital Bhd, Catcha Digital Bhd, Apex Equity Holdings Bhd, Sapura Energy Bhd, Paramount Corp Bhd and Omesti Bhd.
CIMB Group Holdings Bhd aims to extend RM30 billion in financing to small and medium enterprise (SME) businesses via collaborations with credit guarantee agencies established by the government and Bank Negara Malaysia (BNM).The collaboration aims to mobilise financing, as well as guarantee schemes that will spur the acceleration of SME growth, as businesses continue to take advantage of post-pandemic opportunities, in tandem with the economic recovery momentum, said CIMB in a statement on Monday (Sept 26).
Petroliam Nasional Bhd (Petronas) and its US-based joint venture (JV) partner Hess Corp recently achieved first gas production in the North Malay Basin (NMB) Phase 3 project at Block PM302, located 290 kilometres offshore Peninsular Malaysia, according to the national oil company on Monday. The NMB Phase 3 project was sanctioned in 2019 and is a multi-phase development. It includes installation of the new Bergading-B Wellhead Platform that adds another 100 million cubic feet per day (MMscfd) of gas supply from Block PM302, bringing the total production to 400 MMscfd.
Genting Malaysia Bhd said up to three additional rides at its Genting SkyWorlds theme park are expected to be commissioned within the fourth quarter of 2022 (4Q22), as the casino and hotel operator plans investments in targeted events and promotions to drive leisure traffic to its hilltop resort in Pahang. The company in its latest corporate presentation for September 2022 said it plans to leverage existing assets to attract foreign and domestic visitations. 
Astro Malaysia Holdings Bhd's Henry Tan Poh Hock will be retiring as its group chief executive officer on Jan 31, 2023. Tan, who joined the Astro group in 2008, will continue to serve as adviser to strengthen Astro's content pipeline to serve the group's businesses and platforms, it said in a filing on Monday. For its succession plan, the satellite television operator appointed its current group chief operating officer Euan Daryl Smith as group CEO-designate with immediate effect.
Smith will assume the role of group CEO on Feb 1, 2023, Astro said.
Separately, Astro said it saw a 13% increase in net profit for the second quarter ended July 31, 2022 (2QFY23) to RM98.47 million, from RM87.13 million a year ago. This was mainly due to the lower net financing and depreciation costs, it said. The better net profit came despite a 13% decline in quarterly revenue to RM921.12 million from RM1.06 billion, amid lower merchandise sales, subscription revenue, sales of programming rights, and advertising revenue. Astro declared a second interim single-tier dividend of one sen per share, to be paid on Oct 25.
In another Bursa filing, Astro said its unit MEASAT Broadcast Network Systems Sdn Bhd (MBNS) had on Monday accepted a synthetic foreign currency loan facility of up to US$150 million from MUFG Bank (Malaysia) Bhd. The facility is granted to MBNS on a clean basis and is available for drawdown within six months from the date of the execution of the facility agreement.
Pertama Digital Bhd's China-based foreign directors have resigned from its board, following the sale of its textile business in China last month. In a statement on Monday, Pertama Digital said group managing director Pan Ding and executive director Pan Dong had resigned, effective Sept 22, and did not have any disagreement with the board. In the statement, Pertama Digital said it received in August, an overwhelming vote of support from its shareholders to dispose of its entire equity interest in its China-based textile subsidiary, BeTop Group Ltd, for RM70 million.
Sarawak Cable Bhd (SCable) has appointed Joseph Nixon S Lourdesamy as its acting chief executive officer, effective immediately. In a bourse filing on Monday, the power cable and wire producer said Joseph Nixon, 52, has more than 29 years of experience in finance, operations and management in various sectors including trading, manufacturing and construction and engineering, procurement, construction and commissioning projects.
Perak Transit Bhd has entered into 20-year agreements with Tenaga Nasional Bhd (TNB) and GSPARX Sdn Bhd to install solar photovoltaic (PV) energy generating system with total installed capacity of 422 kWp at the designated site of its subsidiaries. Under the deal, GSPARX will install the solar PV energy generating systems at Perak Transit's Terminal Meru Raya in Ipoh, Kampar Putra Sentral in Kampar, and at three petrol stations. Perak Transit, which also provides public bus services, said its subsidiaries will purchase and accept the energy generated, and make payments based on monthly billings issued by TNB, the group said in a bourse filing.
Favelle Favco Bhd has bagged six orders worth a combined RM130.8 million from various customers, with delivery ranging from end of 2022 to second quarter of 2025. In a Bursa Malaysia filing on Monday, Favelle Favco said it has received purchase orders to supply tower cranes to Marr Contracting Pty Ltd, OREC Engineering Holdings Pty Ltd, Lindores Construction Logistics Pty Ltd and Favco Heavy Industry (Changshu) Co Ltd. 
Computer Forms (Malaysia) Bhd has teamed up with Bangkok-listed Energy Absolute PCL to jointly produce and distribute electric vehicles (EVs) such as e-buses, e-cars, e-trains, e-bikes and e-boats, as well as EV chargers in Malaysia, as it recognises new opportunities emerging in the EV industry. Computer Forms managing director Datuk Wira Justin Lim has said the partnership will allow the group to diversify into the EV industry, which is expected to provide a sustainable income stream, in addition to its current income stream. 
Microlink Solutions Bhd has secured a five-year contract worth RM48.55 million from Koperasi Co-opbank Pertama Malaysia Bhd (CBP) for the upgrade of its existing MiBS core banking platform. In a Bursa Malaysia filing on Monday, Microlink said its wholly-owned subsidiary Microlink Systems Sdn Bhd has accepted a letter of offer from CBP, which entails two years of implementation and three years of maintenance and support, commencing next month.
CTOS Digital Bhd further raised its equity interest in RAM Holdings Bhd to 57.68% after buying out MUFG Bank (Malaysia) Bhd's 2.1% stake in the credit reporting firm for RM5.99 million. The increase in CTOS's stake in RAM "will allow both companies to leverage each company's expertise in credit assessment, data and analytics to further extend their product offering and value proposition to their existing customer base", CTOS said in a bourse filing. The acquisition will be fully funded by bank financing, the group said.
Catcha Digital Bhd has been granted another six months — up to April 5, 2023 — by Bursa Securities to complete its proposed regularisation plan. In a bourse filing on Monday, Catcha Digital said it had sought from the regulator to extend the time by an additional six months from the original Oct 5, 2022 deadline to complete the plan. On April 5, Bursa had approved Catcha Digital's revised proposed regularisation plan about 19 months, after the Guidance Note 2 (GN2) company first proposed its acquisition of iMedia Asia Sdn Bhd in September 2020.
Two substantial shareholders of Apex Equity Holdings Bhd have filed a lawsuit to stop the tabling of a resolution for the approval of a mandate to allot and issue new shares. The resolution, if approved by shareholders at an extraordinary general meeting (EGM) scheduled for Sept 29, will provide the company a general mandate to allot and issue shares pursuant to Sections 75 and 76 of the Companies Act 2016.
The two shareholders are Fun Sheung Development Ltd (15.8% stake), and Yenson Investments Ltd (5.2%), Apex Equity said in a bourse filing.
Sapura Energy Bhd's net loss narrowed by 99.8% to RM2.59 million for the second quarter ended July 31, 2022 (2QFY23), from RM1.52 billion a year ago, thanks to progress in its claims and settlements, coupled with higher rig utilisation and construction project completions. Loss per share declined to 0.02 sen in 2QFY23, from 9.5 sen last year, Sapura Energy said in its results filing. In a statement, the group attributed parts of the improved results to commercial settlements from certain contracts in its engineering and construction (E&C) businesses, and materialisation of additional claims in operations and maintenance.
Paramount Corp Bhd is disposing of its remaining stake in education units Paramount Education Sdn Bhd (PESB), Sri KDU Klang Sdn Bhd (SKK) and Sri KDU Sdn Bhd (SK) to XCL Education Malaysia Sdn Bhd for RM120 million cash. The group has inked a conditional share sale and purchase agreement (SPA) with XCL, formerly known as Prestigion Education Sdn Bhd, which will mark Paramount's exit from the education business. Paramount, whose core business is in property development, holds 30.3% in PESB, which is a 66%-shareholder of R.E.A.L. Education Group. Paramount also owns 20% each in SKK and SK, it said.
Omesti Bhd has bagged a one-year contract from Telekom Malaysia Bhd (TM) relating to mobile services valued at RM20 million. In a Bursa Malaysia filing on Monday, Omesti said it accepted a letter of award (LOA) on Sept 23 from TM. The work comprises design, development, customisation, configuration, delivery, installation, integration, testing, commissioning and knowledge transfer for mobile services business support system.