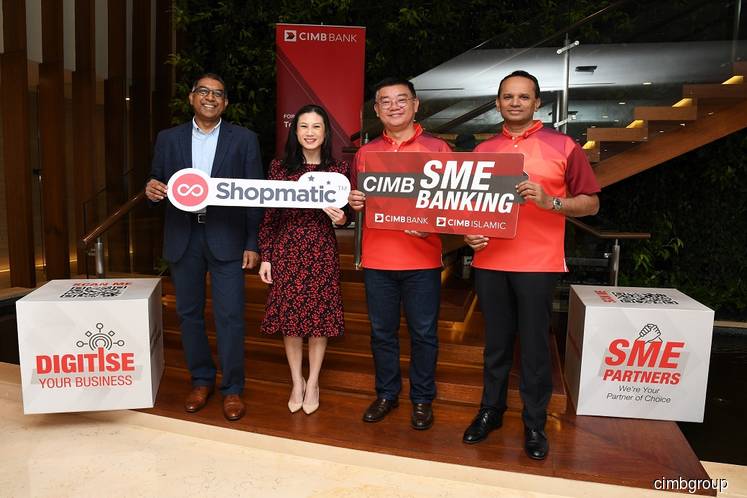 KUALA LUMPUR (Feb 12): CIMB Bank and CIMB Islamic Bank are partnering with Shopmatic, an e-commerce provider, to help Malaysian SMEs build and scale-up their businesses in the e-commerce space.
In a statement today, CIMB said the initiative is part of the group's new three-pronged SME business proposition to provide a complete suite of financing and business solutions to its customers.
These solutions comprise SME financing (for no-collateral and business property financing), SME Transact (cash management services), and SME partners (which provides services like logistics, workspace, digital connectivity and e-commerce, accounting and HR solutions).
With this partnership, SMEs in Malaysia stand to benefit from Shopmatic's services including setting up an e-commerce site complete with a secure payment gateway, and guidance on the necessary technical know-how in starting and running an online business, CIMB said.
Other advantages of Shopmatic include fully-integrated services for shipping, social and digital marketing, point of sale and last-mile fulfilment, it added.
"This partnership with Shopmatic aims to help SMEs take advantage of global online business opportunities. This further cements CIMB's SME Partners' proposition as an ideal and easy-to-use support ecosystem for SMEs just starting out, or those looking to scale-up.
"In addition to financing, SMEs can also avail themselves of CIMB's expertise, regional footprint and business networks for their development," said CIMB Group's chief executive officer of group commercial banking, Victor Lee Meng Teck.
Meanwhile, Shopmatic co-founder and CEO Anurag Avula said the partnership with CIMB marks a new dawn for the e-commerce solutions provider, as it forays into Malaysia and strengthens its presence within the digital emerging markets' space in Southeast Asia.
"It is a pivotal moment for Shopmatic to join forces with a leading bank in Malaysia, to help enable businesses to go online. We are glad to announce our partnership with CIMB and look forward to working together towards providing a level playing field for SMEs," Anurag said.