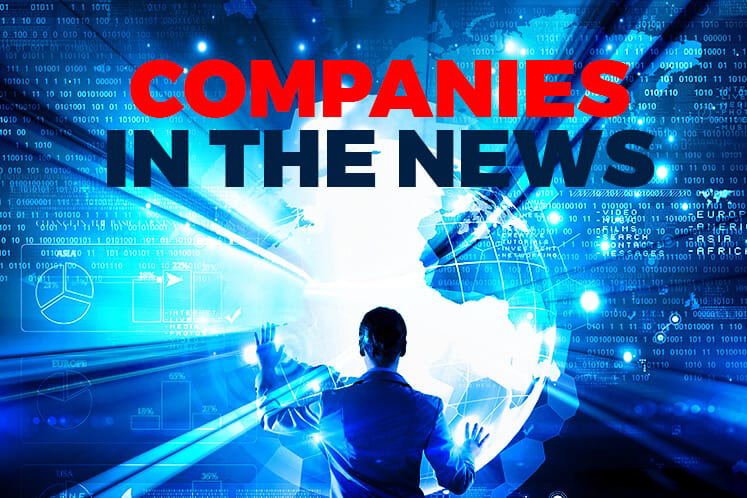 KUALA LUMPUR (April 18):  Based on corporate announcements and news flow today, companies that may be in focus on Friday (April 19) may include the following: CIMB Group Holdings Bhd, Genting Bhd, Astro Malaysia Holdings Bhd, Sime Darby Property Bhd, British American Tobacco (Malaysia) Bhd, Widad Group Bhd, Bintai Kinden Corp Bhd, Seacera Group Bhd, JAKS Resources Bhd, UEM Sunrise Bhd and Ireka Corp Bhd.
CIMB Group Holdings Bhd's 94.83%-owned subsidiary CIMB Thai Bank PCL's net profit rose 92.4% to THB325.01 million (about RM42 million) in the first quarter ended March 31, 2019 (1QFY19) from THB168.89 million a year earlier on growth in operating income and lower provisions.
Genting Bhd's 52.8%-owned subsidiary Genting Singapore Ltd said it will bid for all three casino licenses allowed by Japan and hopes to win one, according to Chairman Lim Kok Thay at Genting Singapore's annual general meeting on Wednesday.
Lim is confident of Genting being chosen by Japan because the Government said it will use a Singapore-style integrated resort. If chosen, Genting expects to borrow in yen to fund its venture in Japan, chief operating officer Tan Hee Teck was quoted as saying to shareholders, given "really, really low" interest rates in Japan.
Astro Malaysia Holdings Bhd has inked an agreement with MEASAT Communication Systems Sdn Bhd (MCSSB) for the utilisation of transponder capacity on the MEASAT-3d (M3d) satellite for US$360 million (RM1.49 billion).
Under the M3d agreement, MCSSB will supply Astro's unit MEASAT Broadcast Network Systems Sdn Bhd (MBNS) with the transponder capacity of 12 transponders on the M3d satellite for 15 years from the commencement date.
Concurrently, MBNS had agreed on the early termination of the April 12, 2018 agreement to use the transponder capacity on the MEASAT-3b satellite.
Sime Darby Property Bhd is changing the way it builds its properties by using a new online platform called dto, in which it has invested RM3 million, that allows potential customers to jointly create its products.
British American Tobacco (Malaysia) Bhd (BAT) is eager to launch its heat-not-burn products in Malaysia, but the plan has been held back due to the lack of approval from the Government.
Its competitor, Philip Morris International (PMI), launched its heat-not-burn product, IQOS, in Malaysia late last year.
On another note, BAT said it will consider expanding its cigarette manufacturing in the country again, three years after shutting down its iconic factory in Petaling Jaya.
"We made a conscious decision to open the little plant in Johor Bahru because we want to maintain our Malaysian manufacturing licence," said BAT managing director Erik Stoel. The Johor Bahru plant, with a capacity to produce some 150 million sticks, opened in October 2018.
Widad Group Bhd, formerly known as Ideal Jacobs (M) Corp Bhd, has bagged an RM190.5 million contract to build a 200-bed multi-disciplinary private hospital based in Selangor from its parent company Widad Business Group Sdn Bhd.
Bintai Kinden Corp Bhd's plan to jointly develop a Melaka project, with an estimated gross development value (GDV) of RM350 million, has been dropped following the lapse of a preliminary agreement. It said the Memorandum of Understanding's expiry will not have any financial impact on the group or its subsidiaries.
Its unit Kejuruteraan Bintai Kindenko Sdn Bhd (KBK) with Vista Springs Development Sdn Bhd signed the MoU in October 2017 to develop the project, located on a 4.74-acre (1.98ha) piece of freehold land in Melaka. The MoU was extended twice, each by six months, thereafter.
Seacera Group Bhd warns that the company's financial constraints may potentially lead to it defaulting on loan repayments as the proposed fund-raising exercises, which involves recapitalisation and private placement, are unable to be completed on time.
Such an alarming statement came after the company's single largest shareholder, Datuk Tan Wei Lian, who holds a 16% stake, insisted that the EGM had taken place and the majority of the shareholders present had voted against the proposed capitalisation and share placement.
The EGM was convened on Tuesday. However, the company's chairman Datuk Seri Mansor Masikon adjourned the EGM.
JAKS Resources Bhd is now planning to place out up to 10% of its shares to third-party investors to raise up to RM54.97 million, four months after the group completed a rights issue with warrants that failed to raise sufficient funds required for its Vietnam power plant project.
The undersubscribed rights issue, which was completed in December last year with a take-up rate of only 37.52%, just managed to bring in gross proceeds of RM25.61 million, in contrast to the RM68.24 million it had intended to raise to expedite the project.
UEM Sunrise Bhd has been served a notice of arbitration by Ireka Corp Bhd's unit, seeking a declaration sum of RM29.25 million in relation to disputes and differences arising from a contract finalisation.
According to Ireka, the claims made were premised on the breach of contract and outstanding payment due in relation to the contract.
In June 2012, Ireka Engineering and Construction Sdn Bhd (IECSB) was appointed by UEM Sunrise' unit UEM Land as the main contractor for the construction of proposed mixed development Imperia located in Puteri Harbour, Iskandar Puteri, Johor, at a contract sum of RM268.6 million.