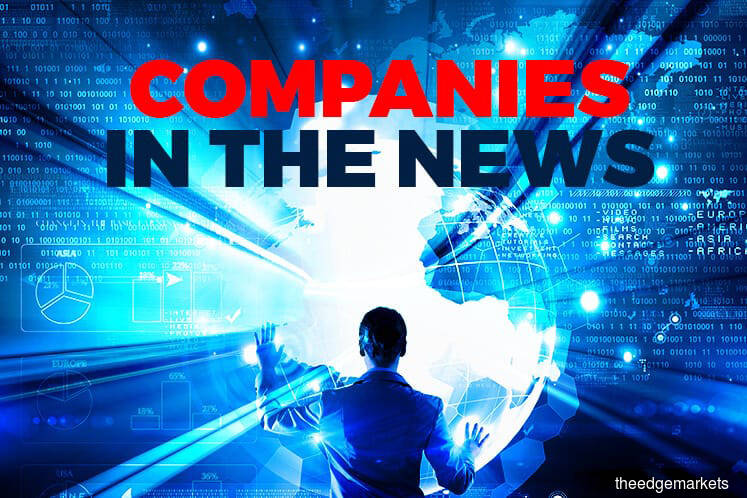 KUALA LUMPUR (May 8): Based on corporate news flow and announcements today, companies in focus on Tuesday (May 12) may be as follows: CIMB Group Holdings Bhd, FGV Holdings Bhd, KPJ Healthcare Bhd, MISC Bhd, MSM Malaysia Holdings Bhd, Orion IXL Bhd, Pegasus Heights Bhd, Telekom Malaysia (TM) and Tenaga Nasional Bhd (TNB).
CIMB Group Holdings Bhd's 92.5%-owned subsidiary PT CIMB Niaga Tbk saw its net profit rise by 11.8% in 1QFY20 to 1.055 trillion rupiah, from 944.21 billion a year ago. The growth in net profit was bellied by an 11.5% growth in non-interest income and a 2.7% reduction in operating expenses. Quarterly operating income rose 7.9% to 1.37 trillion rupiah from 1.27 trillion rupiah.
FGV Holdings Bhd's unit FGV Trading Sdn Bhd is patterning with India's Pre Unique Pvt Ltd (PreU) to form a 70-30 joint venture to participate in the Indian food products market, especially in the southern region of the country. FGV Trading previously exported crude palm oil and refined palm products into India. 
KPJ Healthcare Bhd saw its board revamped following the internal restructuring of the Johor Corp group of companies.  Johor Corp chief financial officer Rozaine Mohd Sani and its chief investment officer Shamsul Anuar Abdul Majid have joined as non-independent and non-executive directors. Ex-Bank Muamalat Bhd CEO Datuk Mohd Redza Shah Abdul Wahid, former RHB Bank Group executive vice president/head of group-wide transformation Khairuddin Jaflus and KPJ Damansara Specialist Hospital consultant obstetrician and gynaecologist Datuk Dr Sivamoham S Namasivayam have joined as independent and non-executive directors. Executive directors Aminudin Dawam and Jasimah Hassan, non-independent and non-executive director Wan Azman Ismail, independent and non-executive directors Datuk Dr Zaki Morad Mohamad Zaher and Datuk Dr Bajit Kor Teja Singh have left KPJ's board.
MISC Bhd posted its first quarterly net loss in eight years. The group posted a net loss of RM1.16 billion in 1QFY20, from a net profit of RM510.50 million a year ago, owing it having to make an RM1.05 billion provision for litigation claims in its quarterly numbers. This is despite the group posting a higher revenue of RM2.51 billion, from RM2.28 billion previously, and a stronger operating profit of RM845.1 million, from RM591.9 million previously. The group has declared a first interim dividend of seven sen per share, payable on June 9. 
MSM Malaysia Holdings Bhd has appointed four independent and non-executive directors today. They are former Petronas Chemical Bhd president and chief executive officer (CEO) Datuk Dr Abd Hapiz Abdullah, ex UMW Holdings Bhd president and group CEO Datuk Syed Hisham Syed Wazir, Datuk Muthanna Abdullah and Choy Khai Choon. Abd Hapiz sits on the board of Perdana Petroleum as an independent and non-executive director. Syed Hisham is a Bermaz Auto Bhd (BAuto) independent and non-executive director, while Muthanna Abdullah sits on the board of Sapura Resources Bhd. Choy is also an independent and non-executive director of Hap Seng Plantations Holdings Bhd and Malaysian Marine and Heavy Engineering Holdings Bhd. 
Orion IXL Bhd's auditors Messrs STYL Associates have resigned due to manpower issues. The group is in the midst of finding a replacement. 
Covid-19 has forced Pegasus Heights Bhd to postpone its plans to expand its new F&B business and revamp its Seremban Shipping Mall. It has part-varied RM13 million from its 2019 rights issue earmarked for the expansion and revamp. The RM13 million will be varied for working capital (RM10.5 million) and repayment of borrowings  (RM2.5 million) — the latter of which is in expectation of future interest savings. 
Tan Sri Mohd Bakke Salleh will be Telekom Malaysia Bhd's new chairman effective May 11. He replaces Rosli Man, who is resigning due to the cessation of office as appointed director and non-independent non-executive chairman of TM. 
Umno vice-president Datuk Seri Mahdzir Khalid will be Tenaga Nasional Bhd's (TNB's) new chairman effective May 12, replacing Tan Sri Ahmad Badri Mohd Zahir, who has been appointed as Employees Provident Fund chairman.