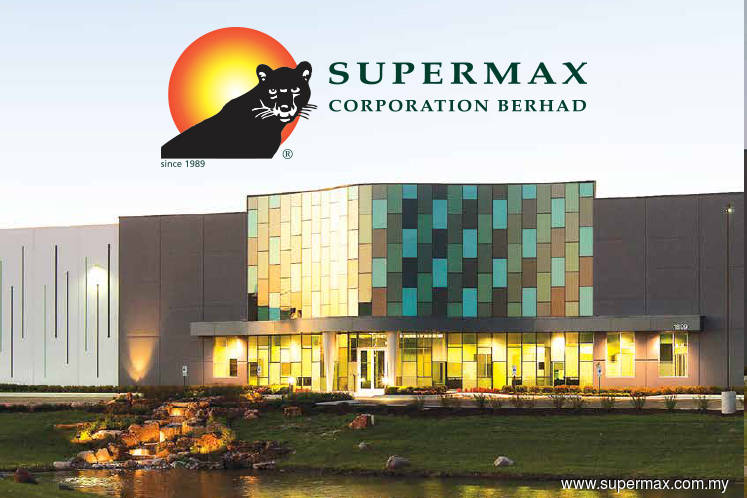 KUALA LUMPUR (Nov 27): CIMB Investment Bank Bhd has downgraded glove maker Supermax Corp Bhd, whose share price has plunged 7.18%, to "Hold" from an "Add" rating at RM2.09, with a lower target price at RM2.03 (from RM2.46).
At 10.13am, the stock shed 15 sen to RM1.94, with 11.6 million shares done for a market capitalisation of RM1.26 billion. In a year, the counter has dipped 12.75%.
At the same time, its warrants Supermax-C29 is the most active securities at nearly 35 million units traded, having fallen 3.5 sen or 43.75% to 4.5 sen, while its C27 warrants dipped 2.5 sen or 31.25% to 5.5 sen, with 12.13 million units done.
CIMB has placed a wider discount of 50%, from 40%, to the Malaysian glove sector average to account for reputational risk and further uncertainties, said its analyst Walter Aw in a note to clients.
The decision follows Supermax managing director Datuk Seri Stanley Thai's five-year conviction for insider trading.
Thai, formerly the  managing director of APL Industries Bhd (APLI), was sentenced with former remisier Tiong Kiong Choon, for communicating non-public information between Oct 26, 2007 and Oct 29, 2007 to Tiong.
Supermax said the court has granted a stay of execution and an appeal has been filed against the conviction and sentence.
"This is a negative surprise to us, given that this scenario is not inputted in our expectations. Although the insider trading charges are not related to Supermax directly, we note that Thai is a key management personnel.
"Currently, he holds the executive director and group managing director posts. However, we believe the stock has largely priced in this issue, as Supermax has traded at an average discount of 21.1% to its peers since he was charged in court with this offence on 15 Dec 2014," Aw said.
He said although CIMB is of view that the company's prospects are improving, while it should deliver strong earnings ahead, the incident would weigh down on its share price and create a share price overhang in the medium term.
Supermax has not announced any potential changes to its management team post the conviction, but is confident the remaining members of its management team are more than capable of overseeing the group's global operations with no major changes.
"We gather that members of the group's management team are all well-experienced in SUCB's business and most of them have been with the company for more than 20 years," he added. 
Meanwhile, Supermax chairman Tan Sri Rafidah Aziz said the group and its board of directors are "strongly behind" Thai.
She said Thai's charge was related only to APL Industries Bhd and not Supermax, and that his lawyers have sufficient grounds to appeal on the conviction.