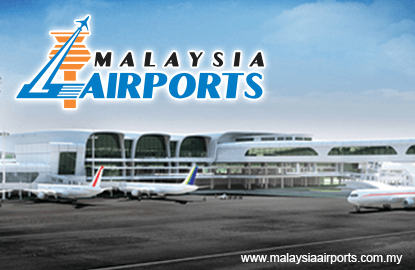 KUALA LUMPUR (Nov 1): CIMB Equity Research has downgraded Malaysia Airports Holdings Bhd (MAHB) to Hold (from Add) with a lower target price of RM6.80 (from RM7.21) after the Malaysian Aviation Commission (MAVCOM) said it will introduce a new passenger service charge (PSC) tier for travel to ASEAN countries at RM35 per departing passenger, down from the current RM65 at Kuala Lumpur International Airport (KLIA) main terminal building (MTB) and up from RM32 at KLIA2, beginning January 2017.
The revision will also see PSC for domestic flights being fixed at RM11 for all airports, an increase from RM9 at KLIA MTB and RM6 at KLIA2. Meanwhile rates for international destinations exclude ASEAN countries will be raised to RM73 for KLIA and other airports while PSC for KLIA2 will be RM50. Currently, the rates for KLIA, KLIA 2 and other airports are RM65, RM32 and RM65 respectively.
In a report today, the research house said even though the PSC rates for other categories will be raised, MAHB will likely to struggle to deliver return on equities (ROEs), which is estimated at about 9.7%.
"While MAVCOM recognizes that the new PSC rates will not be enough for MAHB to produce a positive internal rate of return (IRR), it is unwilling to raise rates too much as it has other aviation stakeholders to take care of," it said.
The lower ASEAN tariff essentially compensated by PSC hikes in other categories and CIMB research believe that MAHB will lose its ability to claim marginal cost support (MARCS) in the future since total revenue collection is unchanged.
It added that while MAVCOM will eventually allow additional PSC rate increases, it has not committed to a timeline or quantum. If MAVCOM no longer follows the schedule of 5-yearly PSC rate hikes and the MARCS scheme is abandoned, the uncertainty over future cashflows will increase.
As for airlines, CIMB research equity said that Malaysia Airlines Bhd (MAS) is the clear winner as the new rates closed the competitive gap with the LCCs at KLIA2. It added that the airline that will suffer greatest from this is AirAsia X Bhd while the impact on AirAsia Bhd is quite modest.
On a positive note, MAVCOM plans to raise landing and parking charges on January 1, 2018 and also plans to peg future PSC changes to service levels so that PSCs can be raised if service quality improves. Also, MAHB can now collect PSC directly from passengers and cease relying on the government, which has not paid MARCS since accruals started in Feb 2014.
"Given the protracted nature of the discussions and given that the extension is unlikely to materialize soon, we believe that it is more realistic to remove the value of the extension period for now," it said.
As of 10.29am, MAHB was down 5 sen or 0.75% to RM6.58 with 24,300 shares changed hands.