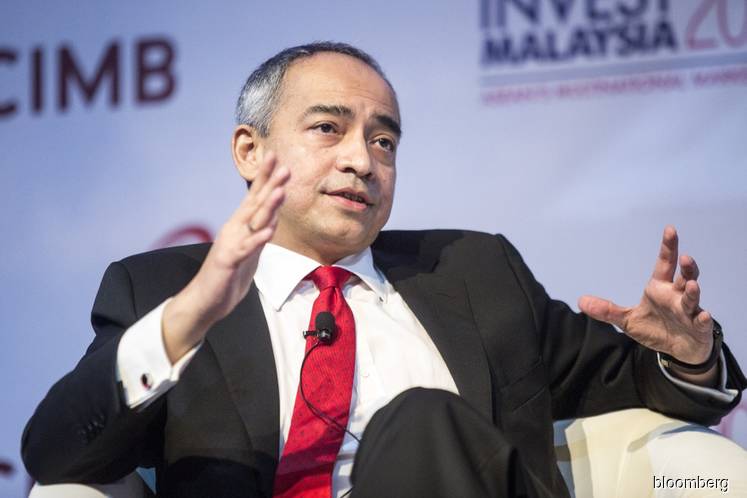 SINGAPORE (Dec 12): CIMB Group Holdings Bhd. chairman Nazir Razak confirmed he's considering plans to set up a private equity fund at a time when cross-border deals in Southeast Asia offer "exciting" opportunities.
Nazir, who describes himself on his Instagram profile as a "semi-retired banker," said the private equity idea is one of the things he is considering to keep himself busy. He became CIMB chairman in 2014 after stepping down as the bank's chief executive officer.
     
"I have been looking for opportunities to fill up that spare time. And private equity is one of the options that I am looking at," Nazir, 51, said in an interview with Bloomberg Television in Jakarta earlier this month.
Nazir is helping start a regional private equity fund that will seek as much as $1 billion, Bloomberg reported last month, citing people with knowledge of the matter. Nazir, brother of Malaysia's prime minister, will be joined by former CIMB banker Kenny Kim, former Indonesia trade minister Gita Irawan Wirjawan, and David Heng, an outgoing senior managing director at Temasek Holdings Pte, the people said.
Nazir declined to confirm the size of the private-equity fund or discuss details, saying it's too early to comment. But he said that private equity deals in Southeast Asia have traditionally "underperformed" when compared with similar transactions in other regions.
"If you look at it today, there may be not so many deals. But if you think about creating deals -- I think that could be a lot," said Nazir. In particular, he described cross-border deals in the region as an "exciting opportunity."
Private equity transactions in Southeast Asia have more than doubled to $38.4 billion this year, from $17.4 billion during the same period in 2016, according to data compiled by Bloomberg. An investor group agreed in July to pay S$16 billion ($11.8 billion) for Singapore warehouse operator Global Logistic Properties Ltd. in Asia's biggest-ever buyout, the data show.
Nazir was CIMB's CEO from 1999 to 2014, presiding in 2006 over the acquisition of Bumiputra-Commerce Bank which helped turn CIMB into Malaysia's second-largest lender by assets, after Malayan Banking Bhd. Nazir will keep his role at CIMB while acting as one of the five partners of the new private equity fund, the people familiar with the matter said last month.