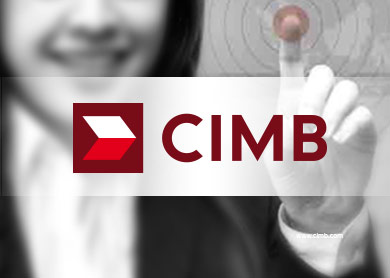 KUALA LUMPUR: CIMB Group Holdings Bhd's net profit for the third quarter ended Sept 30, 2014 (3Q14) fell 16.2% to RM890.27 million or 10.72 sen per share, from RM1.06 billion or 13.91 sen per share, in the previous corresponding quarter, due to higher loan impairments from its 97.94% subsidiary CIMB Niaga.
Revenue, or operating income, rose 1.3% to RM3.53 billion, from RM3.49 billion in 3Q13.
CIMB, which is in the midst of a merger with RHB Capital Bhd and Malaysia Building Society Bhd, said in its quarterly results note that net interest income, which rose 4.8%, was partially offset by a 6.4% decline in non-interest income due to softer treasury and markets as well as lower fee-based income from CIMB Niaga.
For the nine months ended Sept 30, 2014 (9M14), CIMB's net profit declined 17% to RM2.91 billion or 35.22 sen per share, from RM3.5 billion or 46.51 sen per share in the previous corresponding period.
It attributed the lower earnings to challenging operating conditions in Indonesia, the weaker rupiah and weaker capital markets.
Excluding the exceptional gains from the sale of CIMB AVIVA and restructuring charges in the previous nine-month corresponding period, the fall in the group's net profit was smaller at 7.4%, said the banking group.
For the 9M14, operating income dropped 3.7% at RM10.47 billion, compared with RM10.87 billion before.
CIMB's consumer banking segment, which reported a 2% decline in year-on-year profit before tax (PBT) to RM1.72 billion, still accounted for 44.2% of group PBT, more than 42% in 9M13.
Meanwhile, the wholesale banking segment, which reported a 12.8% y-o-y drop in PBT to RM1.77 billion – due to slower equity and wholesale markets – accounted for 44.8% of group PBT.  
Within the wholesale banking segment, the investment banking division's PBT fell 86.5% y-o-y to RM21 million for the 9M14.
CIMB said its total gross loans (excluding declining bad bank loan book) rose 9.8% y-o-y to RM246.7 billion, contributed by double digit growth rates from its retail financial services and commercial banking businesses.
Total deposits grew 1.6% y-o-y, after excluding foreign exchange fluctuations.
As such, the group's loan to deposit ratio increased to 93.5% compared with 87.1% in the previous corresponding period.
As at Sept 30, CIMB's gross impairment ratio improved slightly to 3.3% from 3.4% a year ago, while its cost to income ratio also stood marginally lower at 57.8% versus 58.1% in the previous corresponding period). Net interest margins remained unchanged at 2.86%.
While CIMB expects the near term outlook in Indonesia to continue to be challenging, it said "CIMB Malaysia should maintain steady growth, while CIMB Singapore is expected to maintain a positive momentum."
CIMB share price closed unchanged at RM6.20, giving it a market capitalisation of RM52.23 billion.