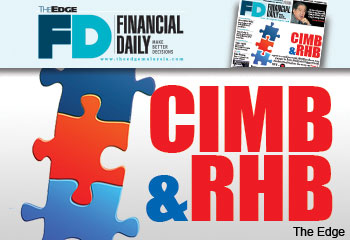 KUALA LUMPUR: CIMB Group Holdings Bhd's shareholders will end up with a 70% stake in the country's largest banking group that will be created following its proposed merger with RHB Capital Bhd (RHBCap).
RHBCap's shareholders will own the remaining 30%, the parties said in a joint statement with Malaysia Building Society Bhd (MBSB) late yesteday, providing details on their merger which will also spawn a mega Islamic bank.
An application was made to Bank Negara Malaysia to seek approval for their proposed merger, they said, confirming a report in The Edge Financial Daily yesterday.
"We are extremely pleased to have been able to reach this stage in the process. This exercise will cement CIMB's position among the top banks in Asean and bring a host of value creation opportunities to all our stakeholders," CIMB's acting group chief executive officer Tengku Datuk Zafrul Abdul Aziz said.
The deal is expected to be completed in mid-2015.
Interestingly, non-bank lender MBSB was accorded the highest valuation — it was valued at 1.93 times price-to-book — of the three entities.
The step-by-step merger will first see RHBCap acquiring CIMB's assets and liabilities via a share swap at an exchange ratio of 1.38 — or one RHBCap share for every 1.38 CIMB shares held.
This is based on a benchmark price of RM7.27 per CIMB share and RM10.03 per RHBCap share, which translates to a price-to-book value as at June 30 of 1.7 times for CIMB and 1.44 times for RHBCap.
Then, CIMB and RHBCap's respective Islamic banks — CIMB Islamic and RHB Islamic — will merge with MBSB to form the mega Islamic bank. Essentially, this will involve RHBCap's Islamic banking business being sold to CIMB Islamic Bank Bhd, which will then acquire all of MBSB's assets and liabilities at a price of RM2.82 per MBSB share.
MBSB shareholders will have the option of receiving cash or shares in CIMB Islamic, the newly-created mega Islamic bank. MBSB will eventually be delisted from the Main Market of Bursa Malaysia.
The expectation is that the merged CIMB-RHBCap entity would retain a controlling stake in the mega Islamic bank following a potential capital-raising exercise to boost the latter's capital base for future growth. Its partners in the bank would include the former MBSB and/or new strategic shareholders.
The deal values CIMB, RHBCap and MBSB at a premium to their share price on July 9, which is the day before they jointly proposed the merger. In CIMB's case, the merger consideration represents a premium of 0.4% to its July 9 price of RM7.24, while RHBCap's is a 15% premium to RM8.72, and MBSB's a 20.5% premium to RM2.34.
"All three have been over-valued, in my opinion, especially if you look at the kind of ROE (return on equity) they generate, but I suppose they were trying to make it a win-win situation for all by valuing all three at a premium. Of the three, MBSB's shareholders stand to make the most. I suspect the shares may jump tomrrow (today)," a banking analyst from a local research firm told The Edge Financial Daily.
The analyst, who participated in a conference call that CIMB arranged for analysts late yesterday on the merger, said there may be an asset rationalisation exercise following CIMB's merger with RHBCap. "I suspect RHB Investment Bank could be one of these assets," the analyst remarked.
CIMB and RHBCap yesterday emailed to staff memos about the impending merger, while MBSB had a townhall session with its staff.
"While in some respects, both RHBCap and MBSB operate in familiar territory for CIMB, the merger brings about scalability, which is a key success factor in the banking industry today, and accelerates growth in key areas such as SME banking, microfinance, and CIMB Singapore. We will be able to tap into an expanded pool of clients across the entire spectrum spanning retail, SMEs, corporates and governments, which means being able to leverage on a deeper network for referrals and connections," Zafrul said in the memo to CIMB staff.
RHB Group managing director Kellee Kam, meanwhile moved to assure staff, saying it would be business as usual, and that the merger could take six to nine months to complete.
Now that the three parties have submitted their proposed merger plans to Bank Negara, they will now move towards the due diligence process in view of signing a definitive sale and purchase agreement (SPA) in early 2015. Following the SPA, consent of other regulators and shareholders will be sought.
CIMB's shares last traded on Wednesday, before their one-day trading suspension, at RM6.98, while RHBCap's was at RM8.70 and MBSB, RM2.37.
This article first appeared in The Edge Financial Daily, on October 10, 2014.