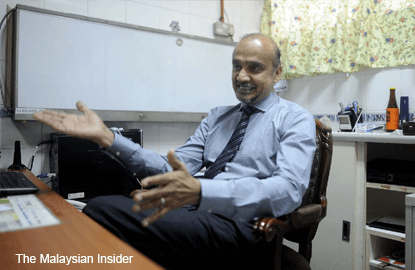 KUALA LUMPUR (Jan 14): A senior health official has rubbished claims that the government was cracking down on vape in order to collect more revenue from taxes imposed on cigarettes, adding that the taxes cannot cover the cost of treating smoking-related diseases.
While cigarette taxes bring huge revenue to Malaysia, the money collected from the so-called "death sticks" is not enough to cover the cost smoking imposes on the country's healthcare system, Professor Datuk Dr Abdul Razak Muttalif from the Institute of Respiratory Medicine (IPR) said.
More than RM3.83 billion of public funds was used to treat patients suffering from cigarette-smoking-related diseases in 2010.
These costs rise every year, he added.
"These are the latest figures I can share. The medical costs are huge, and they are all paid for by the Health Ministry," Dr Razak told The Malaysian Insider in a recent interview.
The amount of public funds spent on smoking-related diseases then is now almost on par with the amount of tax from cigarettes alone, which was RM3.62 billion in 2014.
In 2010, the government collected RM28.32 billion in total taxes that year.
Cigarettes were listed as among the top contributors to the government's tax revenue, according to the Malaysian Royal Customs Department, along with motor vehicles, raw petroleum, alcoholic beverages and telecommunication.
Dr Razak said the three main cigarette-smoking-related diseases are heart disease, lung cancer and chronic obstructive pulmonary disease.
In 2010 alone, each disease cost taxpayers RM689.6 million, RM150 million and RM2.814 billion, respectively.
"That's just 2010. If you look at 2015, it would be higher," said Dr Razak, although he was unable to provide the latest figures.
Dr Razak dismissed claims that the Health Ministry was trying to sabotage the sale and use of e-cigarettes, or vape, in order to collect more taxes.
"We (the Health Ministry) don't care about cigarette or vape taxes at all. Both bring adverse effects to society.
"Just think about it: within one year, the number of vapers in the country has risen to more than one million. That's on top of the five million cigarette smokers currently in the country.
"It's these kind of attitudes and habits that we're worried will make society sicker."
Putrajaya increased cigarette prices in November last year by 40%, a rate which shocked the industry.
Various state governments has also started cracking down on the e-cigarette or vaping trend since late last year, banning the sale of vape and related products.
The ban has driven many vape retailers out of business, at a time when the product was gaining popularity, with industry players estimating some one million users in the country.
The president of the Malaysian E-Vaporisers and Alternate Tobacco Association (Mevta), Allan Foo, had previously said that they were willing to let the government impose taxes on e-cigarettes.
He said the association would not object if Putrajaya taxed vape-related items such as the tank, mode, or even vape liquids.
He also urged Putrajaya to draw up a consistent guideline for the industry.
Despite this, a national fatwa has been issued against vaping, while the crackdown on vape retailers led to claims that the health ministry was acting on pressure from tobacco firms.
This was denied by deputy director of public health, Datuk Dr Lokman Hakim Sulaiman, who said they had never worked with any tobacco firms, as it would be in violation of the World Health Organisation Framework Convention on Tobacco Control (WHO FCTC).