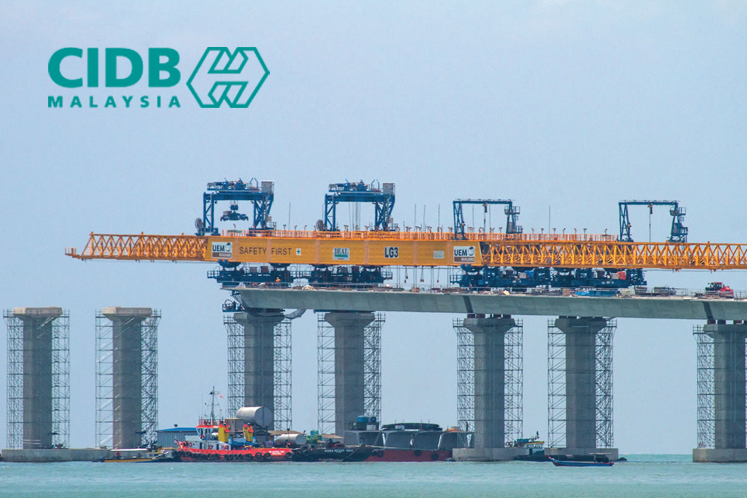 KUALA LUMPUR (Feb 18): The Construction Industry Development Board (CIDB) has started its investigation on a 37-storey condominium building under construction in Taman Desa, Jalan Klang Lama that partially collapsed last Friday (Feb 14), with the findings expected to be released in a month's time.
Works Minister Baru Bian said CIDB had issued a stop-work order for construction works on Feb 15 to facilitate the investigations, including sample collection of construction materials for standards compliance tests.
He said CIDB is currently investigating the incident under the Construction Industry Development Board Act 520 — Section 33D (1) on Certificate of Standard Compliance, Section 33A (1) on workers' registration and accreditation and Section 25 (1) on contractor registration.
"This is a strong reminder to the construction industry players to abide [by] the rules, regulations and guidelines related to construction. This includes registering all construction workers with CIDB, as well as ensuring that construction materials and products used conform to the highest standard and carry the Perakuan Pematuhan Standard (PPS) issued by CIDB," he told a press conference today.
"The necessary legal action will be taken against any parties responsible for breaches that led to this incident," Baru added.
Besides CIDB, the Department of Occupational Safety and Health (DOSH) has also been instructed to carry out an investigation to ascertain the actual cause of the collapse.
The 37-storey condominium building under construction in Taman Desa, Jalan Klang Lama partially collapsed on Friday afternoon, leaving two Bangladeshi workers trapped on the first floor.
The building's sixth-floor car park flooring reportedly gave way during heavy rain at 3.30pm.
The two victims were rescued at 5.15pm and 9.40pm respectively and taken to the Kuala Lumpur Hospital.
Earlier at the event, CIDB launched the "Construction Information for Your Convenience" (CONVINCE), a one-stop portal for all construction-related information, which is now available to all stakeholders.
A key initiative under the Construction Industry Transformation Programme (CITP) 2016-2020, CONVINCE provides the latest information and updates in the form of interactive construction statistics, data request services, digital publications and searchable directories. 
"Having access to comprehensive construction information will enable industry players and stakeholders to make information-based decisions and reduced business risks," Baru said.
Apart from the launch of CONVINCE, Baru also announced key milestones under the CITP across all eight focus areas of the programme — quality, safety, professionalism, sustainability, skills training, technology, export, and business competitiveness — achieved at the end of 2019.
He said that CIDB has so far managed to achieve at least 70% of the programme's targets.
"I am glad that what we have done for the last five years was to set the ecosystem in place. Now, it is a matter of implementing, supervising and ensuring that all the stakeholders are aware of this. It is really a change of culture and the mindset of our people [in the construction industry]," Baru said.
"Given the ambitious targets of the CITP that were to be realised in a very short time frame, the achievements of the industry are commendable.
"However, transformation of the Malaysian construction industry is an ongoing process. We must continue to push for systemic change in order to create a new culture in the industry, so that our industry players can be confident, globally competitive and resilient to market changes," he added.