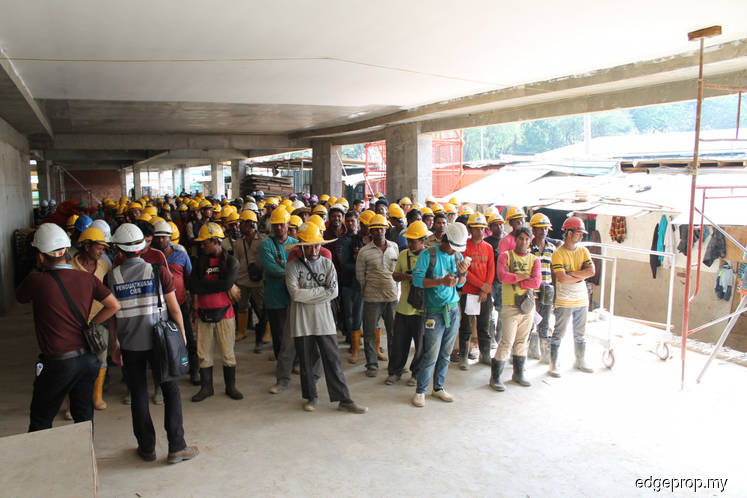 KUALA LUMPUR (Aug 23): The Construction Industry Development Board Malaysia (CIDB) has issued four notices to a construction site in Bandar Tun Razak, Cheras today, including one to stop construction works for breaching three sections of the CIDB Act 1994 (Act 520).
In a statement released by CIDB today, it said the notice was issued after a recent site inspection (Operasi Penguatkuasaan Bersepadu) found that 106 out of 111 workers did not have the CIDB Green Card.
This breaches Section 33(1) and those found guilty of this violation may be fined up to RM5,000 per worker.
In addition, 3 out of 10 types of building materials inspected did not have the certificate of standard compliance or Perakuan Pematuhan Standard (PPS), which breaches Section 33D(1), and the contractor can be fined not less than RM10,000 but not more than RM500,000 for this infraction.
Following this, CIDB urged all construction industry players to prioritise safety and quality in construction works.
This includes registering all construction workers with CIDB, ensuring that the construction materials and products they use meet standards and carry the certificate of standard compliance issued by the board.
"It is crucial that all construction personnel have the appropriate registration and accreditation, and industry players must ensure that all construction materials conform to standards. This will help to safeguard quality of work in construction, structural integrity of the building and most importantly ensure public safety," said CIDB chief executive Datuk Ahmad Asri Abdul Hamid.
The site inspection was a joint operation involving CIDB, Kuala Lumpur City Hall, Department of Occupational Safety and Health, the Ministry of Health, the Department of Environment and Civil Defense Department as part of a wider enforcement operation by CIDB to ensure the safety and quality of construction sites, as stipulated in Act 520.