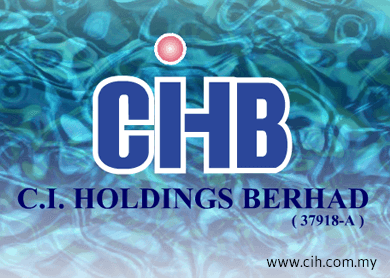 CI Holdings Bhd's RM8.25 million investment in Palmtop Vegeoil Products Sdn Bhd will double the group's packaging capacity of consumer pack edible oils to 4,000 containers per month.
The group's wholly-owned unit, Continental Resources Sdn Bhd (CRSB), owns blending and packaging facilities in Port Klang, Selangor, with a total capacity of 2,000 containers per month. Palmtop's facilities in Pasir Gudang, Johor, also have the same capacity.
However, both CRSB's and Palmtop's plants are underutilised at the moment, with only 800 containers filled per month in Port Klang and 300 containers filled per month in Pasir Gudang.
Nevertheless, CI group managing director Datuk Johari Abdul Ghani says the group plans to ramp up both CRSB's and Palmtop's packaging activities to 1,500 containers per month, mostly for export.
At the moment, Palmtop does not export its own edible oils, but rather provides packaging services to other companies.
According to Johari, one of the merits of acquiring Palmtop is that it will allow the group to export out of Pasir Gudang and expand its export market to 106 countries from the current 48.
"Some markets are better served out of Port Klang, and other markets through Pasir Gudang," he explains.
"The differential in costs [between exporting from Port Klang and Pasir Gudang] for some markets could be as much as RM100 per metric tonne. Thus, by acquiring Palmtop, we get to streamline our operations and minimise our costs."
To recap, CI (fundamental: 1.85; valuation: 0.6) announced last Tuesday that CRSB had entered into an agreement with Palmtop to subscribe for 8.25 million new ordinary shares worth RM8.25 million, representing 60% of the enlarged share capital of the latter.
Palmtop's owners, Datuk RA Sukumaran and Datuk Tan Fok Wah, who are not selling their stake or subscribing to new shares in Palmtop, will see their shareholding diluted to 40% after the subscription of the new shares by CRSB.
"The fact that the current shareholders are not getting any cash payments from this deal shows that they want to grow the business together with CI. Datuk Sukumaran is a pioneer in exporting consumer pack edible oils to Africa and the Middle East, and he wants to get on board with us," says Johari.
He adds that CI may consider giving Sukumaran a board seat due to his expertise in marketing edible oils.
The consumer pack edible oil operation has been CI's core business since April last year, after the group acquired CRSB for RM42 million. Prior to that, CI had in 2011 sold off its beverage unit Permanis Sdn Bhd, the local bottler for PepsiCo, to Japan's Asahi Group Holdings Ltd for RM820 million cash. The bulk of the cash proceeds were distributed to CI's shareholders.
It is noteworthy that the group's current business in consumer pack edible oil and tapware has thin margins. For the nine months ended March 31 (9MFY2015), CI recorded revenue of RM268.7 million while net profits came in at only RM5.35 million, which translates into a net profit margin of about 2%.
Johari's strategy is to acquire another two or three edible oil packaging firms to build up the business. It is akin to when CI was building up its soft drink bottling business back in 2002.
Johari was credited with growing CI from the sixth largest bottler in the country to the second largest within a decade, before it disposed of Permanis to Asahi in 2011.
At its height in the financial year ended June 30, 2010, CI, with Permanis as its core business, recorded RM516 million in revenue and RM38 million in net profits, translating into a net profit margin of 7.36%.
After distributing the bulk of its cash proceeds from the Permanis disposal, CI was left with its tapware manufacturing and distribution business. The disposal also left the group with a significant amount of liquid assets.
As at the end of March 31, 2015, CI held short-term funds of RM55.2 million, deposits with financial institutions of RM11.1 million and cash and bank balances of RM3.65 million. Meanwhile, it had long-term loans of RM4.41 million and bank borrowings of RM11.5 million.
While Johari seems adamant that CI needs to grow its edible oil packaging business, investors are bullish about the group's prospects, valuing the counter at a stratospheric multiple of 64.5 times its annualised 9MFY2015 earnings.
Since Feb 25, CI had appreciated almost 150% to last Wednesday's close of RM2.84 per share, giving it a market capitalisation of RM460 million, or an enterprise value of RM405.96 million after stripping out its net cash of RM54.04 million.
---
Note: The Edge Research's fundamental score reflects a company's profitability and balance sheet strength, calculated based on historical numbers. The valuation score determines if a stock is attractively valued or not, also based on historical numbers. A score of 3 suggests strong fundamentals and attractive valuations. Visit www.theedgemarkets.com for more details on a company's financial dashboard.
This article first appeared in The Edge Malaysia Weekly, on May 18 - 24, 2015.