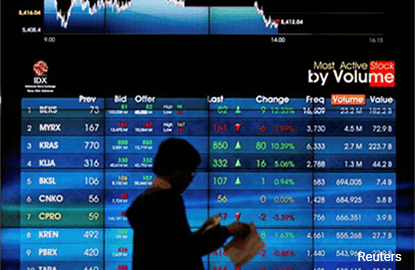 (Jan 13): Southeast Asian stock markets, except Singapore, were subdued in thin trade on Friday as investors paused to reflect on U.S. President-elect Donald Trump's failure to elaborate on stimulus plans in his first news conference since his election victory.
In Asia, shares dipped and the dollar was poised for a losing week, after hitting a five-week low in the previous session, while overnight on Wall Street major indexes finished lower, as investors weighed whether Trump would stress growth-boosting steps when he takes office.   
MSCI's broadest index of Asia-Pacific shares outside Japan was down 0.2%, after rising to its highest levels since late October in the previous session. 
"Markets are pretty choppy,  because there is still uncertainty related to how Trump is going to manoeuvre his economic policies," Taye Shim, research head at KDB Daewoo Indonesia said. 
Investors also shrugged off China trade data that showed imports beating forecasts slightly on strong demand for commodities, while exports fell more-than-expected.
China, the world's largest trading nation, could be heavily exposed to protectionist measures this year, if Trump follows through on campaign pledges to brand it a currency manipulator and impose heavy tariffs on imports of Chinese goods.
  
In Southeast Asia, the Philippine index dipped 0.3%, extending losses to a third straight session, dragged down by financials and telecom services. 
Property developer SM Prime Holdings Inc was down as much as 2%, while telecom services provider PLDT Inc fell as much as 2.5%.
Malaysia fell 0.2%, snapping three sessions of gains, led lower by consumer staples and utilities.
British American Tobacco Malaysia Bhd, the biggest drag on the index, lost as much as 4.8%, while infrastructure conglomerate YTL Corporation Bhd fell as much as 1.3%.
Bucking the trend, Singapore gained 0.6%, aided by financials and industrials.
DBS Group Holdings Ltd rose as much as 0.8%, while industrial conglomerate Jardine Matheson Holdings Ltd climbed as much as 1.7%.
"Singapore is just following the trend of some Asian markets like Hong Kong and Japan," said Manny Cruz, an analyst with Manila-based Asiasec Equities Inc.
Hong Kong's Hang Seng index was up 0.4%, while Japan's Nikkei index was trading 0.7% higher as of 0505 GMT.
SOUTHEAST ASIAN STOCK MARKETS
(Change at 0420 GMT)
| | | | |
| --- | --- | --- | --- |
| Market | Current | Previous close | Pct Move |
| Singapore | 3009.4 | 2993 | 0.55 |
| Bangkok | 1570.06 | 1568.84 | 0.08 |
| Manila | 7241.17 | 7264.55 | -0.32 |
| Jakarta | 5298.074 | 5292.75 | 0.10 |
| Kuala Lumpur | 1674.99 | 1677.76 | -0.17 |
| Ho Chi Minh | 687.08 | 686.96 | 0.02 |
Change this year
| | | | |
| --- | --- | --- | --- |
| Market | Current | End 2016 | Pct Move |
| Singapore | 3009.4 | 2880.76 | 4.47 |
| Bangkok | 1570.06 | 1542.94 | 1.76 |
| Manila | 7241.17 | 6840.64 | 5.9 |
| Jakarta | 5298.074 | 5296.711 | 0.03 |
| Kuala Lumpur | 1674.99 | 1641.73 | 2.03 |
| Ho Chi Minh | 687.08 | 664.87 | 3.3 |