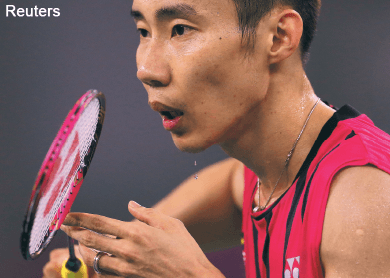 Gets eight-month backdated suspension for violation of anti-doping regulation
PUTRAJAYA: Former World No 1 badminton player Datuk Lee Chong Wei has received an eight-month sanction for violation of an anti-doping regulation.
The Badminton World Federation (BWF) has decided that his eight-month suspension would be backdated from the time his urine sample was taken at the World Championships in Copenhagen on Aug 30 last year.
This means Chong Wei's term of suspension will end on Thursday midnight and the player will be able to participate in the Sudirman Cup from May 10 to 17, the SEA Games in Singapore from June 5 to 16, and the World Championships in Jakarta in August.
However, Chong Wei is forced to return the silver medal he won at the World Championships after losing to China's Chen Long.
The independent doping hearing panel is convinced that the most likely reason for the adverse
analytical findings of Chong Wei's sample to have contained the banned substance, dexamethasone, was from one or more gelatin capsule shells that contained the cordyceps.
Cordyceps is a natural food product and a form of herbal supplement which Chong Wei had been taking since he was 13 years old, because his family believed that it was beneficial to his health.
The panel is convinced this is not a case of doping with an intent to cheat. At the same time, it believes that Chong Wei had been "negligent" — with the degree of negligence being "rather light" — as he did not realise he was taking the cordyceps contaminated with dexamethasone.
"From here, we know that Chong Wei is not guilty of any wrongdoing because he had been taking the cordyceps from a trusted source.
"The BWF considers this case of Chong Wei a very rare case," said Youth and Sports Minister Khairy Jamaluddin during a press conference at his office in Putrajaya.
The minister said that he had spoken to Chong Wei and the player informed him that he intends to continue playing at the highest level.
Khairy said that for the first time, Chong Wei will be competing in the SEA Games since in Manila.
"I have said before that the SEA Games should be used as a platform for emerging and junior athletes. However, I agree with Chong Wei that he needs to get back into form with as many competitions as possible to ultimately qualify for the 2016 Olympic Games in Rio De Janeiro, after being out of action for eight months," he said.
Meanwhile, Chong Wei, who was present at the minister's office in Putrajaya, said that he is relieved that everything is over now and plans to rest at home for the last three days he serves his suspension.
"I have gone through a lot in the past few months and now with the decision out, I can get back to my normal routine. But first, I need some rest.
"I am grateful and thankful to the Badminton Association of Malaysia (BAM), the Youth and Sports Ministry and my fans who have been supportive of me in this difficult time," he said.
Chong Wei also said that he is ready to play and come back to the top form he was before.
Meanwhile, Khairy said that he hopes other athletes will learn from this case and not simply take any nutrition supplement without referring to the National Sports Institute.
"I would like to thank BAM for standing by Chong Wei through this extremely trying time for him and getting the best counsel to prepare his defence.
"Now that this episode is almost over, Chong Wei has renewed his commitment to keep playing at his highest level and work towards winning our first Olympic gold medal. I also hope for all parties to put this behind and move forward to once again come together to support one of the nation's most successful athletes," said Khairy.
This article first appeared in The Edge Financial Daily, on April 28, 2015.