This article first appeared in Personal Wealth, The Edge Malaysia Weekly, on January 20, 2020 - January 26, 2020.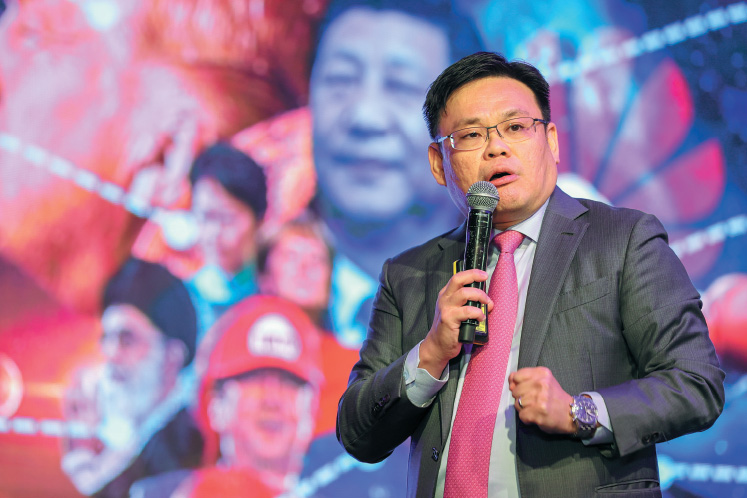 With the trade war, the world has changed. All of a sudden, a lot of these companies have become more interesting as they started to emerge as technology leaders. - Tan
Technology stocks in China and equities in Malaysia remain attractive amid a relatively stable investing environment, said Tan Jee Toon, chief investment officer at RHB Asset Management in Singapore, at The Edge-RHB Premier Investment Insights Dinner.
Tan, who oversees Asia-Pacific equities, said there would be less gyration in stock markets this year as the US and China have signed the first phase of their trade deal. The US will halve its tariff on roughly US$120 billion worth of Chinese products to 7.5%. He said this during his presentation, titled "The Price of Irrationality: 2020 Market Outlook".
"[US President Donald] Trump did not shout about it and China did not talk about it. But it is a significant tariff rate cut. Our view is that Trump's attitude towards China has undergone a big U-turn," he said.
Tan pointed out that Trump had been impeached by the US House of Representatives and was facing trial in the Senate, which was a good thing for the market. "I do not think Trump can fight so many wars. Now, he has a domestic war and that may be part of the reason he decided to have a trade deal with China."
The impact of other key events that haunted markets last year, such as Brexit and the Hong Kong protest movement, has also subsided. The pound sterling has strengthened since the UK's recent general election while the prices of Hong Kong's bellwether stocks have moved up steadily. Investors had already priced in all the negativity in both markets and moved on, said Tan.
The US Federal Reserve's view on the direction of its interest rates going forward is aligned with that of market participants. This is a boon to global markets. "Markets will be less volatile when both sides are on the same page. We will not see as many market gyrations," he said.
Going forward, Tan favours Chinese tech stocks and is positive on their long-term prospects. He said the firm's flagship fund — the RHB Big Cap China Enterprise Fund — may allocate more money to tech stocks in China, thanks to the trade war.
Tan said many of China's tech companies were forced to upgrade their capabilities so they could manufacture certain products, such as the Huawei smartphone, without using components supplied by US companies. Last year, he and his team analysed the components of the Huawei P30 Pro and Huawei Mate 30 and found that Chinese companies supplied only a few of the key components for the former, which was released last March and sold at US$1,150 each. However, Chinese companies supply almost all of the key components used to manufacture the Huawei Mate 30, released last October and sold at US$1,200 apiece.
"Such a change in seven months is significant. Previously, it was difficult for me to invest in Chinese companies as they were just assemblers. They possessed very little technical know-how and intellectual capital," said Tan.
"But with the trade war, the world has changed. All of a sudden, a lot of these companies have become more interesting as they started to emerge as technology leaders in their own fields."
He added that such a structural trend will continue to happen in the next few years and China's tech companies could quickly catch up with their US counterparts.
Tan also likes Malaysian equities due to several factors. He pointed out that the Manufacturing Purchasing Managers' Index (PMI), which has a strong correlation with the FBM KLCI, had been rising recently. Corporate earnings, a significant driver of the index, had also shown signs of a recovery.
He added that Malaysian stocks are being traded below their fundamental valuations. "If you look at the price-earnings ratio chart of the FBM KLCI, you can see that the stocks are really cheap. They are being traded at beyond one standard deviation point below the mean."
This indicated that the stocks were trading below their average prices and that they were a bargain.
However, domestic politics is a major concern to investors, he added.
Despite a more benign investing environment, Tan cautioned investors that the US is experiencing the longest economic expansion in its history. The economy is nearing the end of its cycle, even though nobody knows exactly when a recession could happen.
He also used the term "duct tape banana" to describe the investing environment today. The term refers to an artwork sold at Art Basel Miami Beach in December last year for a whopping US$120,000.
Tan said the economic environment and markets today are just as incomprehensible. At its peak last year, there were US$17 trillion worth of negative-yielding bonds in the market. It showed that fixed-income investors were so worried that they were willing to lend money at negative interest rates.
At the same time, major stock markets around the world rallied, showing equity investors were positive on the markets. "So, who was correct?" he asked.
Meanwhile, the US national debt is at an all-time high, which should translate into higher interest rates. However, the interest rates are close to an all-time low. "All these do not make sense, but they are happening," he added.
Tan said the world has entered a new paradigm with an uncertain outlook and investors should have this in mind when investing.
Finding opportunities in the New Year