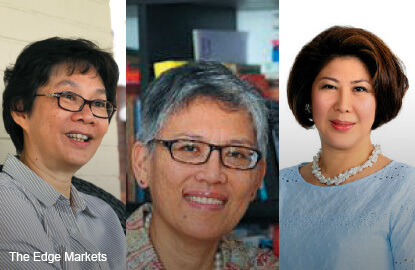 This article first appeared in
Corporate, The Edge Malaysia Weekly
, on August 15 - 21, 2016.
A new Chinese business station will hit the radio airwaves by year-end at the earliest, say industry sources. It is understood that the station, scheduled to go live by the fourth quarter, will focus on providing Chinese business infotainment content.
"The name of the station is likely to be CityPlus FM. Those behind it are the same people who started Kupi-Kupi FM at 96.3 (FM frequency) in Sabah. They also have a radio station in Sarawak running on a trial basis now at 92.5," says an industry source.
Kupi-Kupi FM, launched in Sabah earlier this year, is broadcast in Malay and the Kadazandusun Murut language, with 80% local content provided by Sabahan talent.
The three individuals behind this new radio venture are Centre for Strategic Engagement (CENSE) directors Rita Sim, Rose Ismail and Fui K Soong. Sim and Rose are co-founders of the private consulting firm while Fui is the CEO.
The radio and media ventures are parked under Cense Media Sdn Bhd, set up in 2013, The Edge has learnt.
The trio are not new to the media scene. Sim and Rose knew each other for a long time before they worked together and have many years of experience in the industry. Sim was on the board and worked at the Sin Chew group for 10 years while Rose was with the New Straits Times for 25 years.
Sim coordinated and managed the merger of three public-listed media companies that gave birth to Media Chinese International Limited (MCIL) — the first Malaysian company to have dual primary listings on Bursa Malaysia and the Hong Kong Stock Exchange. The merger involved Sin Chew Media Corp Bhd and Nanyang Press Holdings Bhd of Malaysia and Ming Pao Enterprise Corp Limited of Hong Kong.
Soong, meanwhile, engaged with the media frequently when she was heading MCA think tank, Institute of Strategic Analysis and Policy Research (INSAP), between 2005 and 2009.
It was at INSAP where Sim and Soong met, and they have remained close since then.
CENSE, set up in in 2010, specialises in public policy research with special interest in media, policy and political communications. According to its website, its clientele includes members of parliament, ministers, policymakers and multinationals operating in the region.
Media analysts who were contacted say there is space for a fresh player in the radio arena, provided it targets the vernacular segment.
"If you track the changing listenership preferences, it is getting more vernacular. So, taking the vernacular route for a new venture in radio could be a calculated strategic move. The English radio segment is getting very saturated," says a media analyst at a bank.
"Also, in the radio space, there is none in the business segment except BFM (Business FM) and we can see that it has successfully carved a niche for itself. To go into the Chinese language business segment ... that is an untapped market." He notes that the ad spend for radio is up 0.7% year to date to RM90 million while year on year, it is down 6.5%.
His observation seems to hold true in the case of Star Media Group Bhd. The group's vernacular radio stations such as Chinese-language 988 FM and Malay-language Suria FM are hits compared with English channels Capital FM and Red FM, which are making losses.
988 FM is the No 1 Chinese station in the northern region and has a listenership of 1.7 million nationwide weekly while Suria FM has 2.3 million urban-centric Malay listeners.
It is known in the industry that Star is reviewing its radio assets, which could potentially lead to a sale of one or more of its stations, which are likely to be the ones in English.
The Edge had reported at the end of last year, citing sources, that Star was in talks with several parties, which included Astro Malaysia Holdings Bhd, to sell Capital FM and while no decision had then been made on a potential sale of Red FM, the station's announcers had been told that their last day was Dec 31, 2015.
Capital FM and Red FM are still on air today but do not have announcers.
For its first quarter results ended March 31, 2016, Star's radio segment registered a loss before tax of RM360,000, compared to a profit before tax of RM770,000 a year earlier.
Meanwhile, Media Prima Bhd expanded its radio footprint by acquiring two radio stations in the vernacular segment — Ultra FM and Pi Mai FM — last October for RM20 million.
Ultra FM, in the Klang Valley, is in Malay and English while Pi Mai FM is a Penang-based Malay language station. Apart from these new assets, Media Prima has four other stations: Hot FM (Malay), One FM (Chinese), Kool FM (Malay) and Fly FM (English).
The radio business is profitable for Media Prima, recording a 57% year-on-year increase. for its second quarter ended April 30, 2016.
Meanwhile, another media group that is strong in the vernacular radio segment — Astro — saw earnings from its radio business rise 29% year on year to RM37.6 million for the first quarter ended June 30, 2016.
Astro owns 18 radio stations, which it says includes the No 1 stations in all four major languages: ERA fm with 4.7 million listeners weekly, MY FM with two million, hitz fm with 1.2 million, and THR Raaga with two million.