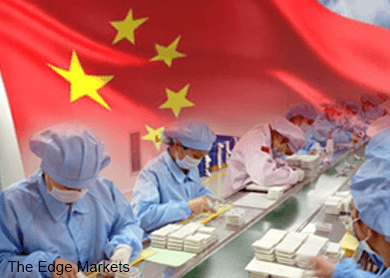 BEIJING (Apr 15): China's economy grew 7.0 percent in the first quarter, as expected but still its slowest rate in six years, reinforcing bets that policymakers will take more steps to bolster growth.
Economists polled by Reuters had expected China's gross domestic product (GDP)to rise 7.0 percent in January-March compared with a year ago.
In the last quarter of 2014, China's economy grew 7.3 percent on an annual basis.
On a quarterly basis, economic growth slowed to 1.3 percent between January and March after seasonal adjustments, the National Bureau of Statistics said on Wednesday, compared with growth of 1.5 percent in the previous three months.
Analysts had expected quarterly growth of 1.4 percent.
Activity indicators for March were all weaker than expected.
Factory output climbed 5.6 percent in March from a year ago, below forecasts for a 6.9 percent gain.
Fixed-asset investment, a vital driver of the economy, rose 13.5 percent compared with the same month last year. Analysts had expected a rise of 13.8 percent.
Retail sales expanded 10.2 percent compared with expectations for a 10.9 percent gain.
The disappointing data supports analysts' predictions for China's economic growth to slide to 7 percent this year, the lowest in a quarter of a century.