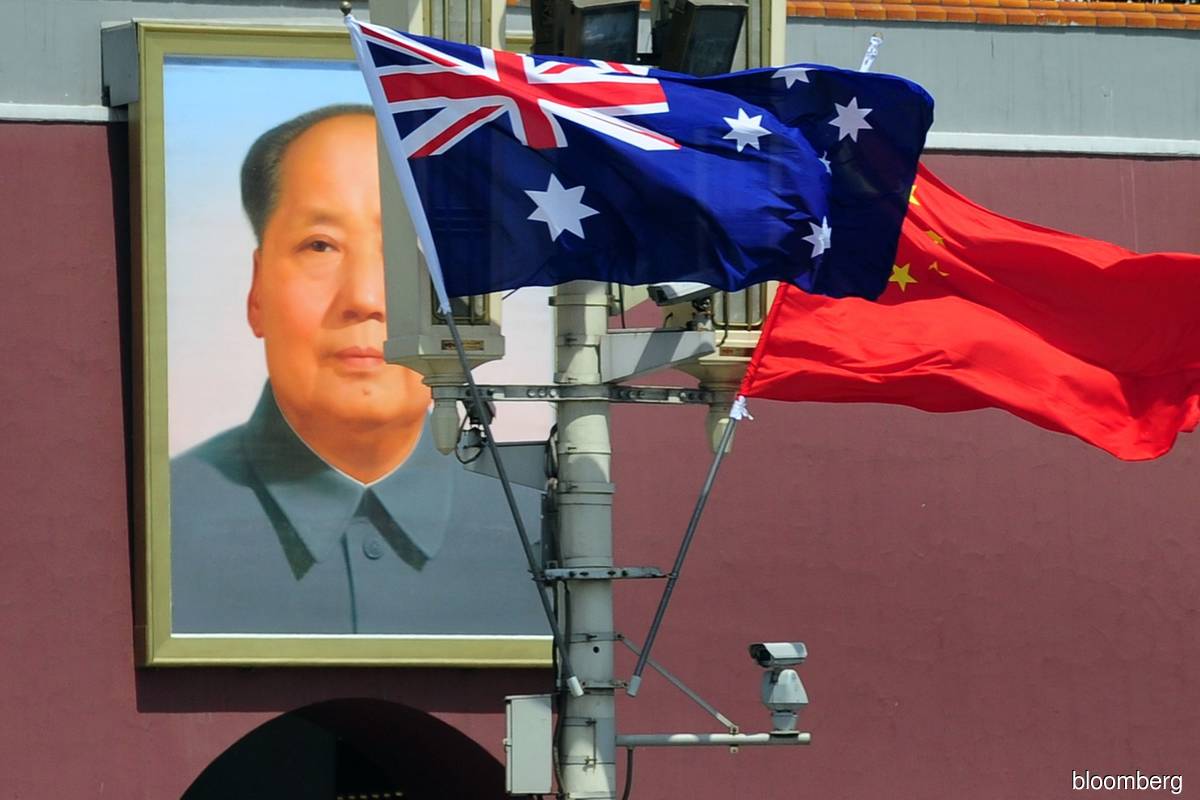 (Sept 9): The spat between Canberra and Beijing seems to be getting worse by the day: A TV anchor detained, journalists fleeing, key imports banned. But Australians doing business in China say the risks are manageable — so far.
"You'd think Australian business would be running away from China," said Helen Sawczak, who was national chief executive officer of the Australia China Business Council until recently. "But Australian companies are still very buoyant about China."
Australia is the most-China reliant developed economy in the world, making it vulnerable to Beijing using trade as a diplomatic cudgel. As well as targeting commodities like beef, wine and barley, Beijing has warned its citizens to avoid holidaying or studying in Australia — endangering a key tourism and education market.
The Australian business community is largely staying quiet, as ties worsen between the two governments. Being too vocal either way carries costs: Railing about human rights in China will jeopardize the market, but also pushing Australian political leaders too hard might lead to a backlash in the current environment.
"If you're a business already operating in China, you'll most likely try to ride it out and stick around," said Jeffrey Wilson, the research director at the Perth USAsia Centre who specializes in the regional economic integration of the Indo-Pacific and trade agreements. "But for companies yet to make that step, they may think it's best to avoid launching in Asia through China and go through other nations in the region instead, such as Malaysia or Japan."
Ties between the key trading partners hit a new low this week as China confirmed that an Australian television anchor was being held over suspected state security violations, while the last two correspondents working for the Australian media there fled the country. Prime Minister Scott Morrison's government has advised its citizens not to travel to China, saying they may be at risk of arbitrary detention.
"The perception of risk and real risks around China have been growing," said Philipp Ivanov, chief executive officer of the Asia Society in Australia. While companies were nervous, they do not appear to be concerned about the safety of their staff in the country, at least for now, he said.
China was keen to continue to promote itself as open for business, and would be wary of the reputational and real economic hit of firms pulling staff out of the country, especially now when its economy is recovering from the pandemic and it is under political pressure from major democracies worldwide, Ivanov said. Equally, it would want to keep Australian and global business executives onside, in the hope they may help to influence their governments to tone down their policy rhetoric on China.
Relations have spiraled downward over a string of moves by Morrison's government that China has interpreted as Australia siding with the Trump administration in the widening trade and security dispute. Australia's actions have included barring Huawei Technologies Co's 5G technology and calling for an international probe into the origins of the coronavirus.
The media has also been caught up in the downward spiral.
Cheng Lei — an Australian citizen employed by China's English-language state broadcaster CGTN before her detention last month — was "suspected of carrying out criminal activities endangering China's national security," Foreign Ministry spokesman Zhao Lijian told reporters Tuesday in Beijing. The allegations, which give authorities broad powers to hold suspects for months without charge or access to a lawyer, are among the most serious ever brought against a foreign journalist in China.
The revelations came shortly after the last two China correspondents for Australian media outlets left the country after questioning from the Ministry of State Security. China's state media has since reported that intelligence officials raided the residences of Chinese journalists based in Australia in late June.
Mark Tanner, managing director of Shanghai-based consultant China Skinny which counts supermarket giants Coles and Woolworths among its Australian clients, said the rising tensions were concerning. But Australians remained undeterred as the huge potential offered by China's massive market outweighed any downside.
"China Skinny is still fielding a good flow of inquiries about market entry and growth strategies from Australian firms, although decisions are being made slower than before," he said. "China is the most vibrant market right now."