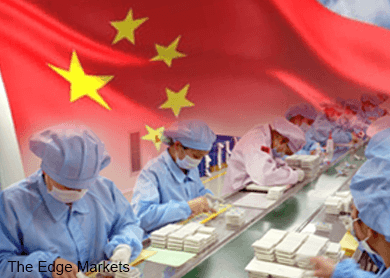 SHANGHAI (Feb 10): Chinese shares ended higher for a second day on Tuesday as lower-than-expected inflation raised the chances of further monetary easing, but persistent worries over the economy kept many investors on the sidelines.
China's annual consumer inflation hit a five-year low in January while factory deflation deepened, underscoring persistent weakness in the economy.
Analysts said a weak economy would trigger more policy easing, but many investors are still waiting for the economy to bottom out.
The CSI300 index rose 61.02 points, or 1.8 percent, to 3,406.94, while the Shanghai Composite Index which tracks all the tickers trading on the Shanghai Stock Exchange gained 46.15 points, or 1.5 percent, to 3,141.6.
The largest percentage gainer on the Shanghai exchange on Tuesday was Chaodong Cem, which rose 10.0 percent, while the largest percentage decliner was Nanjing Steel , down 8.9 percent.
Among the most active stocks in Shanghai were Bank Of China , up 1.49 percent to 4.09 yuan; China Petroleum , up 1.06 percent to 5.74 yuan and Agriculture Bank Of China, up 1.24 percent to 3.27 yuan.
In Shenzhen, TCL Corp, up 4.9 percent to 3.83 yuan, BOE Technology, up 2.1 percent to 2.86 yuan and Shenwan Hongyuan, down 1.4 percent to 15.31 yuan, were among the most actively traded.