This article first appeared in The Edge Financial Daily, on June 10, 2019.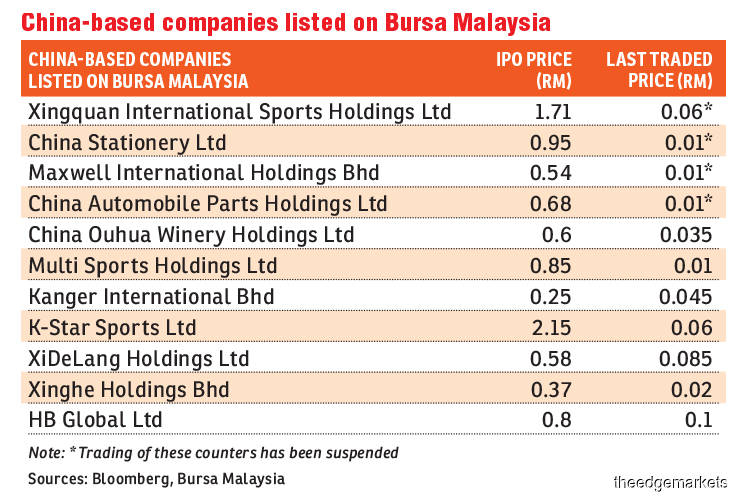 KUALA LUMPUR: Next month will be the 10th anniversary of the listing of Xingquan International Sports Holdings Ltd — the first China-based company that was listed on Bursa Malaysia.
This also means it has been 10 years since the local stock exchange introduced the first initial public offering (IPO) of a foreign-based company, which is a sports shoes manufacturer, on July 10, 2009.
But it seems the milestone may not bring much to cheer about for both Bursa and Xingquan.
At end-March, the Securities Commission Malaysia found that Xingquan, together with China Stationery Ltd (CSL) and Maxwell International Holdings, had been found furnishing false or misleading financial statements with the exchange.
Coincidentally, all three are sports shoes manufacturers in southern China. On April 1, Bursa reprimanded Xingquan for failing to submit quarterly and annual financial reports. The sports shoes maker has not released annual reports for two financial years. On top of that, Xingquan also failed to meet Bursa's directives and regulations on corporate governance and foreign listing.
Xingquan's executive chairman and chief executive officer (CEO) Datuk Wu Qing Quan, who is also the controlling shareholder, executive director Wu Lian Fa, former senior independent non-executive director Zhou Li Yi and former independent non-executive director Datuk Ramly Zahary, will now have to contend with fines amounting to RM3.03 million.
Last Friday, CSL was reprimanded by Bursa over its breaches of the exchange's Main Market listing requirements with executive director Angus Kwan Chun Jut and CEO Chan Fung @ Kwan Wing Yin slapped with fines amounting to RM5.38 million. The stationery maker not only failed to submit its quarterly and annual financial reports, but also failed to meet Bursa's directives and regulations on corporate governance, and foreign listing.
Last month, Maxwell International Holdings Ltd failed to submit its unaudited financial accounts for the quarter ended March 31. This is the third time it has done so.
Furthermore, in April last year, Maxwell's executive director and president Li Kwai Chun was fined RM66,000 over her failure to ensure the group delivered its annual report for 2015 on time. She, together with the group, was also reprimanded for failing to submit the annual report for 2016 by the stipulated deadline, and for not immediately disclosing that the group had changed the legal representative of its subsidiary, Jinjiang Zhenxing Shoes and Plastics Co Ltd, on Nov 12, 2015. The change was only announced on March 3, 2016.
China Automobile Parts Holdings Ltd, meanwhile, told Bursa in early January that it needed a 12-month extension to submit its regularisation plan, as it was unable to meet the Jan 10 deadline. The group's shares have been suspended since June 8, 2017, over its failure to issue its financial reports in the stipulated time frame, having still not released its 2017 and 2018 annual reports.
Currently, there are 12 China-based companies listed on Bursa. Sad to say, Xingquan is not the only black sheep among tthem. Four of the 12 have been suspended from trading as they failed to release their financial accounts. Regulators' reprimands of China-based companies have raised questions over whether it is possible for investors to recoup their investments. Except for Sinotop Holdings Bhd, most of them are trading below 10 sen — which is below their IPO price — as well as their cash per share.
Clearly, investors who had invested in these companies on expectations that they would ride on China's robust economic growth in the past decade, have been let down by these foreign IPOs.
Sinotop, which closed at 25 sen last Friday, is no longer a China-based company. In 2010, the garment manufacturer undertook a reverse takeover exercise that resulted in a Chinese based fibre maker — Be-Top Group Ltd being injected into the company, which was then known as John Master Industries Bhd.
As the fabric business in China was not performing as well after the reverse takeover, it has diversified into project management and infrastructure construction-related businesses that are based in Malaysia, to expand its earnings streams. Still, the Chinese fabric manufacturing did not fare well.
Malaysian investors have since shied away from these foreign companies given the irregularities that happened among them over the years.
Bringing in foreign companies to list on Bursa 10 years ago was a strategy to raise the number of new listing on the local bourse that had been suffering from an IPO drought. But looking at the developments that unfolded, it seems the strategy has yet to yield the desired effect.
It would be interesting moving forward to see if more China-based companies will list on Bursa, given the performance of the current ones thus far.