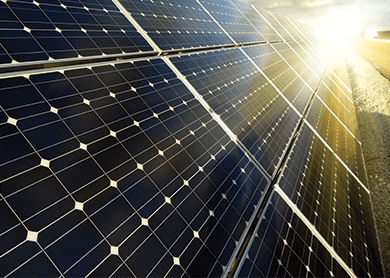 solar-panel-energy
BEIJING (July 15): China's solar manufacturers are seeking to dodge U.S. and European Union trade barriers by locating about a 10th of their production capacity abroad.
By the end of this year, the Chinese producers will establish outside the country solar panel factories with a capacity of at least 5.3 gigawatts and cell plants that can make 4.7 gigawatts, according to data compiled by Bloomberg New Energy Finance.
The shift shows how China's industry is coping with mounting trade restrictions brought in to protect U.S. and European companies concerned they were being undercut on price. Companies like the world's biggest panel maker, Trina Solar Ltd., and others such as JinkoSolar Holding Co. and JA Solar Holdings Co. are among those moving factories abroad.
"Capacity is being added in countries such as Malaysia, Singapore and Thailand," said Ash Sharma, a senior research director at IHS Inc.
In May, JinkoSolar opened a factory in Malaysia that will eventually be able to produce 500 megawatts of solar cells and 450 megawatts of panels a year. Trina is building a $160 million production plant in Thailand and will invest in a $500 million plant with India's Welspun Energy Ltd.
China is the world's biggest supplier of panels with about 65 gigawatts of production capacity at the moment, according to Bloomberg New Energy Finance.
"Products from our Malaysian plant will be mainly exported to the U.S., but we're eyeing global demand," said Sebastian Liu, JinkoSolar's director of investor relations. "This isn't temporary. JinkoSolar wants global manufacturing to avoid the risks posed by a single production location."
Malaysia Expansion
JinkoSolar may consider expanding in Malaysia by the end of the year, Liu said. It also may build new plants in countries that can offer a mature supply chain, good labor conditions and a stable political and economic environment.
Trade tensions are the inevitable result of China's emergence as the world's biggest producer of solar panels. It accounts for seven out of every 10 solar panels supplied worldwide.
China's solar makers have been aided by the state through loans from institutions such as the China Development Bank Corp. That left rivals in Germany, Japan and the U.S. crying foul, blaming China's rapid entry to the solar market on a supply glut that plunged prices.
The average cost for solar panels tumbled 14 percent in the past year and is less than half of what it was in 2011.
The EU in 2013 approved a deal that set a minimum price and a volume limit on imports of Chinese solar products. In March, Canada imposed provisional duties over Chinese solar panels. The U.S. International Trade Commission ruled in January that solar photovoltaic imports from China and Taiwan sold at prices below fair market value and harm manufacturers.
Supply Glut
"Trade wars are the ripple effect of a supply glut," said Steven Han, a Shanghai-based analyst from SWS Research Co. "They won't disappear in the next two or three years."
More than half the panel capacity Chinese producers plan to add overseas is in Southeast Asia, according to BNEF data.
The location is attractive because "costs are low and it's near China," said Peng Peng, a Beijing-based analyst at the Chinese Renewable Energy Industries Association.
But the strategy isn't without risks. The European Commission is investigating whether Chinese makers shipped panels via Taiwan and Malaysia to evade trade restriction. A December ruling by the U.S. expanded protection by imposing duties to include products from Taiwan, where Chinese producers purchased some solar cells before. The U.S. has also finalized plans to include in the tariffs any solar panels assembled in China regardless of the origin of cells used in the panels.
Solar Producers
Chinese producers are looking to base factories in places that can support local sales instead of just serving as a way to avoid U.S. and European trade rules, CREIA's Peng said.
In India, where Trina is investing, Prime Minister Narendra Modi is targeting 100 gigawatts of solar power by 2022 to curb chronic blackouts and cut reliance on coal that makes the nation one of the world's top polluters.
The trend "will continue in the mid-term at least," said Sharma of IHS. "Manufacturing outside China can be more cost effective."