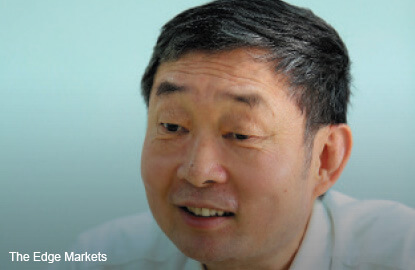 This article first appeared in
The Edge Malaysia Weekly
, on January 9-15, 2017.
DESPITE a slow property market, the sector continues to attract investment from China. China Communications Construction Company Ltd (CCCC)  — the largest port construction and dredging company in China — will soon follow its peers, such as China Railway Engineering Corp, in venturing into property development in Malaysia.
Fang Zhenru, senior adviser to its Malaysian unit, China Communications Construction Company (M) Sdn Bhd, tells The Edge in an interview that the group is in talks with Eastern & Oriental Bhd and WCT Holdings Bhd — which is in the process of being taken over by Malton Bhd — to undertake mixed-use projects in Penang and Kuala Lumpur.
Fang, who was formerly the managing director of the Malaysian unit, says the group is targeting high-end commercial and residential units, and expects the plans to be made public this year.
He adds that the group may consider taking up a strategic stake in these projects and does not rule out taking equity stakes in listed companies if the opportunity arises.
"This will be our first property development in Malaysia. We do see the potential in Penang and Kuala Lumpur, although properties are oversupplied in certain areas," Fang says.
The group, he adds, will bring in new technology to add value to these projects.
CCCC will also bring in Chinese investors and provide funding to the local partners, like other China-based investors here.
Fang agrees with China Railway Engineering Corp Sdn Bhd general manager Cai Zemin that Kuala Lumpur has the potential to become an international city, and thus, see demand for high-end properties in the future.
Listed on the Hong Kong Stock Exchange, CCCC is principally engaged in the design and construction of transport infrastructure, dredging and heavy machinery manufacturing. It is the world's largest container crane manufacturer and second largest dredging company in terms of dredging capacity. The group has 34 wholly-owned or controlled subsidiaries worldwide.
In Malaysia, CCCC has been expanding its footprint, partnering companies including E&O, IJM Corp Bhd, Gamuda Bhd, George Kent Bhd, Econpile Bhd and Bina Puri Holdings Bhd in local construction projects.
Fang says CCCC's ongoing global order book stood at US$30 billion (about RM134 billion). Malaysia accounts for US$10 billion of the order book but that does not include the RM55 billion East Coast Rail Link.
The jobs CCCC is involved in are  the  Penang land reclamation scheme, Ampang light rail transit (LRT) line extension, mass rapid transit line 2 (MRT2), Sungai Besi-Ulu Kelang Elevated Expressway, Damansara-Shah Alam Elevated Expressway, terminal project in Kuantan deepwater port, and breakwater and associated works package at Samalaju Port, Bintulu.
Fang says the group is also in discussions with the Melaka government to participate in the construction of the Melaka Port.
"Malaysia is one of our key markets and we will actively be looking for more investment opportunities," he adds.
CCCC started its Malaysia operations in 1980 and was among the earliest Chinese construction companies to participate in local railway projects.  It is the only Chinese company handling the track laying for the Ampang line extension project.
"Most of our projects are done with local partners. Going forward, we will continue to team up with local big entities in getting new jobs," Fang says.
Despite the volatility of the ringgit, he says the group rarely faces cost overruns in its projects, and has proven its ability to complete projects on time.
On the delay of the Ampang LRT extension line, Fang says it was due a delay in the infrastructure works by other related parties. "We can only do the track laying when the infrastructure is ready. The whole line will be delayed if part of the project is affected," he explains.
CCCC clarifies ECRL project
China Communications Construction Company Ltd has been in the limelight since it was appointed to build the RM55 billion East Coast Rail Link (ECRL).
The 620km ECRL was awarded to CCCC last year without an open tender, with critics claiming it will be one of the most expensive rail infrastructure projects in the world.
A soft loan offered by China to fund the project, and varying cost estimates for the project have also raised concern. The Malaysian government estimated the cost at RM55 billion whereas CCCC gave a figure of RM46 billion — a difference of RM9 billion.
"I don't know why there is a deviation [in costs]. Perhaps there are other expenses for line extension or land requisition. We are just an engineering procurement construction [EPC] contractor. We don't have any idea how the loan is arranged," says Fang Zhenru, senior adviser to CCCC's Malaysian unit China Communications Construction Company (M) Sdn Bhd.
He believes that CCCC was chosen as the EPC contractor by the Chinese government because it is an established name in railway infrastructure worldwide, and for its involvement in the construction of the 22.5km Second Penang Bridge.
"The project [ECRL] follows the successful model of the Second Penang Bridge, which was also financed by the Chinese government," he says.
Work on the RM4.5 billion Second Penang Bridge started in 2008 and was carried out by a consortium comprising UEM Group Bhd (49%) and China Harbour Engineering Company (CHEC) (51%), a subsidiary of CCCC. However, the parties split on the instruction of the Ministry of Finance, and it was completed by CHEC in 2013.
"As the east coast today is still underdeveloped, the land cost is cheaper and economic development is low. The ECRL will promote economic activities along the coast," Fang says.
The ECRL, which connects Kuala Lumpur and the East Coast Economic Region's towns of Mentakab, Kuantan, Kuala Terengganu and Tumpat, will carry passengers as well as cargo. Construction is expected to start this year and to be completed in 2022.
On the cost of the railway, Fang says the public should not base it on the length as the geographical conditions in the east coast are challenging.
"The total length is still unclear. For stations, we may need to build certain facilities to ensure the viability of the railway and this will involve costs," he says.
The speed of the ECRL should also be considered.
Based on a speed of 160kph, it would take about two to three hours to travel from Kuala Lumpur to the east coast.
It is learnt that a 20km to 30km tunnel through Banjaran Titiwangsa will be built for the ECRL. Fang says the technical requirements as well as safety and ventilation systems for a long tunnel are more complicated.
The project is still subject to an environmental impact assessment, which may take a  few more months. The government may also need to settle land acquisition issues before it can proceed.
On the World Bank's move to blacklist CCCC over a project in the Philippines (in 2015), Fang clarifies that it was China Road and Bridge Company (CRBC) that was blacklisted. CRBC had merged with China Harbour Engineering Co Ltd (CHEC) to become a subsidiary of CCCC.
He says the blacklisting was against a highway project in the Philippines, and not a railway contract, and was eventually lifted.
Meanwhile, CCCC will call for tenders soon for local companies to participate in the ECRL.
"These projects are Malaysia-based. It is impossible for us to handle all the jobs," Fang says, adding that the Malaysian government requires a certain quota to be allocated to local companies.