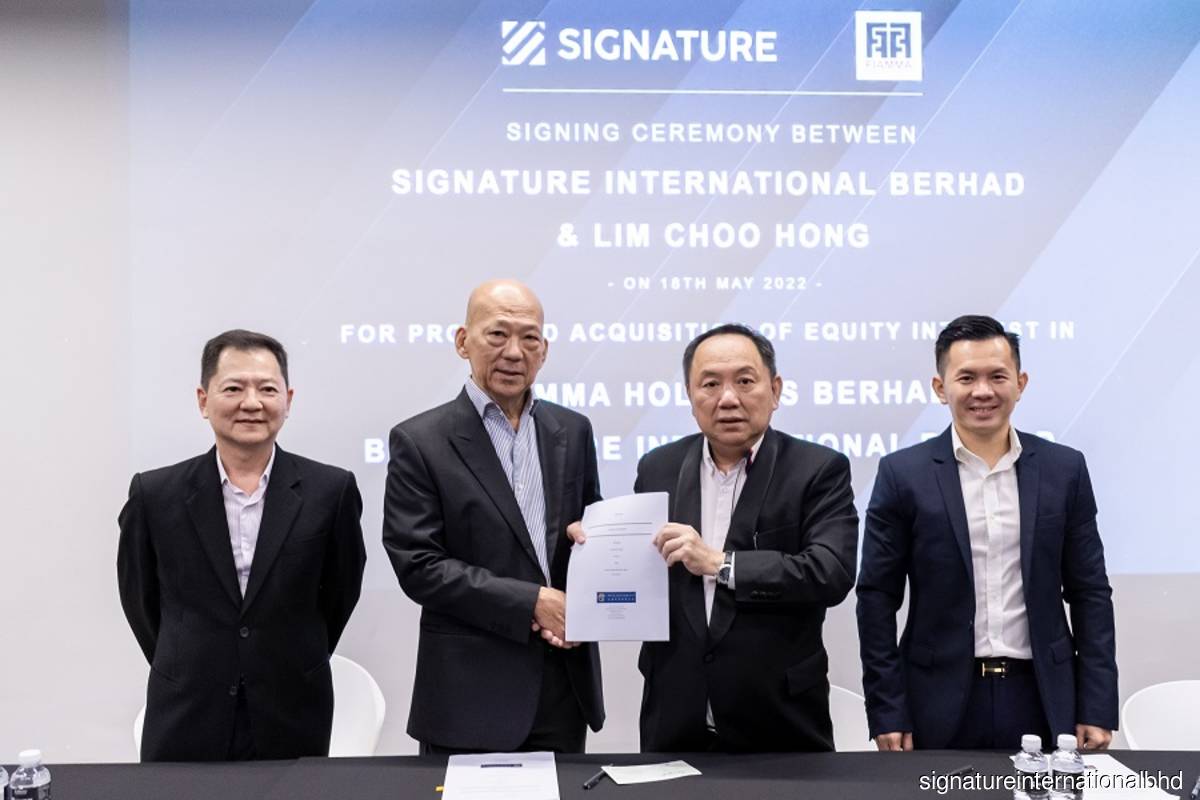 KUALA LUMPUR (May 18): Fresh from taking over a stake in Solarvest Holdings Bhd, Datuk Seri Chiau Beng Teik has now partnered with Signature International Bhd to acquire a combined 29.59% equity interest in Fiamma Holdings Bhd — making them the largest shareholders in the home and electrical appliances company.   
Chiau, the founder of Chin Hin Group Bhd, holds 89.7 million shares or a 32.5% indirect stake in Signature, according to the latest available bourse filing on Oct 21, 2021. He emerged as a substantial shareholder of Signature in March last year, after acquiring 80 million shares or a 31.19% stake in the company.
Notably, the 29.59% stake or 150 million shares in Fiamma was acquired from Fiamma's chief executive officer and group managing director Lim Choo Hong at RM1.50 per share. Following the disposal of shares in Fiamma, Lim ceased to be a substantial shareholder in Fiamma, holding a 0.413% direct equity interest and 0.118% indirect interest in the company.
A filing with Bursa Malaysia showed that Signature had entered into a conditional share sale agreement (SSA) with Lim to acquire 120 million ordinary shares or 23.67% equity interest for a total cash consideration of RM180 million.
On a separate note, Divine Inventions Sdn Bhd, a private entity controlled by Chiau's family, entered into an SSA with Lim to purchase 30 million ordinary shares or 5.92% equity interest in Fiamma at RM1.50 per share.
Collectively, Signature International and Divine Inventions will own a total of 29.59% equity interest in Fiamma upon completion of the acquisition.
The kitchen cabinet manufacturer said the acquisition of Fiamma's stake is to tap into Fiamma's extensive nationwide coverage on distribution and servicing network of home and kitchen electrical appliances, which will synergise with Signature's kitchen cabinet and whole house customisation business.
The purchase of the Fiamma shares, it added, is expected to be completed within four months from the date of the SSA and will be funded via a combination of internally-generated funds and bank borrowings.
Commenting on the latest corporate exercise, Chiau said in a statement that the proposed acquisition is in line with the group's objective of acquiring strategic stakes in profitable companies within the industry's supply chain for future growth.
"Fiamma and its subsidiaries' main business, which is home and kitchen electrical appliances, owns many respectable in-house brands such as Elba, Faber, Rubine, Tuscani and Haustern.
"They have an extensive nationwide coverage on distribution and servicing network of home and kitchen electrical appliances, which will add value and synergy to the Signature group. Fiamma also holds distribution rights for international brands of medical devices and healthcare products, namely Braun, Speed Queen, Omron and Beurer," he noted.
"We have observed exciting prospects in this company, which has seen a significant uptick in demand for its products due to the Covid-19 pandemic. The impact of various movement restrictions imposed has led to a change in the home appliance consumption trends, as more people spend time indoors, seek to increase the quality of their lifestyle at home, and gain more interest in cooking and baking.
This has in turn resulted in the increase in demand for electrical household products and accordingly, increased the sales in Fiamma's trading and services segment," Chiau said.
He added that the Malaysian consumer electronics industry produced RM38.59 billion worth of products in 2021, which was an increase from RM35.63 billion in 2020. Going into 2022, the local consumer electronics industry is expected to continue to recover and reach RM44.01 billion.
"Therefore, not only does this represent a strategic opportunity for the group to expand into complementary businesses, but the consolidation of Fiamma's equity interest is expected to increase profitability and strengthen the financial position of Signature," Chiau concluded.
The share price of Signature closed up one sen or 0.73% to RM1.38 on Wednesday, valuing the group at RM407 million.
Fiamma shares price was down 1.5 sen or 1.55% to settle at 95 sen, giving it a market capitalisation of RM502 million.
The company's net profit fell 36.04% to RM7.8 million for the second quarter ended March 31, 2022 (2QFY22), from RM11.23 million a year ago, on lower revenue. Revenue for the quarter shrank 14.4% to RM79.84 million, from RM93.27 million a year ago.
As for the cumulative first half ended March 31, 2022 (1HFY22), its net profit fell 13.85% to RM18.64 million compared with RM21.64 million a year before, as revenue dropped 3.55% to RM185.91 million, from RM192.74 million during the same period.
Read also: 
Chin Hin disposes of remaining 19% in Solarvest to Chiau family in RPT for RM103m cash