This article first appeared in City & Country, The Edge Malaysia Weekly, on January 14, 2019 - January 20, 2019.
High above the ground and under the starry skies, tree houses are some of the world's most enchanting things. Yet, it remains only a childhood dream for many. Here are several luxurious tree houses in some of the most exotic and beautiful places in the world one can escape to. — By Chai Yee Hoong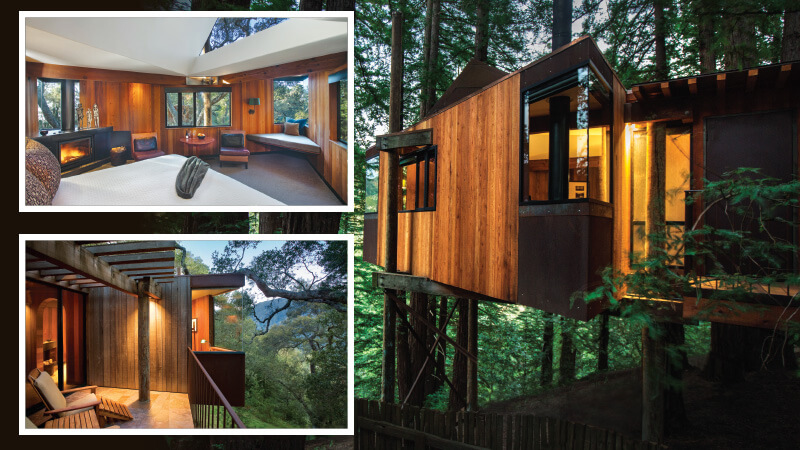 Post Ranch Inn
Big Sur, California, the US
Located on the cliffs of Big Sur 1,200 ft above the Pacific Ocean and along California's Highway One — one of the world's most scenic drives — Post Ranch Inn has 40 architecturally innovative guest rooms and suites, including the triangular Tree Houses perched on stilts 9ft off the ground and accessible via stairs.
The 100-acre property is designed to complement the surrounding state parks, beaches and waterfalls; using a green building approach, it features biostructure architecture, natural materials of glass, wood, stone and COR-TEN steel, as well as passive heating and cooling. The tree houses have a smaller footprint as they are supported on stilts, thus protecting the fragile roots of the ancient redwood and oak trees.
Guests can enjoy scenic views of the ocean or mountains from their rooms, which feature earth-toned natural and sustainable materials, custom-made furniture, rugs handwoven by indigenous weavers and rich wood wall panels remilled from old-growth redwood that have been recycled from wine casks. The organic hues, textures and extensive collection of original art in the rooms blend seamlessly with the scenic outdoors.
Rates start at US$1,375 (RM5,740) per night.

Tongabezi Lodge
Livingstone Way, Livingstone, Zambia
Privately owned and run, the property is located on the banks of the Zambezi River upstream of the Victoria Falls and offers a range of houses and cottages. It also offers the Tree House, a sanctuary located on a cliff away from the main areas.
Sitting on the branches of three riverine Ebony trees growing on a basalt rock bed, the Tree House has a sustainable pine deck that offers views of the Zambezi River.
It comes with a king-size bed with a canopied mosquito net, air conditioning, extensive spaces for private dining and lounging and a bathroom with a claw-foot bath. Styled with furniture and embellishments from all across Africa — from Anatolian carpets to West African artwork — the Tree House has an open concept at the front, which acts as an extension of the natural Zambian surroundings.
Each accommodation at the lodge also has its own valet or private concierge. Guests at Tongabezi can do as much or as little as they wish. The active can go on game drives, bush walks, boating trips as well as take a tour of Victoria Falls, including from the inside gorge, and Livingstone Island.
Rates start at US$755 per person per night, including activities.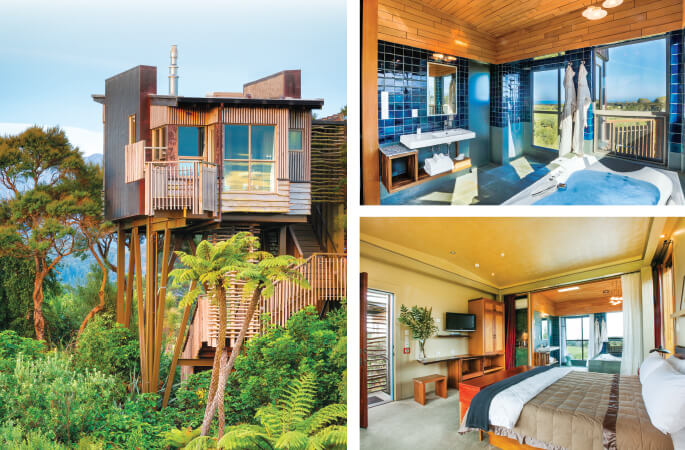 Hapuku Lodge + Tree Houses
Kaikoura, New Zealand
This contemporary country hotel is located on a deer breeding farm 12km north of the eco-marine town of Kaikoura. Nestled snugly at the base of the Kaikoura Seaward Mountain and the Mangamaunu Bay along the rugged Kaikoura coastline in the South Island, the property offers luxurious accommodation that include three 1-bedroom tree houses and two 2-bedroom family tree houses, built at least 10m above the ground in the canopy of a native Kanuka grove. In the family tree houses, the master bedroom is up in the higher branches whereas the smaller bedroom is among the lower branches. The tree houses are designed to complement the natural environment with large windows that open to views of the sky, tree canopies, snow-capped mountains and the Pacific Ocean.
The tree houses feature custom-designed and handcrafted furniture, tailor-made beds and mattresses, European-style bathrooms, heated towel rails, floors and rainforest showers, large spa baths and wood-burning fireplaces.
Rack rates start from NZ$1,366 (RM3,776) for the twin-sharing, upper branch 1-bedroom tree house and from NZ$1,614 for the 2-bedroom family tree house.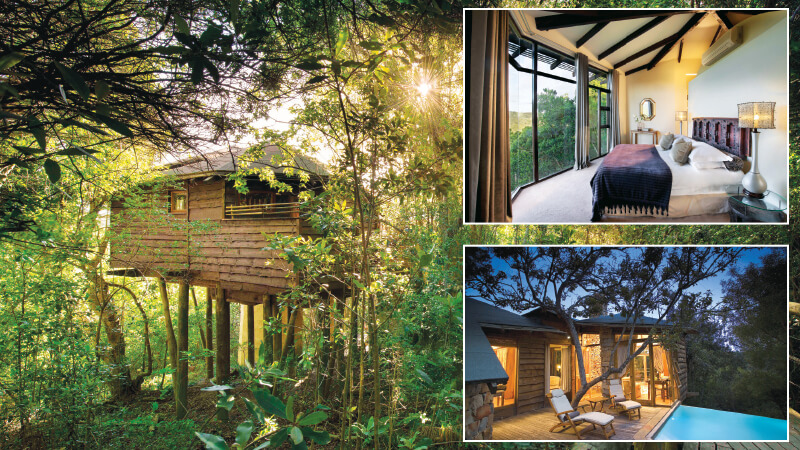 Tsala Treetop Lodge
Plettenberg Bay, South Africa
The property peeks over an age-old indigenous forest on South Africa's Garden Route. Its guests — who are greeted at a stone-masonry entrance flanked by water features and led to a foyer supported by blackwood columns — can enjoy views of the surroundings, be it from the dining room, glassed-in lounge or large open decks above the forest.
The lodge offers 10 treetop suites and six 2-bedroom treetop villas, a restaurant and a wine cellar.
Constructed of stone, wood and glass, the treetop suites offer a bedroom, a sitting room with a fireplace and a spacious bathroom. They also have a private deck and infinity pool that extends into the forest.
The treetop villas, built high above the forest floor, offer two en-suite bedrooms with outdoor and indoor showers, a large lounge with a fireplace and a dining area. They also have a private deck and an infinity pool.
Rates start from ZAR11,180 (RM3,206) for a treetop suite (2 pax) and R13,980 for a treetop villa (4 pax).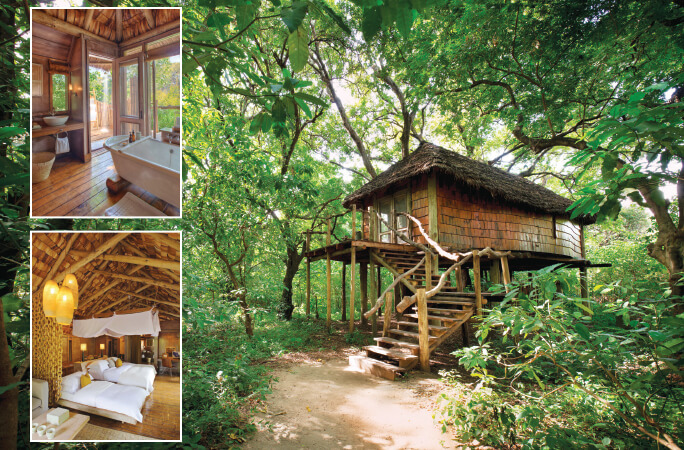 andBeyond Lake Manyara Tree Lodge
Lake Manyara National Park, Tanzania
Find nine romantic tree lodge suites and a family suite, equipped with outdoor showers, in the heart of a mahogany forest at andBeyond Lake Manyara Tree Lodge. The property is in a remote and secluded area of the national park and boasts scenic views of the Rift Valley.
To get to the property, take a flight to the Lake Manyara Airstrip, followed by a scenic 3½-hour game drive. You can go on night drives, experience the Maasai culture and explore the lakeside on a bicycle.
The place is known for its varieties of wildlife — such as tree-climbing lions, pink flamingos, hundreds of bird species and herds of elephants, buffaloes, giraffes, Olive baboons and hippos — and the Maji moto hot springs.
Seasonal rack rates range from US$840 (RM3,470) to US$1,340 for the tree lodge suites and from US$2,940 to US$4,690 for the family suite.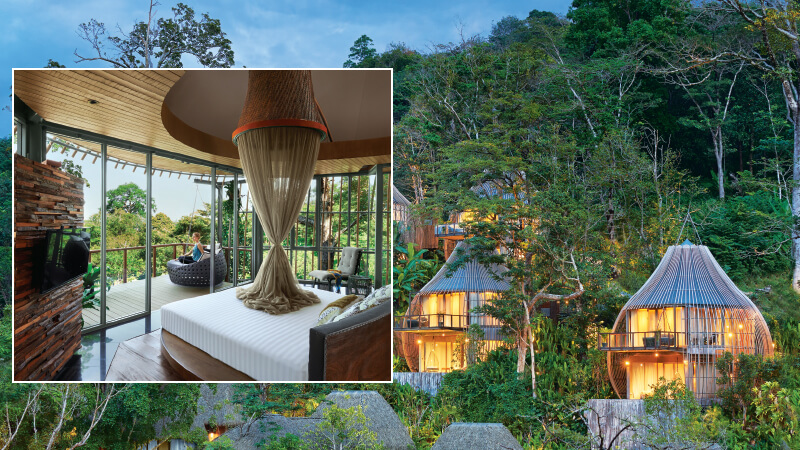 Keemala Tree Pool Houses
Phuket, Thailand
Set amid the rainforest of Kamala, Keemala offers four types of accommodations, including the 2-storey Tree Pool Houses. The houses' design is inspired by the We-ha (Sky) clan, which is said to have built their homes elevated above the ground to harness creative energy.
The seven Tree Pool Houses measure 169 sq m each and come with a 25 sq m semi-circular private pool, a master bedroom on the upper level and a 75 sq m lounge and dining area on the lower level.  
The bathroom has a monsoon shower, an outdoor shower and a bath tub.
Guests can relax in suspended and cocoon-like beds and loungers while enjoying views of the rainforest and the resort. Activities available include spa treatments and gastronomic courses.
Rates range from THB27,750 (RM3,557) to THB36,960.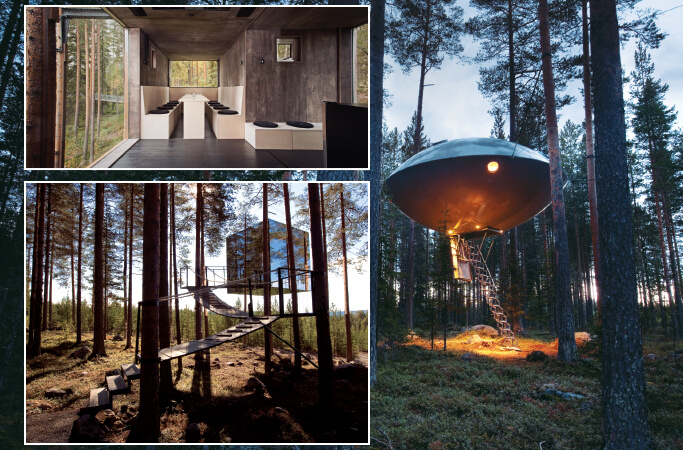 Treehotel
Harads, Sweden
This property, run by locals Kent Lindvall and Britta Jonsson-Lindvall, is located in a tall pine forest with views of the Lule River.
The property comprises seven unique guestrooms that are suspended 4m to 6m above ground and accessible by ramp, bridge or electric stairs. Each guestroom has its own design and some have names that reflect their aesthetic. For instance, the Mirrorcube is camouflaged by mirrored walls that reflect the surroundings, making it an exciting hide-out atop an aluminium frame base. The Bird's Nest's exterior is … a gigantic bird's nest!
Guests check in at the Guesthouse before taking a five- minute walk to the Treehotel.
There is an element of serendipity in how the Treehotel came to be. The Guesthouse was previously Britta's restored pensionat that was not generating much income. Kent, who was on a fishing trip in Russia, introduced the designer hotel concept to his architect friends. Before they left Russia, the friends agreed to each design a room resulting in the UFO, Bird's Nest, The Cabin, Mirrorcube and The Blue Cone.
Today, the Treehotel is on many bucket lists. Kent and Britta continue to come up with more rooms at their property. With Kent in charge of marketing, Britta running the kitchen and their youngest daughter working on activities, the family continues to work hard to build a life together up in the trees in their little village.
Rates start at SEK4,500 (RM2,077) per room per night.