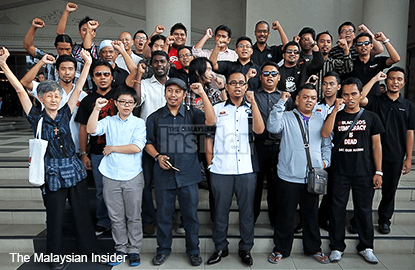 (Nov 13): Former PKR Rembau division chief Badrul Hisham Shaharin, student activist Adam Adli Abdul Halim and regular rally goer Annie Ooi Siew Lan, also known as Aunty Bersih, were among 15 activists ordered to enter their defence today for gathering illegally outside Parliament in June 2013.
Of the 33 charged for the offence, 18 were, however, acquitted.
For the second offence of rioting on the road leading to Parliament that same day, 10 of the 17 charged for the offence, including Chegubard and Adam Adli, were also ordered to enter defence, with the rest being let off.
The 33 were among hundreds of Blackout 505 rally participants who were arrested and investigated following a scuffle with the police near the Parliament.
The rally at Padang Merbok, days before the gathering at Parliament was held to protest alleged irregularities in the 13th general election results.
The group had gathered at the Parliament building to hand over a memorandum to MPs who were being sworn in for the first term of the 13th Parliament on that day.
Speaking to reporters outside the courtroom, Chegubard said they were victims of selective prosecution for merely voicing out public concerns about election irregularities in the last general election.
"Pro-Umno supporters have gathered at rallies as well, but they are protected. However, those of us who speak up for rights and proper democratic processes are being harassed. We will not be cowed," he said.
He added that since GE13, there has been no improvement to the election system.
Chegubard also said it was pointless for the state to be talking about correcting this and that in the system when the leaders have come into power through lies and deceitful means.
Michelle Yesudas, one of the lawyers representing the activists, also labelled the prosecution an act of harassment, saying that they had assembled according to their rights under the Federal Constitution.
"They assembled peacefully to speak up on issues that many people believe in.
"These are activists and human rights defenders exercising their rights within the law," Yesudas added.
Kuala Lumpur sessions judge Abdul Rashid Daud set January 26 for continued hearing.
The 15, out of the 33 charged under Section 143 of the Penal Code, face a maximum six months jail or a fine or both, if convicted.
Meanwhile, the 17 charged under Section 147, face a maximum two year jail term or a fine or both upon conviction if convicted. – The Malaysian Insider