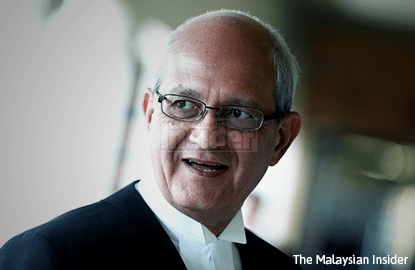 (Dec 1): Lawyer Americk Sidhu said he was not aware of the contents of the pen drive his client Charles Morais claimed to have received from murdered deputy public prosecutor Datuk Anthony Kevin Morais.
This comes as police said the lawyer would be questioned to aid in their probe into Charles's claims that the information on the pen drive implicated certain powerful personalities.
But Americk told news portal Malaysiakini that he was only informed that it contained information from Kevin.
"Charles told me that everything Kevin told him on the phone would be put in a pen drive. That's all I know from Charles," Americk was quoted as saying by the portal.
"Charles put that in his SD (statutory declaration), so that's not confidential."
The police are investigating Charles for sabotage and withholding information, following the businessman's allegation that his brother's murder had to do with criminal charges being prepared against those in power.
Charles, who lives in the United States, also prepared an 18-page SD on the Morais siblings' relationship as well as several discussions he had with Kevin prior to his murder.
Police are now tracking down Charles, who left the country shortly after his press conference, and said they would also call Americk for more information.
"He (Charles) came up with it (the SD) the day after Kevin's body was taken away. Before that, he wasn't going to make any SD at all.
"He was just so incensed that after being here (in Malaysia) for two months – trying to organise a second post-mortem – and then his brother basically just steals the body and takes it away, despite his brother knowing what was happening.
"So that's why, at the end of the day, Charles is very angry," said Americk. – The Malaysian Insider