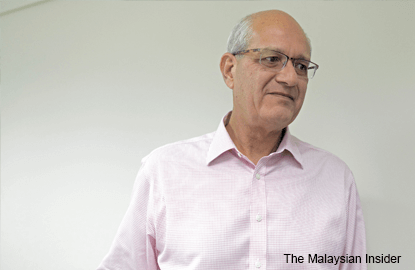 (Dec 1): Lawyer Americk Sidhu today spent two hours answering questions from Bukit Aman police officers over a pen drive, which his client Charles Morais claimed contained information implicating certain powerful personalities.
"There were three of them. They recorded my statement as a witness under Section 112 asking me questions about the content of the pen drive. I told them I did not know," said Americk.
He said that the police spend two hours at his office in Ampang throwing in few questions relating to Charles and the pen drive.
He said the officers were polite, but did not know if police would question him again.
Americk was questioned in relation to his client's statutory declaration and the pen drive which was posted to Charles by murdered deputy public prosecutor Datuk Anthony Kevin Morais.
His client Charles told the Malaysiakini news portal that he was financially secure and made the SD with the aim of getting police to reopen investigation into the murder of his brother.
The Atlanta, US-based businessman also rubbished the claim of another brother, Datuk Richard Morais, that he was left out of Kevin's will.
Americk, however, denied that his client was on the run, as claimed by police, saying that a copy of the SD was sent to the police.
"Just read the first paragraph of the declaration and the IGP will get Charles's address in the US. He need only send his officers there to record a statement," he said.
Americk added that a task force should be set up to investigate the contents of the declaration.
Inspector-General of Police Tan Sri Khalid Abu Bakar has warned Charles to back his allegations with proof and to share his information with the police, while Attorney-General Tan Sri Mohamed Apandi Ali called his claims "preposterous". – The Malaysian Insider