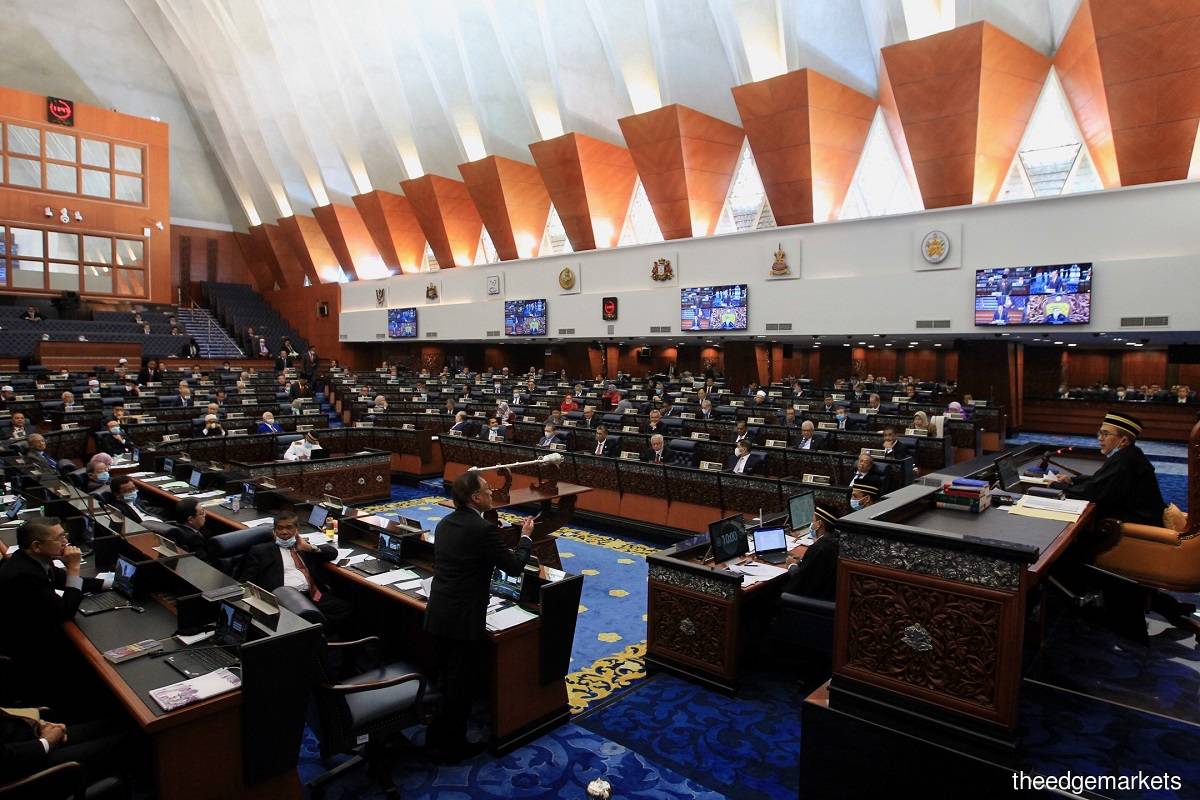 KUALA LUMPUR (July 13): Chaos erupted in Parliament after Prime Minister Tan Sri Muhyiddin Yassin put forward a motion to remove Speaker Tan Sri Mohamad Ariff Md Yusof on the grounds that there is a new candidate for the post.
Deputy Speaker Datuk Mohd Rashid Hasnon bore the brunt of criticisms by the opposition as he did not address a question by opposition leader Datuk Seri Anwar Ibrahim and only allowed two individuals from each side to debate for 10 minutes each.
"There is no reason to limit the debate to only two people from each side. This is a big issue to be debated. This is the first time in history that the Speaker is being removed for no reason at all," said the Port Dickson Member of Parliament (MP).
Shah Alam MP Khalid Abdul Samad also pointed out the vague reason given by the prime minister — that the Speaker is to be replaced just because "there is another candidate".
"This is the first time a well-performing Speaker is being dismissed without any explanation. Is it because he is not qualified or that he misused his position? No," said Anwar.
He added that Mohamad Arif had done many things during his tenure, including forming select committees, focusing on governance as well as giving room for further improvement.
Anwar added that it is unreasonable for the prime minister to dismiss a Speaker that is doing his job well.
"I ask for all of the MPs here to think about this and prick your conscience, including the religious minister. Ask your conscience," he said.
Puchong MP Gobind Singh Deo noted that the nomination of a new Speaker can only happen when the position is vacant.
"The reason given for this motion is that there is a new nominee," said Gobind, who is a former communications and multimedia minister.
"The nomination cannot happen unless there is a vacant position. So, we from the opposition want to know ⁠— where is the vacancy? If there is no vacancy, then the nomination cannot be made.
"And if there is a vacancy, a notice should be given to all MPs in order for us to also be able to nominate someone. This is a very basic procedure," he added.
Former prime minister and Langkawi MP Tun Dr Mahathir Mohamad said allowing only two people to debate the issue is as though the Deputy Speaker is blocking the opposition from debating.
He further said that Mohamad Ariff is being removed as he "does not heed to the government's wants".
On the other hand, Kota Baru MP Datuk Takiyuddin Hassan, also a minister in the Prime Minister's Department, said the proposal had already been accepted by the Speaker, and therefore the motion should not be questioned.
"The Standing Order was made in accordance with the Constitution, and the Constitution is the supreme law," said Takiyuddin.
Meanwhile, Pasir Puteh MP Datuk Dr Nik Muhammad Zawawi Salleh reminded the opposition MPs that there had been a change in government.
He said the new candidate is better than the current Speaker and that it is offensive to assume that the new candidate is not able to do the job.
For more Parliament stories, click here.