This article first appeared in The Edge Financial Daily, on August 30, 2018.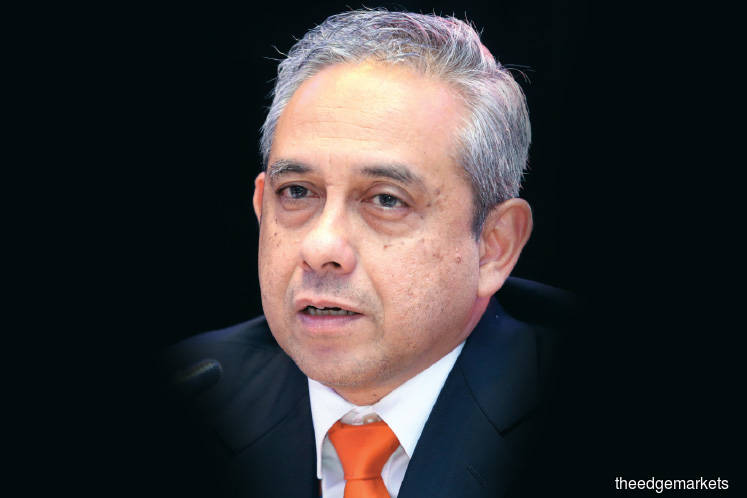 KUALA LUMPUR: The acting chief executive officer (CEO) of Telekom Malaysia Bhd (TM), which has published a cheaper set of wholesale network offerings or Reference Access Offers (RAOs) to comply with the government's new standards of access pricing, admitted that recent regulatory pressure and the market environment had had a major impact on the group's overall revenue and earnings.
"We anticipate that the challenging environment will persist for both of our retail and wholesale segments," said Datuk Bazlan Osman at a media briefing held in conjunction with the group's announcement of its results for the second financial quarter ended June 30, 2018 (2QFY18).
For 2QFY18, TM's net profit fell 52% to RM101.93 million, from RM210.48 million a year ago, on lower earnings from its voice and data services. This resulted in lower earnings per share of 2.71 sen, compared with 5.6 sen for 2QFY17.
Bazlan said the fall in voice and data service profits was affected by the provision recognised for a reduction in revenue in view of regulatory mandated access pricing. Quarterly revenue slipped 1.5% to RM2.94 billion, versus RM2.98 billion a year ago.
For the first half (1HFY18), the group's net profit fell 41% at RM259.09 million, from RM440.92 million a year ago, while revenue slipped 3% to RM5.78 billion from RM5.94 billion.
"The first six months of 2018 were very challenging for us, from rapid developments in the market to increasing regulatory pressure. Given the current landscape, these events further add challenges to our financial performance," Bazlan said.
He also confirmed that the group had asked for the deadline to present the new pricing for its wholesale network services be deferred to ensure its offered services fulfil customers' requirements. The ministry of communications and multimedia previously announced that the initial deadline set for July 31 had been deferred to tomorrow, following requests from broadband providers.
TM's new RAOs, published on Tuesday, now comply with the Malaysian Communications and Multimedia Commission's new Mandatory Standard on Access Pricing (MSAP), said Bazlan.
Its new RAOs have been closely watched by the industry because under the MSAP, access providers or wholesale network providers like TM are required to reduce prices for the use of its network facilities and services.
With lower wholesale network prices, telecommunications companies (telcos) which use these facilities and services can in turn reduce the prices of boadband offerings to retail subscribers. It has also compelled TM to do the same. Already, TM in July this year offered a more affordable broadband package at RM79 per month for 60GB Internet usage for those with household earnings of below RM4,500 per month. It also boosted its Internet speeds for existing unifi subscribers.
Bazlan said yesterday the 60GB monthly broadband package will be extended to everyone from September. "Affordability and accessibility of quality high-speed broadband services are important to TM, and we are committed to lead the charge to unlock the potential of a digitally-savvy Malaysia," he said.
TM cuts capex estimate again
Bazlan also announced another downward revision of its capital expenditure (capex) estimate for FY18 to 19%-20% of total revenue. In early July, TM cut its capex to revenue ratio estimate to 20%-22%, from 25%-30%.
"The July revision was based on our growth and revenue projections. We are revising today (yesterday) [our] capex guidance, guided by initiatives to sweat our assets more. Based on our planning and estimates, through reprioritisation and sweating our assets, we think it is doable," he said.
"We do have fibre ports available out there, so rather than building more, we might as well focus our attention on using our resources to get more customers for our unifi network," Bazlan said.
He also said with wholesale pricing being regulated now, TM could be an access seeker instead of a provider in areas where the group does not have a presence.
"Now, with regulated wholesale pricing, we can request access to areas where we do not have our own network. Other telcos may have network in these areas, so we can be an access seeker in those areas to provide services to our customers," he said.
For 1HFY18, Bazlan said, TM's total capex amounted to RM710 million or 12.3% of revenue; 18% of that was allocated for the core network, 59% for access and the balance 23% for support systems.
TM slipped two sen to RM3.57 yesterday, giving it a market capitalisation of RM13.42 billion. Since the change of government on May 9 this year, the group's share price has retreated 29% from RM5 on May 8.