This article first appeared in The Edge Malaysia Weekly, on June 29, 2020 - July 05, 2020.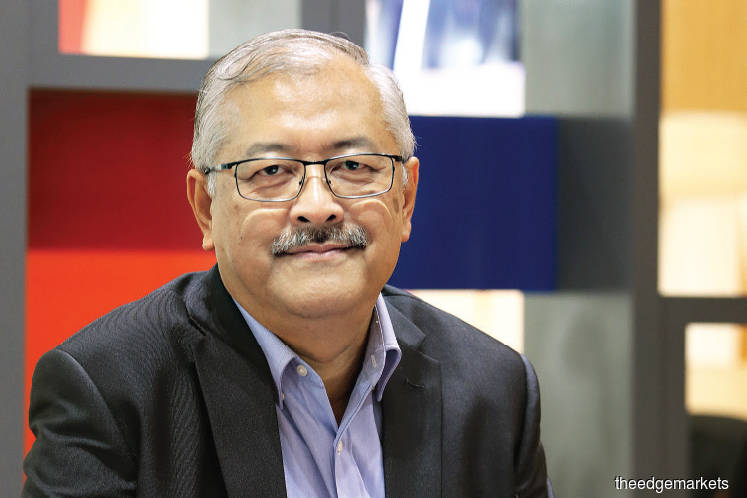 DURING FBM KLCI's semi-annual review on June 2, Telekom Malaysia Bhd was included as a constituent stock. Its re-inclusion into the benchmark index after 18 months came on the back of the better performance of its share price relative to other big-cap stocks.
Among the reasons TM was excluded from the list of top 30 largest companies listed on Bursa Malaysia by market capitalisation back in December 2018 was the 58% drop in its share price that year.
Owing to a RM934.8 million impairment on its investments in webe, now known as unifi Air, TM's profitability took a big hit in the third quarter ended Sept 30, 2018.
The mandatory standard on access pricing (MSAP) implemented by the Pakatan Harapan government in June 2018 worsened the group's situation, as some of its investments in fibre infrastructure became commercially unviable.
As a result of these events, the telecommunications company recorded an operating loss before finance costs of RM319.8 million in 3QFY2018, compared with an operating profit before finance costs of RM259.6 million in the previous corresponding period.
Against this backdrop of a disastrous year, Datuk Noor Kamarul Anuar Nuruddin was plucked from Celcom Axiata Bhd to helm TM in June last year. He was seen as the right man for the job, given his 34 years of experience in the telecommunications industry.
One of the first things he did to improve TM's financial performance was address the situation at webe. "Basically, because of the impairment, we came in and tried to do something about webe — historically called P1 Wimax. Early last year, TM had to impair all of the P1 Wimax investments," says Noor Kamarul.
TM first invested in Packet One Networks (M) Sdn Bhd (P1) in 2014, buying a 57% stake for RM350 million. P1 was the first company in Malaysia to introduce wireless broadband connection at 4G speed using the WiMAX configuration.
P1 runs its service on the 2.3GHz band with a 30MHz spectrum and, at its peak, had about 500,000 subscribers.
At the same time, the development of LTE, which runs on the upgraded system of 3G, makes investing in the system much more economical for telcos compared with WiMAX, then a newly developed standard for mobile telecommunications.
Because P1 was bleeding profusely due to the huge investments needed to develop the WiMAX infrastructure, as well as its high churn rate, TM was pressured into investing around RM1 billion between 2014 and 2018 to keep the company afloat.
Following the development of LTE, TM later migrated the P1 system from the failing WiMAX to one that runs on the LTE standard. In 2016, the company was rebranded as Webe Digital Sdn Bhd (webe).
However, that did not entirely solve the problem as TM also had issues with its LTE network, which ran on the 2x10MHz band on the 850MHz spectrum.
Unfortunately, the band interfered with other spectrums, resulting in bad reception.
"Only 5MHz could be used (2x5MHz) and because of that, the performance was not that great. So, what we did was we removed the WiMAX network on the 2.3GHz spectrum, and we implemented the LTE," Noor Kamarul recalls.
"We put quite a number on this station to offload the congestion, and now we have a lot of traction. When I came in, the customer base was less than 500,000. Right now, we already have more than a million unifi mobile customers," he continues.
At the same time, webe also had some roaming arrangements with other operators, which was bleeding the company dry. The new management team negotiated the arrangements to a better rate.
"Now the Ebit (earnings before interest and taxes) is turning positive for webe on a month-on-month basis. By next year, it should be positive, so issues of impairment would be much less by then," says Noor Kamarul.
At the same time, the previous management of TM had also put a stop to fibre infrastructure development because the MSAP made a lot of the investments commercially unviable.
But the new management resumed investments as it recognised that fibre network development had to continue for future growth. Restarting the halted project meant substantial investment, says Noor Kamarul.
"We needed the revenue stream to grow. There was also pressure from the government to reduce broadband prices, which we did. However, Streamyx was still at the same price, which led to high churn of our subscribers to other network operators.
"We had to reduce the price of Streamyx and at the same time, try to fiberise the network, so that we can migrate our subscribers to unifi. That, at least, led to the churn reducing.
"And we also pushed hard on campaigns, to the extent that we gave three months free use of unifi broadband to Streamyx subscribers. That one had good traction because it made subscribers think twice before deciding to migrate to other operators."
Despite the improvements, challenges remain. For starters, as there are still Streamyx subscribers who do not want to migrate to unifi, TM continues to maintain the network's copper infrastructure in some areas where there are still Streamyx subscribers. Thus, it has to maintain two teams for its fixed broadband business.
The hard-won improvements were, however, seen in the financial year ended Dec 31, 2019, when TM registered net profit of RM557.4 million, reversing the loss of RM269.5 million in 2018.
Challenges remain, as evident in the first quarter ended March 31, 2020, when TM's net profit halved to RM152.5 million compared with the previous corresponding period, amid an 8% drop in revenue to RM2.56 billion. Moreover, costs continue to be elevated.
Given TM's fluctuating fortunes, what else can Noor Kamarul do to stabilise earnings and the group?