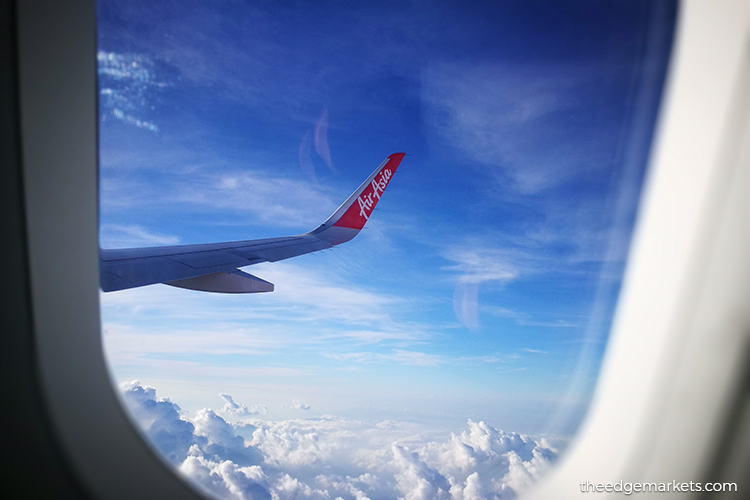 KUALA LUMPUR (April 7): AirAsia Group Bhd's cash position can support the fixed costs of the group for under five months from now, even after slashing costs via salary cuts initiated in March, said CGS-CIMB Research.
The airline may need a fresh injection of RM1 billion this year alone, and to defer payment to suppliers, to brace for the impact of the Covid-19 outbreak, said analyst Raymond Yap in a note April 6.
This is as the research house slashed its target price on AirAsia to 60 sen, from 85 sen previously. 
"We estimate that AirAsia's total monthly cash burn rate may be around RM527 million," said Yap.
This, he said, is after taking into account the salary cut — now involving a minimum 15% cut for employees earning over RM4,000 per month, as well as cuts for senior management imposed since March.
"AirAsia had a cash balance of RM2.6 billion at end-2019, including RM1.2 billion of sales in advance of carriage, or early bookings. 
"Assuming 20% of the sales in advance of carriage is refunded, due to AirAsia's many flight cancellations, then the remaining cash balance of RM2.4 billion can pay for AirAsia's fixed costs for less than five months under the current conditions.
"As a result, we anticipate that AirAsia will have to tap into new debt facilities, and defer payments to its suppliers," Yap said.
Yap explained that AirAsia is renegotiating aircraft operating lease payments and fuel hedging losses with a view to defer those payments.
On fresh fundings, Yap said AirAsia has short-term working capital facilities up to RM400 million to tap into.
"At this moment, a rights issue is not on the table, but this is a potential downside risk in the future," he added.
"Our forecasts assume that AirAsia will raise an additional RM1 billion in debt funding this year, and RM600 million in the next two years, to tide through bruising losses and cash burn," said Yap. 
Yap also pointed to AirAsia's Thailand unit, Thai AirAsia (TAA), for financing options.
At end-2019, TAA had cash on hand and current investments of 4 billion baht (RM529.52 million), added with net proceeds of 3.6 billion baht (RM476.45 million) from the sale of 10 aircraft and leaseback of nine of them, which were completed earlier this year, Yap said.
"Thai AirAsia also has un-utilised revolving credit facilities with banks, can raise more secured debt using unencumbered aircraft, and can also sell and leaseback a further 11 planes which remain on its balance sheet," said Yap.
Note that AirAsia is estimated to pay RM3.1 billion in total cash costs for instalments and financing costs, of which RM2.2 billion is in principal repayments of aircraft operating leases. This, said Yap, represents a run rate of RM258 million per month.
The airline, he said, is talking to the Malaysian government for a guarantee, so that it can take up loans from local commercial banks at low interest rates.
AirAsia has been especially hit by the travel bans imposed in both its base countries and destination countries, which have prompted it to ground up to 96% of its entire fleet in the final week of March.
The group, Yap said, is ready to operate again whenever the various governments give approval, adding that potential de-rating catalysts include a very slow pick-up in travel demand even after the end of the Movement Control Order in Malaysia.
In all, the research house is expecting AirAsia's net loss to widen to slightly over RM1.7 billion in the financial year ending Dec 31, 2020 (FY20), with revenue slated to slump to RM8.29 billion.
On April 2, AirAsia co-founder and group chief executive officer Tan Sri Tony Fernandes told an interview that the airline does not need to be bailed out by the government, but that "it'd be great to get a loan" as well.
Analysts have a wide range of estimation — around RM4-5 billion — for AirAsia's cashflow needs, while sister company AirAsia X Bhd could need around RM1 billion as well.
Amid the Covid-19 shock, shares of AirAsia had lost 51% of its value from the start of the year. At the time of writing, the counter was up 1 sen or 1.23% at 82 sen, giving it a market capitalisation of RM2.77 billion.
Read also: AirAsia in talks with Govt for loan — Tony Fernandes