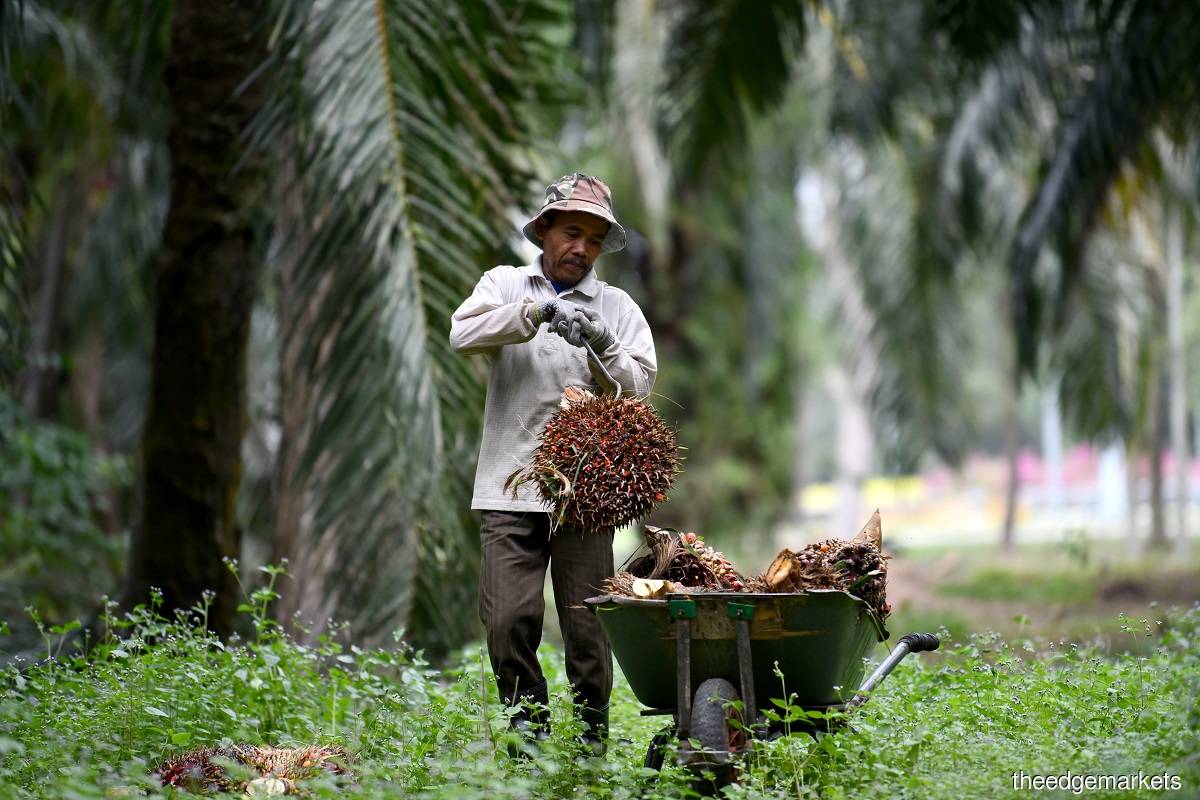 KUALA LUMPUR (Feb 11): Malaysian planters are expected to report strong earnings for the fourth quarter of 2020 (4Q20), owing to higher average prices of crude palm oil (CPO).
In a note yesterday, CGS-CIMB Research's Ivy Ng and Nagulan Ravi said prices in 4Q20 were higher on a quarter-on-quarter (q-o-q) and year-on-year (y-o-y) basis. The average CPO price during the quarter grew 22% q-o-q and 36% y-o-y to RM3,348 a tonne, representing the highest quarter CPO price achieved since 1Q11.
However, they noted that CPO output fell by 5% y-o-y and 18% q-o-q in 4Q20 as fresh fruit bunch (FFB) yields were impacted by heavy rainfall in some oil palm-growing regions and labour shortage issues.
"We reiterate our 'neutral' rating of Malaysian planters, with Genting Plantations Bhd, Hap Seng Plantations Holdings Bhd and Ta Ann Holdings Bhd as our top Malaysian palm oil picks. Regionally, we like Wilmar, First Resources, AALI, LSIP and DSNG," the team viewed.
Ng and Nagulan also forecasted palm oil stocks in Malaysia to rise by 1.1% month-on-month (m-o-m) to 1.34 million tonnes by the end of February, with output and exports projected to decline by 5% m-o-m.
The duo explained that this is premised on fewer working days this month.
They expect CPO prices to trade in the range of RM3,000 to RM3,600 a tonne this month. The key factors influencing prices are weather developments in South America, government policies on export levy and taxes, as well as biodiesel mandates, they noted.
The duo remarked that the end-January's palm oil stocks of 1.33 million tonnes (which rose by 5% m-o-m on weaker exports) were 3% below their forecast of 1.36 million tonnes due to lower-than-expected imports. However, the stock level was 10% and 3% above the Bloomberg consensus and a Reuters poll respectively. The noted that a tight palm oil stockpile level and rising soybean prices are likely to keep CPO prices elevated in the near term.
This is as palm oil stocks in the country continue to remain tight, declining by 25% y-o-y on weaker production and below the palm oil stock level in Malaysia in January for the past 10 years of 2.09 million tonnes, the research team at CGS-CIMB remarked.
"Palm oil exports fell 42% m-o-m and 22% y-o-y to 947,000 tonnes in January 2021 due to weaker demand in all key export destination countries.
"The weak exports could be due to the paring down of inventories by traders who bought in December 2020 (ahead of the reinstatement of the 8% export tax), low CPO supply in January 2021 and high CPO price-to-ration demand. CPO output fell 16% m-o-m and 4% y-o-y to 1.13 million tonnes in January 2021 due mainly to a shortage of workers at estates and heavier-than-usual rainfall caused by La Nina. We project 2021 CPO production at 19.4 million tonnes (+1.3% y-o-y)," they noted.