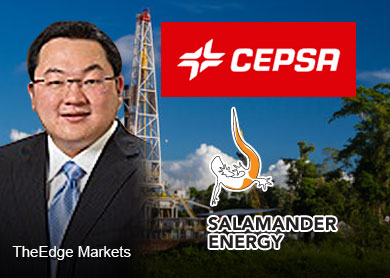 LONDON (Nov 18): A consortium led by Spain's Compania Espanola de Petroleos (CEPSA) said on Monday it was withdrawing from the bidding to acquire oil firm Salamander Energy, reducing the competition for rival suitor Ophir .
CEPSA said that after holding talks with Salamander, the consortium, which includes Strategic Energy (Global), had decided not to proceed.
"CEPSA and SEG have now decided that they have no intention of making an offer for the company," CEPSA said in its statement.
Earlier reports quoted Salamander as saying the consortium, which also included a subsidiary of Hong Kong private equity firm Jynwel Capital, was proposing to pay 121 pence in cash for each Salamander share and one contingent value right of up to 24 pence per share. Jynwel Capital is Jho Low's  family investment arm.
Salamander, which drills for oil in Indonesia and Thailand, received a conditional proposal from Ophir Energy in October.
Under UK takeover rules, bidders have until Nov. 24 to make clear their intent either to make a firm offer for the company or to walk away.
The CEPSA-led consortium had made its proposed offer on the condition that Salamander cancelled a deal it struck with Malaysia's SONA Petroleum Berhad in July, selling a 40 percent interest in two Thai oil fields.