This article first appeared in The Edge Financial Daily, on August 28, 2018.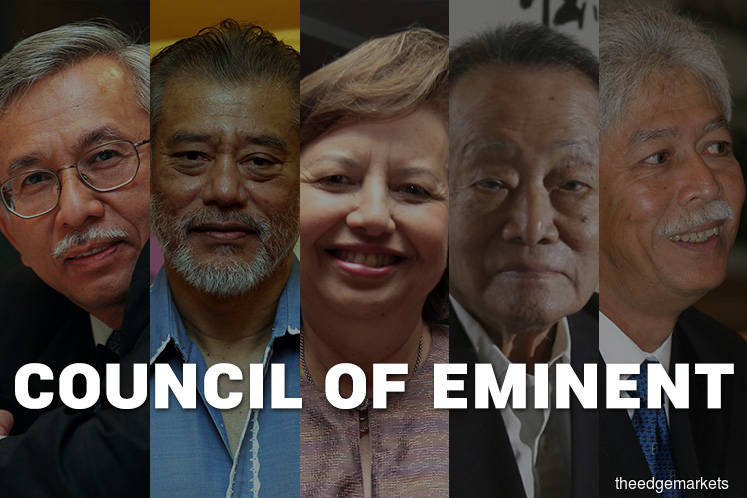 KUALA LUMPUR: The recommendations made by the Council of Eminent Persons (CEP) in its report will be used by Prime Minister Tun Dr Mahathir Mohamad to make decisions.
"It is government business. When we make a decision in government, it does not need to be made public," he told the press at the Cities 4.0 + Business 4.0 conference here yesterday.
"The CEP has volunteered the time to do work that I otherwise have to do. The work that I have to do, I cannot even finish," said Dr Mahathir, pointing out that he could not work well with some senior government officials, noting that his previous administration had had "no crooks".
"We have [government officials] who have been subverted by (former prime minister Datuk Seri) Najib [Razak]. I can't work with them, but I don't have time to sort out who should be taken action against," he said when explaining why the need for CEP to carry out its duty.
Dr Mahathir was asked whether or not the CEP's 100-day report would be made public.
The CEP, which had been established after the 14th general election in order to advise the new government on economic and institutional reforms, had recently submitted its 100-day report to the PM.
Dr Mahathir had said that the CEP will continue its advisory role to the government, despite its initial mandate being only to run for the first 100 days of the new administration.
The CEP is led by former finance minister Tun Daim Zainuddin and includes former Bank Negara Malaysia governor Tan Sri Dr Zeti Akhtar Aziz, former Petroliam Nasional Bhd chief executive officer Tan Sri Mohd Hassan Marican, business magnate Robert Kuok and economist Professor Dr Jomo Kwame Sundaram.
Proper assessment for BR1M needed
Dr Mahathir also said that the government does not intend to cut off the 1Malaysia People's Aid (BR1M) programme without making a proper assessment on the needs of its recipients.
"We should give to the really poor, [those who are] unable to earn any income, more money than what we are giving [under] BR1M. We are not terminating BR1M now. We want to study who we are giving to," he said.
Government handouts should be needs-based versus the current income-based threshold under BR1M, he said.
"Giving money freely just because a person has less than RM4,000 a month without looking into their condition is wrong. But if you find a person earning RM4,000 [who] is burdened with a huge family and all that, then you can give money to him," he said.
Dr Mahathir was responding to a question on the recent comment by Economic Affairs Minister Datuk Seri Mohamed Azmin Ali that the BR1M programme contains elements of bribery and corruption.
"You give money without thinking about whether the people need the money or not. A person earning RM4,000 a month or RM48,000 a year, what is RM500 to him? Just giving money in order to win the support of these people — that's bribery," Dr Mahathir said
He elaborated that the government must care for the right people.
"If a person is unable to make money at all because he is handicapped, then we help them. If they are uneducated, we provide them with education, training," Dr Mahathir said.
He added this administration's policy has two prongs: firstly to help those who need it, and secondly, to create jobs so that "people feel proud that the money they get is the result of their contribution."
"We want people to feel honourable, they don't get free money, that they work for their income," he said.
Currently, BR1M hands out up to RM1,200 per recipient in staggered payments over the course of one year.
Najib should know
Separately, Dr Mahathir said that former finance minister Najib should have been aware of how government funds from the collection of the goods and services tax (GST) were used.
"He should know where the money is. Money belonging to the government is not just spent like that. You have to fill in forms, you have to get permission, you have to get authorisation for making use of money.
"There must be written records of all movements of money, especially large sums of money. We don't deal with cash," he said.
Current finance minister Lim Guan Eng had revealed that some RM19.25 billion is missing from the GST Refund Trust Account, and up to 121,429 companies had yet to receive refunds as at May 31, 2018.
Najib, who has dismissed allegations against him, has called for the government to set up a Royal Commission of Inquiry into the allegations of missing funds.
"When the finance minister says he doesn't know, then there is something wrong about it," Dr Mahathir said yesterday.
"Money that was supposed to be returned to the people was put into the consolidated account and then misused — that is wrong. We will have to find who is the culprit and we will take legal action where the law says so," he added.